Scrappy Eldorado girls deal Valley first loss
December 18, 2013 - 11:56 pm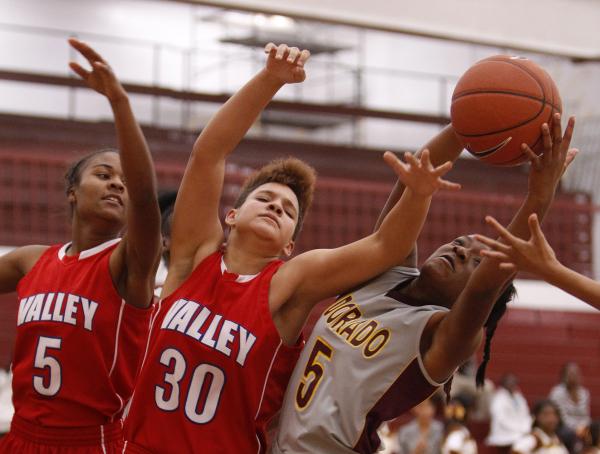 A 13-year veteran of the Marine Corps, Eldorado girls basketball coach Danielle Pope knows a little bit about toughness and heart.
The first-year head coach saw enough of it from her team Wednesday to bring a tear to her eyes.
After letting a 17-point first-half lead slip away and getting outrebounded badly for most of the game, the Sundevils scrapped their way to a 60-58 win over visiting Valley.
"We wanted it more than they did, and we had more heart," Pope said. "We have just as much heart as the Marines I served with. That's commitment. They're working hard, and they're coming together as a team. They played a lot of defense.
"I almost started to cry. I looked up as they were running down the court, and I was so proud of my team."
Eldorado (6-2) already has more wins this season than it did in the past two seasons combined. The Sundevils were 14-86 the past five years.
And on Wednesday, the Sundevils had plenty of reasons to lose.
Eldorado missed 16 of 22 free throws in the second half, committed 23 turnovers and allowed the Vikings to grab 38 offensive rebounds.
"They have a new coach, and behind every good coach is great assistant coaches, and I have two great assistants," Pope said. "We've been working since May trying to get the program built."
On Wednesday, the Sundevils raced to a 23-6 lead early in the second quarter before the Vikings fought back.
Valley (5-1), which went through a 2-for-30 stretch from the field in the first half, was missing its top two post players and had no one taller than 5 feet 8 inches. Still, the Vikings got plenty of second, third and sometimes fourth chances to score.
The Vikings were 18 of 77 from the field, but the offensive rebounds kept them alive and allowed Valley to take a 46-41 lead with 4:10 to play.
"The game wasn't over," Pope said. "We had to fight every possession, and we had to play defense."
A quick 6-2 run gave the Sundevils the advantage, and the teams exchanged leads until Deasia Walker's second-chance basket with 1:33 left put Eldorado up for good at 55-54.
DeNisheun Jackson hit 3 of 4 free throws and a stick-back basket in the final 1:14 to preserve the win.
Jackson finished with 30 points and 10 rebounds, and Walker had 17 points. Paige Thomas had 12 rebounds for Eldorado.
Kennedy Wharton had 19 points and 16 rebounds and Gabrielle Cabanero 19 points for Valley, which also got 15 rebounds from Zhani Thomas.
Box score: