2016 Palo Verde Football Capsule
August 24, 2016 - 10:52 pm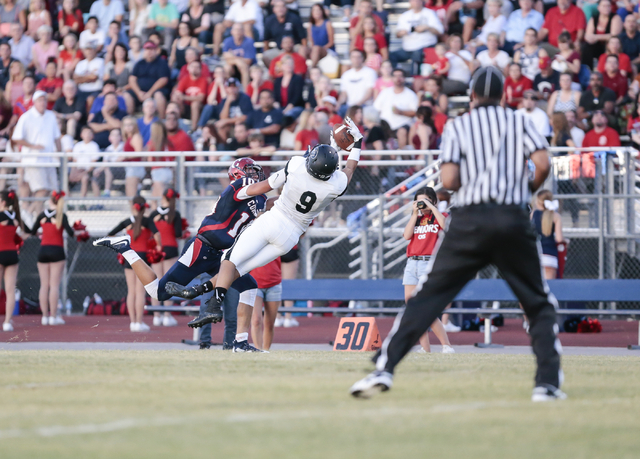 PALO VERDE
League: Class 4A Northwest
Head coach: Joe Aznarez, second season (4-6)
2015 record: 4-6 (3-1 Southwest League, second)
Returning lettermen: 25
Returning starters: Six offense, six defense
Base offensive set: Double wing, ace
Base defensive set: 4-3, 5-2
Top offensive players: TE Tyler Thornton (Sr.); QB Johnathan Schofield (Sr.); OL Hunter Winstead (Sr.); RB Chamere Thomas (Jr.)
Top defensive players: LB Max Miller-Hooks (Sr.); LB Bobby Webster (Sr.); DE Robert Sharp (Sr.); LB Daniel Bellinger (Jr.)
Key losses: RB Chris Bell; DE Kameron Toomer
Outlook: The Panthers struggled a bit in Aznarez's first season, but managed to finish second in the Southwest and earn a home playoff game.
Now, Palo Verde shifts to the Northwest League and will have to fight off Arbor View and Centennial to contend for a title.
Thornton is a strong tight end, who led the Panthers with 10 receptions for 170 yards last season. Schofield transferred from Durango and will take over at quarterback. The Panthers must replace leading rusher Bell (720 yards, 6 TDs), but should get immediate help from players moving up from a strong junior varsity team.
Miller-Hooks (20 tackles), Webster (23 tackles) return, and should combine with newcomer Bellinger to form a solid linebacking corps.
Sharp had 34 tackles last season, and will lead the linemen.
Aznarez expects the team to compete for a league title and advance past the opening round of the playoffs.