2017 Basic Football Capsule
August 18, 2017 - 4:43 pm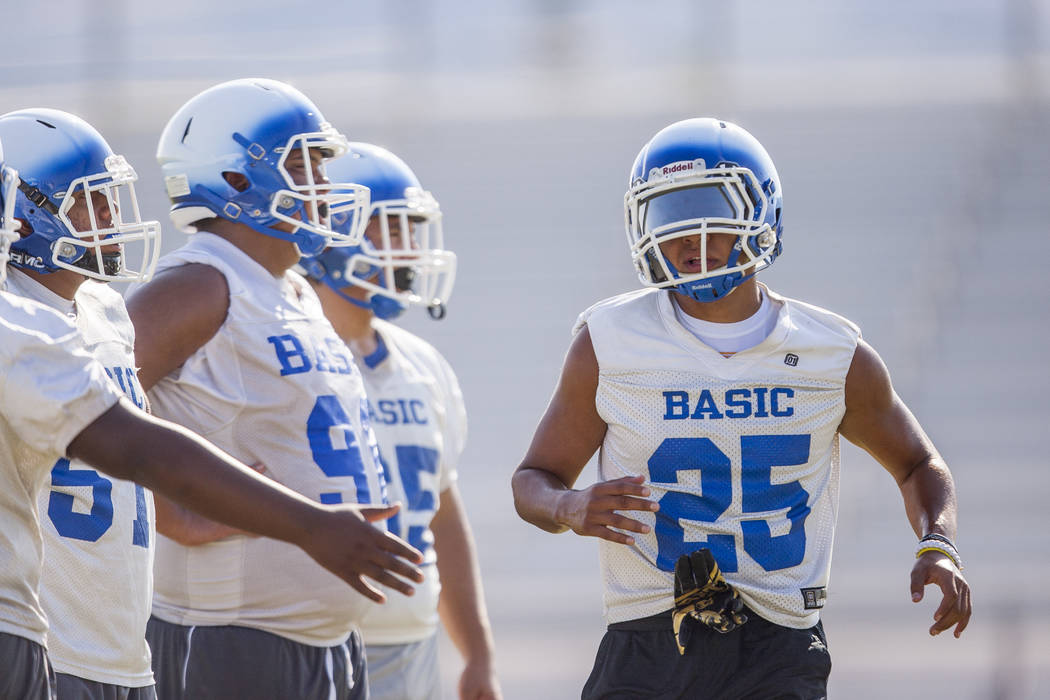 BASIC
League: Class 4A Southeast
Head coach: Jeff Cahill, 10th season (64-38)
2016 record: 8-4 (3-2 Southeast League, second)
Returning lettermen: Seven
Returning starters: One offense, four defense
Base offensive set: Spread
Base defensive set: 4-2-5
Top offensive players: RB Franco Mays (Jr.); RB/WR Dorian McAllister (Jr.); QB Paul MYro (So.); WR Jordan Gallegos (Sr.)
Top defensive players: S Jordan Gallegos (Sr.): DE Derek Carney (Jr.); OLB Zach Grismanauskas (Sr.)
Top newcomers: OL Nicholas Crisp (Jr.)
Key losses: WR/LB Frank Harris; WR/CB De'Shawn Eagles; QB Aaron McAllister
Outlook: Basic has been the Sunrise Region runner-up the last three seasons, but the Wolves were hit hard by graduation and will have to reload quickly to match that recent success.
Basic lost its top three offensive weapons in Aaron McAllister (2,894 passing yards, 38 TDs), Harris (60 catches, 978 yards) and Eagles (60 catches, 875 yards).
Myro had some success in limited varsity action backing up Aaron McAllister as a freshman. Myro completed 14 of 23 passes for 129 yards and three TDs with one interception.
Dorian McAllister, who led the team in rushing with 263 yards, should play a larger role along with Gallegos (21 catches, 281 yards).
Gallegos led the team with 128 tackles, and is back to key the defense. Grismanauskas (53 tackles) lends experience on that side of the ball.
"(We are) a young team with talent," Cahill said. "It will take a while to get everyone going in the right direction."