2018 Needles Football Capsule
August 17, 2018 - 4:12 pm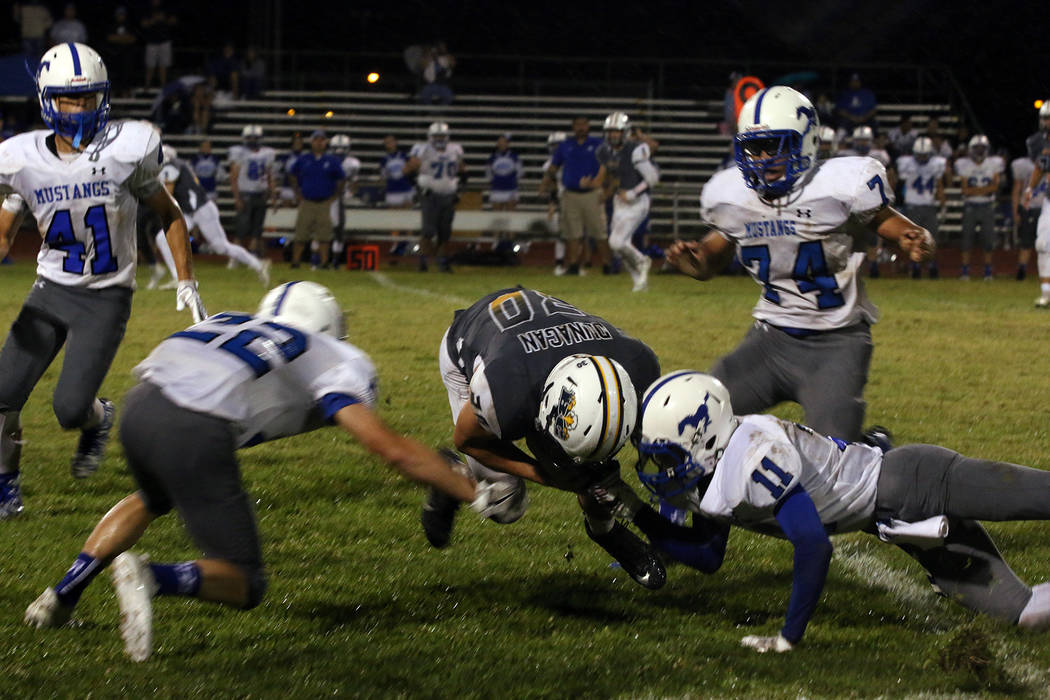 NEEDLES
League: Class 2A Southern
Head coach: Matt Fromelt, fourth season (28-5)
2017 record: 10-1 (7-0 Southern, first place)
Returning lettermen: 12
Returning starters: 5 offense, 6 defense
Base offensive set: Pro
Base defensive set: 4-4
Top offensive players: RB Marcus Turner (Sr.); RB Tyler White(Jr.); TE Doogie Harvey (Sr.); WR/RB Dillon Horn (Sr.)
Top defensive players: DE Doogie Harvey (Sr.); OLB John Perez (Sr.)
Top newcomers: RB/DE Samaj Howell (Jr.); WR/DB Damon Lewis (Sr.); WR/DB Trevyn Diaz (Sr.)
Key losses: QB Jayden Yeager, WR Trey Tsosie, OL/DL Anthony Lopas, OL/DL Jess Pierce
Outlook: It had been since 2007 since the last time the Mustangs had a season as successful as 2017. They reached the the state semifinals, a game that went into overtime for their only loss. Their 10 wins were the most in a decade, and Fromelt has helped the turned the program into a Southern League juggernaut.
But there is still work to be done. Yeager guided the pro-style offense and Needles will need to find someone to take his place, Lopas and Pierce were key blockers for him on the line, but roster turnover is a problem every team has to overcome every year.
Luckily, the Mustangs have a strong senior class coming back. Once Turner was unleashed he was unstoppable, and ran for 16 touchdowns and 520 yards on just 71 carries. Harvey is the kind of fantastic two-way player you need to succeed in 2A, and this team could delver the first championship for the program since 1998.
"Win league, and overall get better," Fromelt said of the team's goals.