2A Southern League: Mountain View adjusting from eight-man football to 11-man game just fine
August 27, 2008 - 10:07 pm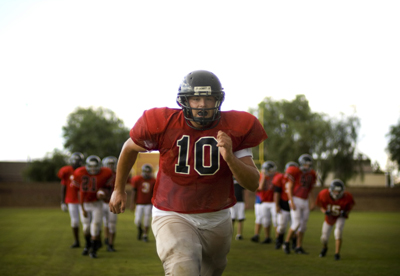 Heading into last season, Mountain View was an inconspicuous eight-man program that had never reached the postseason.
Now, a year after their first playoff appearance, the Saints will tackle another first — 11-man football.
With its enrollment growing rapidly, Mountain View's meteoric ascension from Class 1A to 2A will be complete this season. Agassi Prep and Calvary Chapel are also making the move from 1A to 2A.
Though the Saints are confident, they learned how different 11-man can be at a training camp amongst 4A schools at Dixie State earlier this summer.
"The first day there, we were getting crushed," Mountain View senior linebacker/offensive tackle Billy Paddack said. "We didn't know what to do. Some of the guys were losing hope."
Mountain View coach Ray LeBoeuf added: "The first couple days were a little nerve-wracking because other teams were thinking we were a little ridiculous."
But as the camp progressed, the Saints gradually fit in, even scoring on 4A teams like Durango and Legacy.
Paddack goes a long way toward giving Mountain View credibility.
The 6-foot-4, 250-pounder is being recruited by UNLV, San Diego State and Utah State, among other schools.
And with seven returning defensive starters from last year's 7-3 squad, the Saints figure to make a smooth transition to 11-man on defense.
It's on offense, where Mountain View has installed a new spread system, where major adjustments must occur.
"We have a lot to learn," Saints quarterback/linebacker Raymond Velarde said. "New linemen, whole new offense."
New linemen is right — two, to be exact.
"That's going to be a big part of the transition," Calvary Chapel coach Cliff Frazier said.
But Frazier, in his first year at Calvary Chapel after 24 at Basic, doesn't see the move to 11-man being a colossal shake-up.
"A lot of these kids have gone to football camps where they've played 11-man," Frazier said. "They're familiar with it."
Agassi Prep coach Colt Goodman said the biggest hurdle his team could face in moving to 11-man is the level of competition.
"The biggest challenge is actually understanding that the schools with the higher numbers are going to have some really tough athletes," he said. "We're going to have to match up with these schools physically."
Those differences already were being felt Aug. 18 on the first day of full-pads practices for Mountain View.
"We've learned a lot of new things this year," Saints center/nose guard Kevin Santos said. "It's completely different. But we help each other out, so we're all right."