September 11, 2013 - 9:47 pm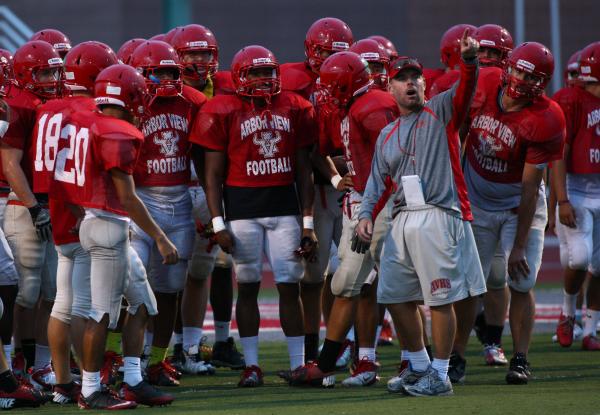 The best athletes for many high school football teams spend the majority of their time playing offense and looking to score.
Not at Arbor View.
"Our thing is, if you want to run the ball, you've got to play defense," Arbor View coach Dan Barnson said.
The Aggies will see if that philosophy works when they open the season against visiting Centennial (0-1) at 7 p.m. today.
Barnson isn't the only coach who would prefer to put his best athletes on defense. But many teams don't have the luxury of having Barnson's stable of capable running backs.
Senior Anthony Smith was Arbor View's leading rusher last season with 735 yards and eight touchdowns. Jacob Speaks (577 yards, six TDs), Salah Boyce (442 yards, five TDs) and Herman Gray (364 yards, five TDs) also return, and all should get a shot to carry the football in the team's double-wing offense.
"If somebody's hot some night, we're going to go with them, and we're going to run," Barnson said. "But we anticipate a lot of kids getting reps on offense, and we're going to put our (best) guys out there on defense.
"We win championships on the defensive side of the ball."
Smith, who will play linebacker, is the team's leading returning tackler after compiling 48 stops last season. He said putting the top athletes on defense will work to the Aggies' advantage.
"This is one of the fastest defenses we've probably ever had," Smith said. "I think it's a huge advantage, because we all float to the ball very well. And it's too fast for the offense."
Barnson said it's a credit to his running backs that they're willing to share carries.
"Most of our backs would go to most schools and be the focal guy, which is a compliment to them for knowing that defense wins championships," Barnson said. "They're all going to play defense, and then they're going to get their reps on offense."
The Aggies had a big, experienced offensive line last season that helped lead the way for the platoon of running backs. But 6-foot-3-inch, 295-pound junior Malik Noshi is the lone returning starter from that line this season.
Barnson said senior center Kyle Crays (6-1, 260) and senior guard Jared Marez (6-1, 220) saw quality playing time last year and should help ease the transition.
The coach is more worried about opening the season against a rival such as Centennial. The teams played twice last season, with Arbor View winning 31-18 in the regular season and Centennial ousting the Aggies 14-9 in the Sunset Region semifinals.
"You're still trying to work out the kinks," Barnson said. "And you always hate to work out the kinks in a big game."
And while Barnson said his team hasn't been focusing on the playoff loss, Noshi said it's serving as added motivation.
"We have to beat them, because they beat us (in the) playoffs," Noshi said. "We have a lot of respect for them now, maybe that we didn't have as much of last year. Now we do, so we have to really prove ourselves."