Arbor View defense delivers
September 13, 2013 - 1:18 am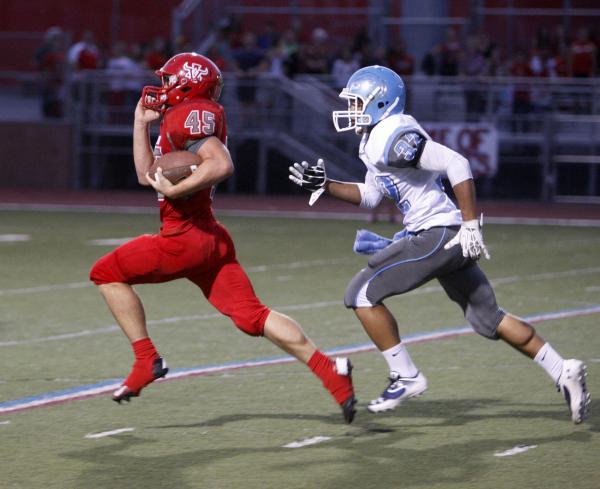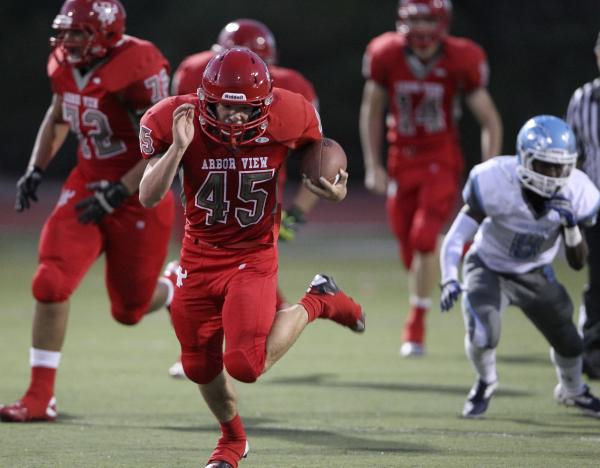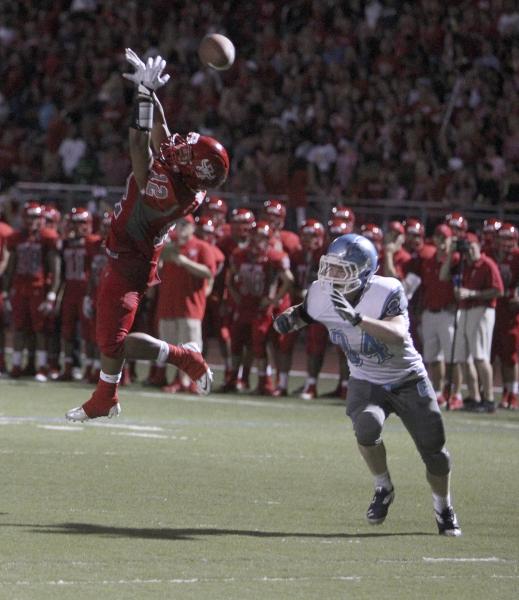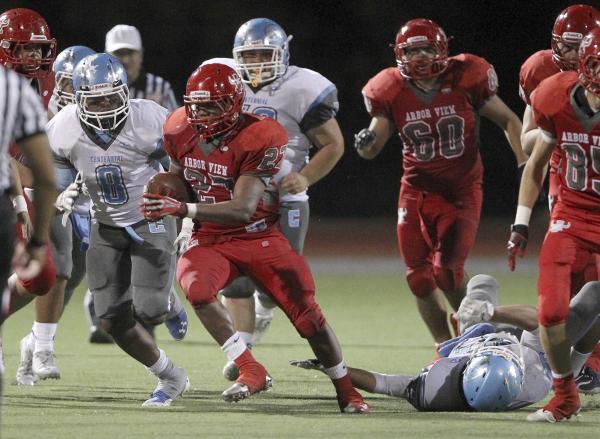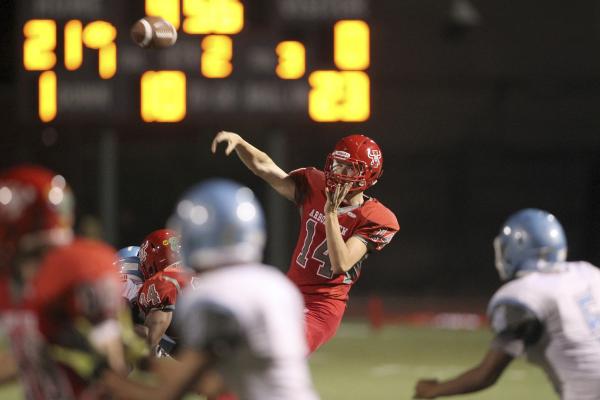 Arbor View football coach Dan Barnson went into Thursday's game against rival Centennial worrying about how sharp his team would be in its opener.
Those worries quickly were eliminated.
The third-ranked Aggies forced four turnovers and scored two defensive touchdowns on the way to a 35-7 home win over the Bulldogs.
"I'm proud of the kids," Barnson said. "Holy smokes. They came out a ball of fire. What can you say?"
Three of those turnovers came in the first quarter as the Aggies sprinted to a 21-0 advantage.
"It was huge," said sophomore defensive end Bishop Jones, who had two sacks and forced a fumble. "The turnovers were a big momentum swing that I think got us the lead."
The Aggies took control from the first play from scrimmage when fullback Ricky Clark took an inside handoff and went 73 yards to the Centennial 7.
Two plays later, Andrew Cornwell scored on a quarterback sneak, and Zach Boyd hit the extra point for a 7-0 lead with 10:56 left in the first quarter.
From there, the Aggies flashed their dominance on defense. Cornerback Jacob Speaks intercepted a Kyle Carden pass on the next possession, which set up an eight-play, 60-yard scoring drive capped by a 1-yard run by Speaks.
After the teams traded fumbles, Centennial (0-2) had its best scoring chance of the night, driving to the Arbor View 3. But Carden bobbled the snap, which threw off the timing on his handoff to Lantz Worthington. Worthington never got control of the ball, and linebacker Lonnie Sharpe snatched the fumble out of the air and raced 93 yards for a touchdown and a 21-0 lead with 6.9 seconds left in the first quarter.
"We put a big emphasis on getting the ball, scoring on defense, scoring on special teams," Barnson said.
Herman Gray added a 9-yard touchdown run with 9:14 left in the half, and the Aggies led 28-0 at halftime.
In the third quarter, Jones put a big hit on Carden inside the Centennial 5, forcing a fumble. Defensive end Gage Motl pounced on the ball in the end zone for a touchdown and a 35-0 lead with 2:54 left in the third quarter.
"We had a blitz call," Jones said. "My eyes got big, and I made the play."
Arbor View limited Centennial to 36 yards of offense through three quarters before wearing down some in the fourth. Centennial finished with 134 yards.
"We just executed what Coach (Mike) Brascia planned out for us," Jones said. "He put it on paper, and we did it on the field."
The Bulldogs finally scored with 1:10 to play when Coll Thomson hit Worthington with a 16-yard touchdown pass. The score was the first of the season for Centennial, which lost its opener 44-0 to JSerra Catholic (Calif.).
"We kind of showed that youngness in the second half," Barnson said. "We still did well, but I'm looking forward to getting to that second one, because you usually make that big jump from Week 1 to Week 2."
Gray led the Aggies with 117 yards rushing on 11 carries. Arbor View had 300 yards of offense, all on the ground.
Josh Gray paced Centennial with 69 yards rushing on 14 carries.
"It's real special," Jones said of topping a rival in the opener. "We worked all summer, we worked hard, we trained every day. Through all the gassers, through all the hard work, we came through. We executed what our coaches said for us to do."
Box score: