Arbor View gets defensive, rolls
September 21, 2012 - 11:47 pm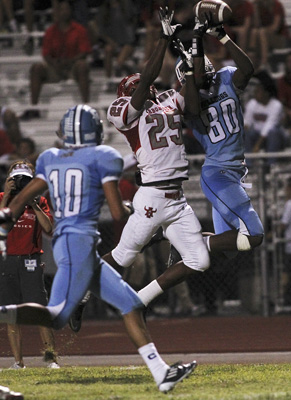 Arbor View's football team got off to a slow start last week in a 42-28 win over Legacy.
The fourth-ranked Aggies made sure that didn't happen on Friday.
Arbor View jumped out to a 14-point lead and used a dominating defensive effort to record a 31-18 road victory over No. 2 Centennial.
"Last week we were flat in the first half," senior two-way lineman Thomas Newton said. "We realized that to come out and win this game like we did, we couldn't have a one-half effort. We had to come out and have a whole-game effort."
That effort was especially apparent on defense. The Aggies (4-0) limited Centennial to 167 yards of offense, and 67 of those came on one play. The Bulldogs (3-1) came into the game averaging 226 yards rushing but managed just 45 yards on the ground.
"We did a good job of controlling the line of scrimmage," Newton said. "That was one thing we focused on all week is we couldn't get pushed off the ball. We had to make sure we controlled it up there, because that's where they make their living is down the line of scrimmage."
Centennial didn't record its first first down until the final three minutes of the first half. And the Bulldogs' first touchdown came courtesy of an Arbor View fumble that gave the Centennial the ball at the Aggies' 1-yard line.
Coby Newton scored on a 1-yard run, and Blake Frischknecht's extra point cut the Arbor View lead to 14-7.
Centennial marched deep into Arbor View territory late in the half but settled for a 36-yard field goal by Frischknecht, and the Aggies were up 14-10 at the half.
"Only giving up the field goal before half was really, really big," Arbor View coach Dan Barnson said. "Going in 14-14 gives them the momentum. Even though they kicked the field goal to go 14-10, it was almost a victory. Our kids came in and they stopped them, and we went in excited."
Arbor View's double-wing offense found another hero Friday. Jacob Speaks had 11 carries for 98 yards in the first three games and was the team's sixth-leading rusher on the season. But the junior carried the ball 15 times for 203 yards and two TDs against Arbor View.
"Jacob last week kind of showed himself a little bit," Barnson said. "I always say, if it's working, let him go with it."
Speaks had touchdown runs of 33 and 67 yards in the first half to give the Aggies the early advantage.
"There's lots of kids stepping up," Newton said. "There's kids that weren't getting chances early, and now they're getting lots of carries and doing a good job carrying the load. I think we're doing a better job of narrowing down the backs and finding the ones that really can carry the load."
Larry Norman added 93 yards on 16 carries, and his 40-yard touchdown run on fourth-and-1 with 6:49 left put Arbor View up 28-10.
"I kind of said to the coaches, we almost need to find one kid and start running him," Barnson said. "But when you're running five, they're fresh. And when the defensive kids are getting tired, the backs are fresh. That's our approach. Our kids aren't selfish. Everybody knows their part."
Arbor View's one defensive lapse came on a 67-yard scoring pass from Austin Turley to Deontae Gilkey with 6:16 to play.
An Arbor View defensive back delivered a big hit on Gilkey as he came across the middle, but the receiver absorbed the contact and took the ball the distance for the score.
"The kids kind of had a letdown on that one play," Barnson said. "The kid got smacked, we just didn't wrap him up and make the tackle."
Salah Boyce added an 8-yard touchdown run for Arbor View, which rushed for 314 yards.
"We had another little sophomore just begging to get in, and we couldn't get him in because the other kids were rolling," Barnson said. "It might be his week next week."