Arbor View nearly unstoppable in win over Cimarron
September 29, 2018 - 12:19 am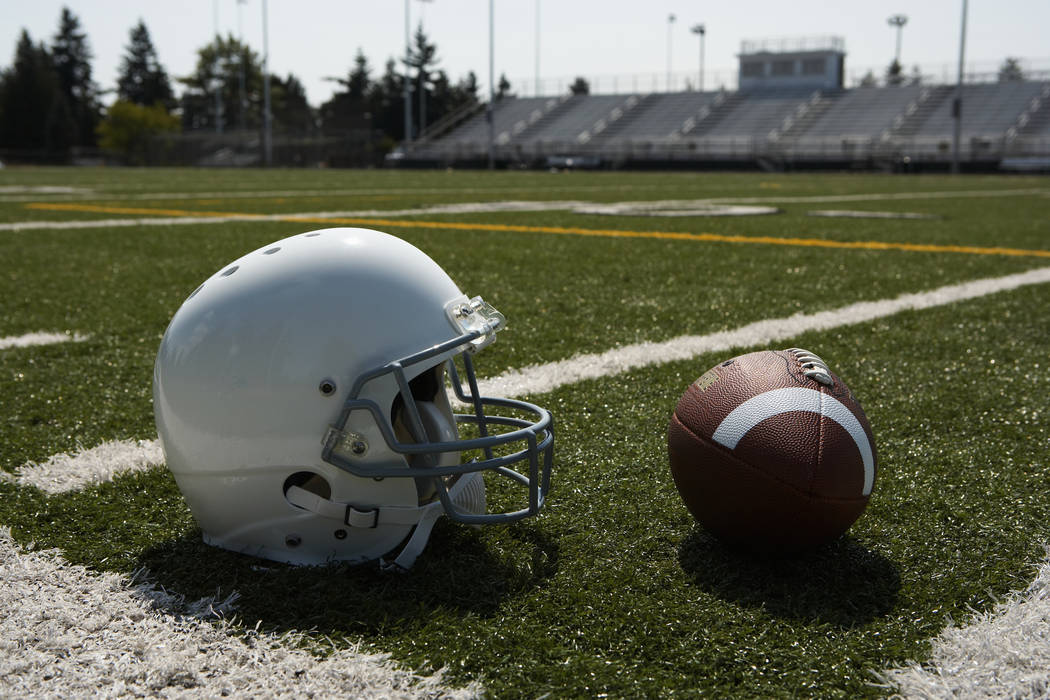 Senior night could not have gone much better for Arbor View's football team on Friday.
The Aggies scored 42 points on just 22 offensive plays in the first half and coasted to a 56-14 victory over visiting Cimarron-Memorial.
"Some of these kids have been with our system, in our program, since the second and third grades," Arbor View coach Dan Barnson said. "They've been wearing red for a long time."
By contrast, the Spartans likely will be seeing red in their sleep this weekend.
The Aggies (6-1, 3-0 Northwest League) scored on each of their six first-half possessions, and didn't run more than six plays in any of the drives, despite putting together drives of 65, 52, 45, 55, 58 and 56 yards.
"We kind of flew around the field," Barnson said. "We were organized. That's pretty efficient."
The Aggies went 65 yards in 2 minutes, 22 seconds on their opening drive, capped by Daniel Mitchell's 12-yard scoring run.
Kyle Graham took it from there.
By the time the buzzer sounded to end the first 12 minutes, Graham had rushed for 122 yards on eight carries, including the fourth Arbor View touchdown — an 11-yarder that made it 28-0 with 1:24 left in the quarter. Graham finished with 163 yards rushing on 10 touches.
"Honestly, it's all my (offensive) line," Graham said. "They put in all the work. I follow the blocks, and they allow me to do my thing."
Cimarron's one first-half response came just moments later.
Jordan Norwood hopped through an opening in the middle of the Arbor View defensive line and found space. Seconds later, Norwood was in the end zone with a 68-yard scoring run. The touchdown briefly staved off the Aggies' onslaught, pulling Cimarron-Memorial (2-5, 0-3) within 28-7 with 13 seconds left in the first quarter.
The play was one of just two that netted the Spartans a double-digit gain over the first half. The other came via the legs of quarterback Jose Carrasco, who scrambled for 26 yards and one of two first downs Cimarron tallied in the half. Carrasco's run didn't lead to points, though.
But the points kept coming for Arbor View.
Aggies quarterback Logan Bollinger threw his second and third touchdown passes of the half, 31 yards to Niles Scafati-Boyce and 10 yards to Nate Roe, later in the second quarter. With Easton Jones perfect on six extra point kicks, the lead extended to 42-7 with 5:23 left in the half and triggered the running clock for the remainder of the game.
Bollinger completed 7 of 8 passes, all in the first half, for 160 yards. Scafati-Boyce had three catches for 83 yards and two of the touchdown receptions.
Norwood rushed 20 times for 134 yards and both Cimarron touchdowns.
Box score:
Arbor View 56, Cimarron-Memorial 14