Aubrey Nellems leads Shadow Ridge to school record in victory over Coronado
September 2, 2017 - 12:46 am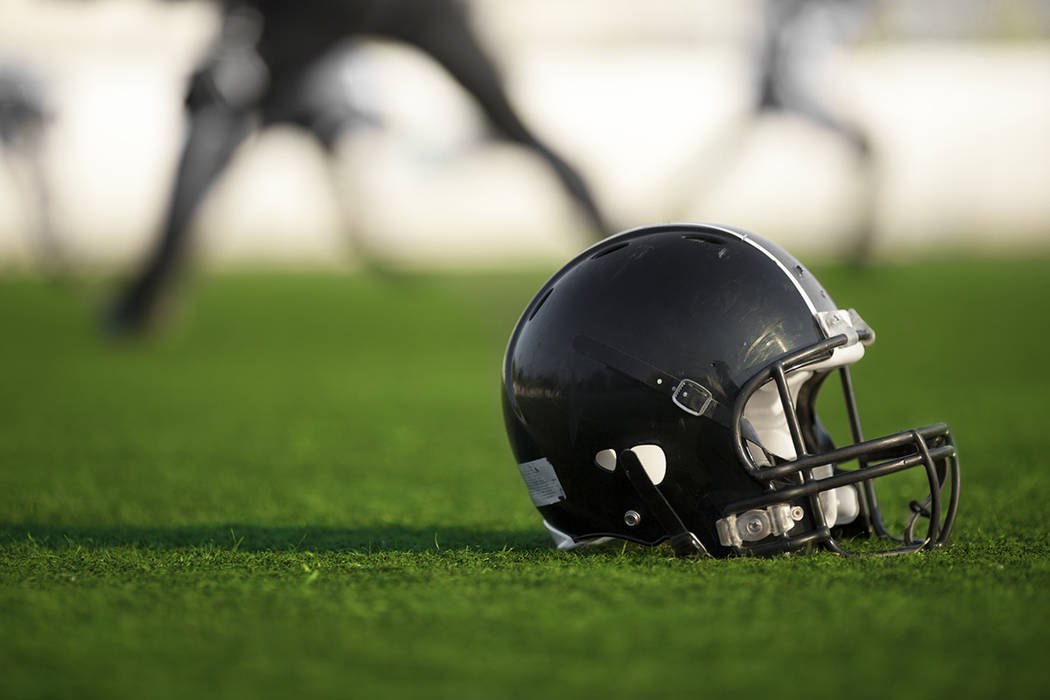 Shadow Ridge senior running back Aubrey Nellems has all the school rushing records on his radar.
Meaning he knows the Mustangs broke a school record on Friday night.
And he knows he's within reach of the career rushing yards mark, especially after his performance against Coronado.
Shadow Ridge's 205-pound workhorse ran for 255 yards and a touchdown on 20 carries, and helped the Mustangs rush for a school-record 578 yards in their 51-30 home victory over the visiting Cougars.
Nellems was too much for Coronado and overpowered would-be tacklers when he wasn't outrunning them. He was in line for a 300-yard night, too, but carried just one time after cramping up midway through the third quarter.
Nonetheless, the senior was elated with his performance and credited his strength on the field to his work in the weight room.
"My first thought when I first get the carry, I'm like 'No dancing, no jiving,'" said Nellems, who began the season about 900 yards shy of the school's individual career rushing record. "Kind of like boxing. First round, feel your opponent out. And the rest of the time, it's work. Carry four or five, I'm like 'You know what, time to take it to them.'"
It actually took six carries for Nellems to find paydirt for the Mustangs (2-0).
He scored from 69 yards out late in the first quarter, and Shadow Ridge wideout Kaejin Smith-Bejgrowicz followed a few minutes later with a 43-yard touchdown run.
But Coronado (0-2) capitalized on a couple turnovers, and scored three unanswered touchdowns via two bombs from quarterback Keegan Thorpe to tight end Ishamel Jones, and a 60-yard fumble recovery by Ayzayah Hartfield.
The Mustangs responded, though, with four straight touchdowns of their own — two late in the second quarter and two in the third — and subdued the Cougars for most of the second half.
Thorpe threw the two touchdown passes to Jones, but completed just 7 of 24 pass attempts for 200 yards. Jones caught three balls for 160 yards.
Coronado's running game was nonexistent, and netted 72 inconsequential yards on 21 carries.
Shadow Ridge, meanwhile, ran its triple-option to perfection.
Smith-Bejgrowicz ran for 120 yards and scored his two touchdowns on well-timed pitches from quarterback Kody Presser, who ran for 94 yards and two scores. Clayton Nauta chipped in with 46 rushing yards, and wide receiver Elisha Young took advantage of a stacked front to catch a 61-yard touchdown pass.
"We knew they were going to be aggressive. We knew they were going to come flying up field," Mustangs coach Travis Foster said. "It was a matter of doing what we do. (Presser) did a phenomenal job distributing."
And Nellem did a phenomenal job finishing.
The senior has already rushed for 396 yards through two games, and is almost halfway to his personal goal of 1,000 yards with six regular-season games to play.
"I want to take my guys to the playoffs," Nellems said. "If I've got to put them on my back and do it myself, then I'll do it."
Contact reporter Sam Gordon at sgordon@reviewjournal.com. Follow @BySamGordon on Twitter.
Box score: