Bishop Gorman sloppy in victory over Durango
October 20, 2018 - 1:06 am
Updated October 20, 2018 - 1:22 am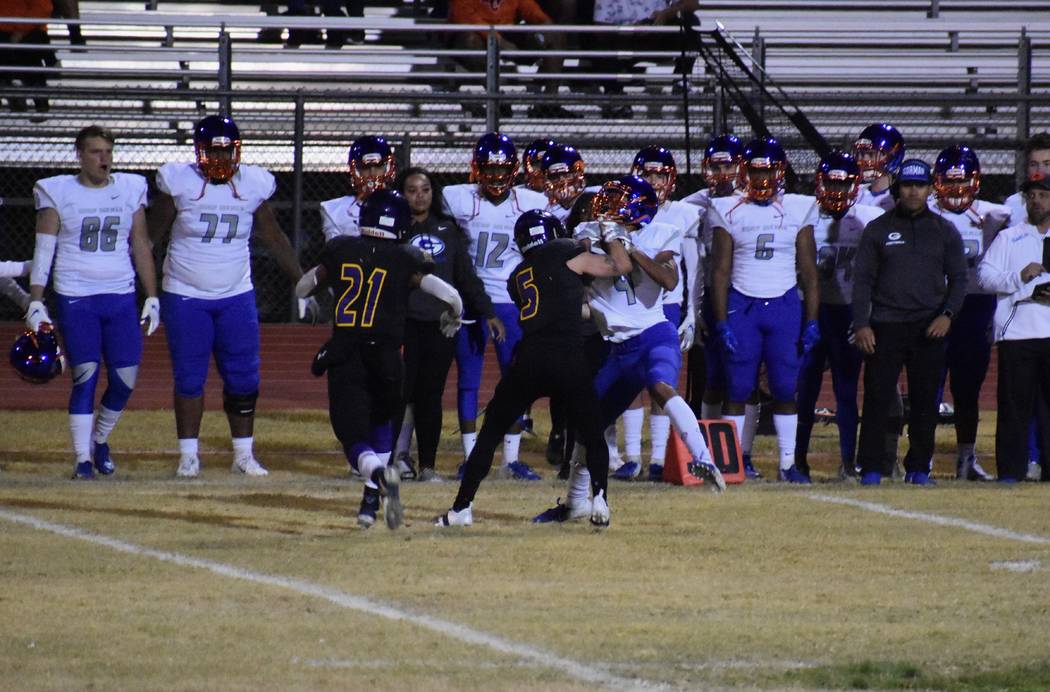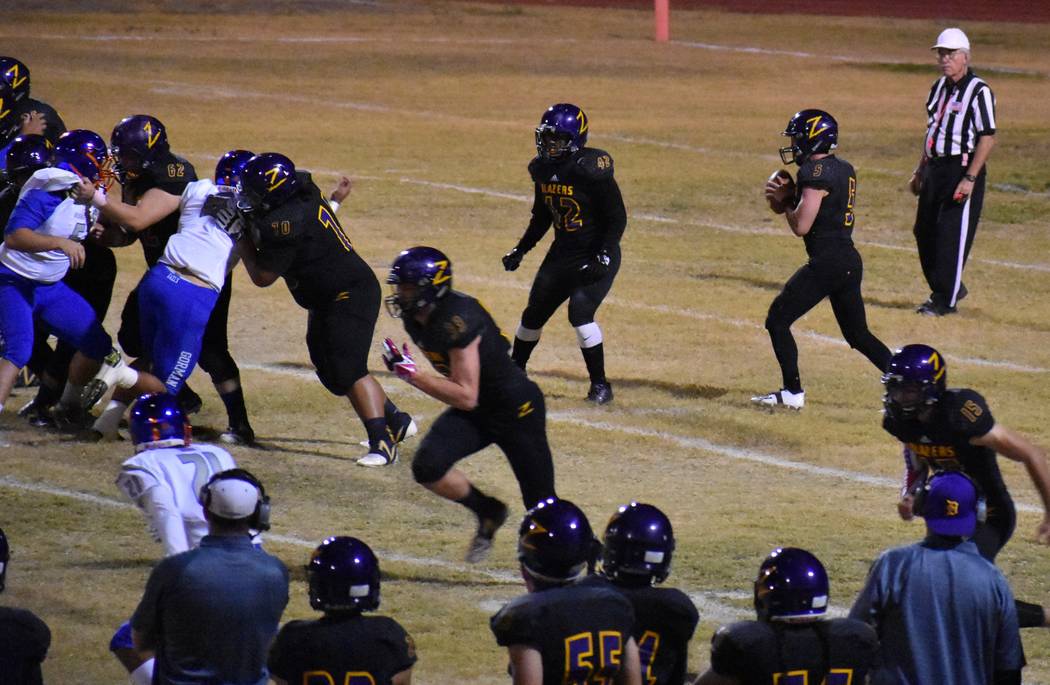 On paper, the matchup Friday between No. 9-ranked Durango and No. 1 ranked Bishop Gorman was a battle for first place in the Southwest Division.
In reality, the visiting Gaels hadn't lost a league game in more than a decade. And in the first half, the nine-time defending state champions looked the part while rolling to a 36-6 halftime lead.
But in the third quarter, Durango pulled off a rare feat for a team from a local school in recent history — the Trailblazers made the Gaels look vulnerable.
Durango made a stirring third-quarter rally, forcing three Gorman turnovers and coming up with several big plays to trim the margin to fewer than 17 points twice. In the end, the Gaels managed to restore order, and get out of Durango with a 57-34 victory.
Gorman quarterback Micah Bowens was 15-of-18 passing for 359 yards. He powered the Gaels in the first half with touchdown passes of 50, 49, 46 and 83 yards for Gorman (5-3, 4-0 Southwest) and added a 9-yard rushing score.
But Bowens had a fumble and an interception in the third quarter and said he was trying to do too much as Durango clawed back into the game.
"I'll take the blame for that," he said. "I think the problem was we started letting some of the faults on our defense affect us. We were trying to get those back all on one play."
Gorman coach Kenny Sanchez said the defense was the real culprit.
"Defensively, it was the worst defensive performance since I have been here at Gorman," he said. "And I am the defensive coordinator, so I did a horrible job getting them ready for this game."
Trailing by 30, Durango (5-4, 4-1) opened the second half with a two-play drive, capped when quarterback Kaden Renshaw connected with Michael Jackson on a 52-yard touchdown pass.
Shan Fiorenza intercepted Bowens to set up another touchdown pass from Renshaw — a 20-yard strike to Jayden Nersinger.
Gorman appeared to restore order on the ensuing drive, marching 66 yards in eight plays with Amod Cianelli breaking two tackles and spinning his way to the goal line on a nifty 14-yard run to push the lead to 43-20 with 3:30 to play in the third.
But that lasted only 20 seconds.
On the first play after Gorman kicked off, Renshaw found Nersinger in the middle of the field again and he raced 78 yards to pay dirt, cutting the lead back to 16.
In the fourth quarter, Gorman pulled away behind its running game, as Cianelli scored on a 1-yard plunge.
Durango finished with 325 yards of offense. Renshaw finished 13-for-24 for 258 yards and four touchdowns. Nersinger had six receptions for 134 yards.
"Their quarterback played a heck of a game," said Sanchez. "He played lights out, he put the ball when it needed to be. They made the catches when the needed to, and they made some really tough catches.
"I am not taking away anything from them," he added. But we just didn't do a good job of defending the middle of the field. … And offensively, if we just take care of the ball, we score 70 points tonight."
Box score: