Blocked field goal allows Spring Valley to edge Desert Oasis
October 28, 2016 - 12:49 am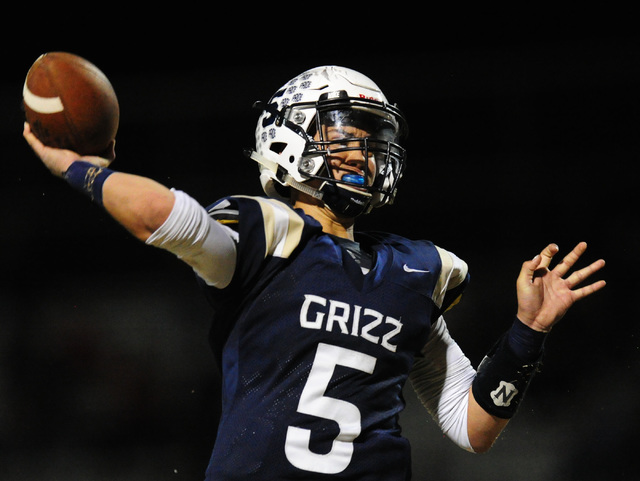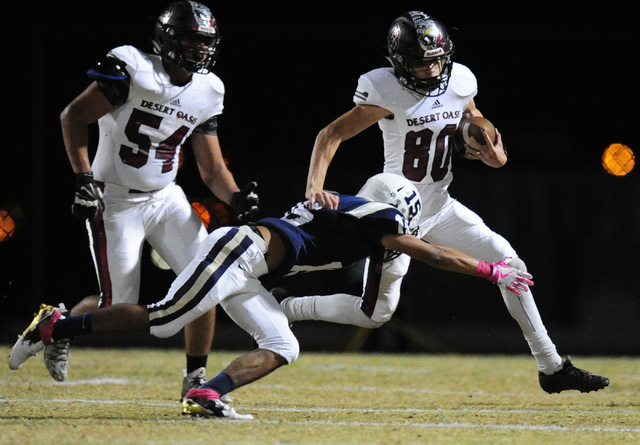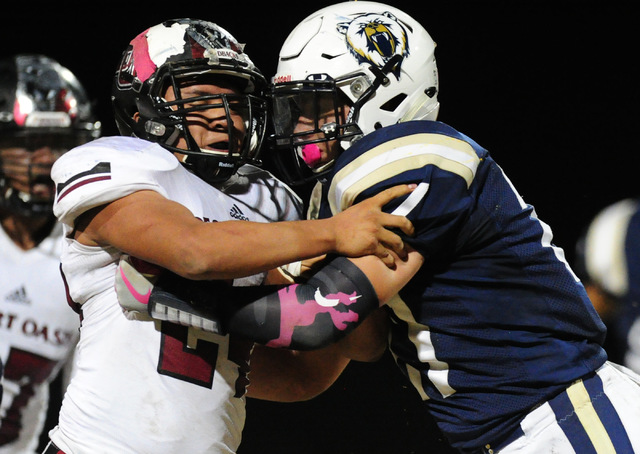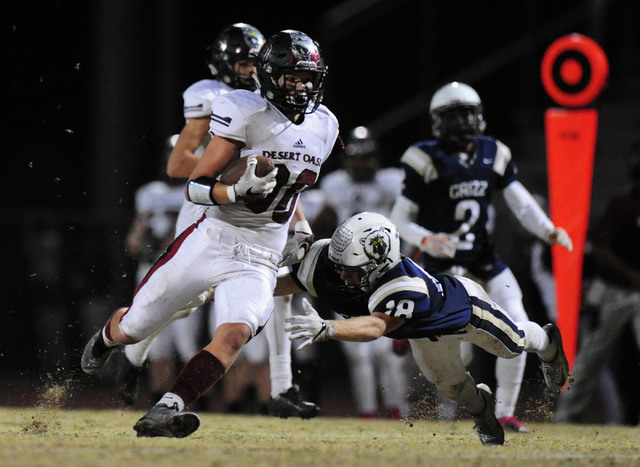 The smallest player on the field got her chance Thursday evening with 10.7 seconds remaining.
But instead, Joseph Pienta made the biggest play of the night for Spring Valley's football team.
Pienta broke through the Desert Oasis offensive line and smothered the ball before Angelique Gaeta could even attempt a game-winning 21-yard field goal as the host Grizzlies held on for a 14-13 victory over the Diamondbacks.
"It was just instinct," Pienta said. "I just knew I had to make that block, no matter what the cost."
The 5-foot-4-inch Gaeta set up for the potential game-winner at the Spring Valley 6-yard line. She had the chance, thanks to a lightning strike of a pass caught seven plays earlier by Qwory Huff on fourth-and-10.
The Diamondbacks (1-7, 1-4 Southwest), who came into the game in a three-way tie for the final playoff spot in the Southwest League, trailed by the single point because Gaeta's extra point attempt on a late third-quarter touchdown had been blocked.
But with under a minute to play, Desert Oasis drove down the field after Adam Scoggins connected with Huff on a 39-yard pass. Then three runs from Yeyro Guzman and two incomplete passes set the stage for the game-winning play by Pienta.
"I didn't see the ball," Spring Valley coach Marcus Teal said of the blocked kick. "So I immediately looked up in the air."
But the ball instead was pinned under Pienta's arms, still on the ground. After the play was over, Gaeta was hit and hurt. After being tended to, she was helped off the field before the Grizzlies took one knee to run out the final seven seconds of a potentially season-saving victory.
"We put ourselves in the mix," Teal said. "Our defense really came up big."
It didn't look like Spring Valley would come up at all, at least for much of the game. Guzman carried the ball 39 times for 235 yards and a touchdown.
When Jason Sanders bulled in for the Diamondbacks with 36 seconds left in the third quarter, giving Desert Oasis a 13-7 lead, it looked bleak.
But the Grizzlies responded like they hadn't the entire game. Bolstered by a 55-yard strike from quarterback K.C. Moore to Marquelle Dibbs, Spring Valley travelled 85 yards in just six plays for the tying touchdown — a 3-yard blast from Noah Williams. Moore then made the extra point and with 10:34 left in the game to give the Grizzlies the lead.
Box score:
Spring Valley 14, Desert Oasis 13