Bonanza rallies to top Clark, keeps postseason hopes alive
October 28, 2016 - 12:40 am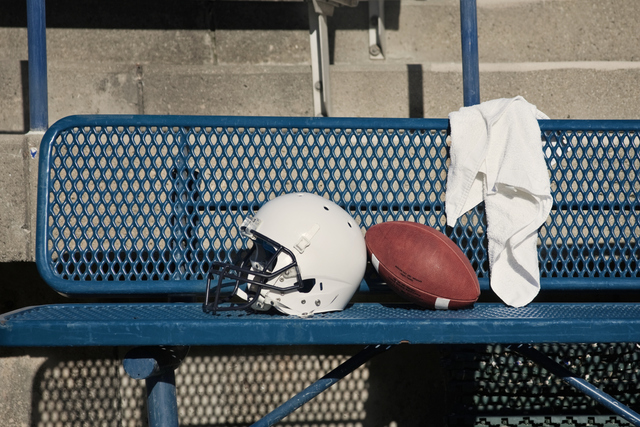 With his team's playoff hopes fading fast, first-year Bonanza coach Dion Lee handed the reins of his offense to sophomore quarterback Kyle Allison.
That move was another gamble that paid off for the host Bengals as Allison led his team to 29 straight points en route to a 36-19 win over Clark on Thursday.
Allison completed 10 of 19 passes for 184 yards and two touchdowns.
If Bonanza (4-4 overall, 2-3 Southwest League) can beat Desert Oasis next week, the Bengals will qualify for the Sunset Region playoffs for the first time since 2011.
"Twenty-nine unanswered points gives the guys confidence," Lee said. "They never had adversity this year. Either we were winning the game or we were losing the game. We never had a chance to come back in the game. It will build a little character and build some confidence in the guys.
"Every week's a playoff game for us, and that's how we look at it. We've got Desert Oasis next week. No matter what their results are tonight, the winner of that game goes to the playoffs."
After taking a 7-0 lead early in the game, things went downhill fast for the Bengals. Clark's Kajun Lattimore returned the kickoff 88 yards to cut the lead to 7-6.
The Bengals appeared ready to answer that score and drove to the Clark 10-yard line, but Bonanza's leading rusher Ricardo Hill left the game with a knee injury. On the next play, the shotgun snap sailed over quarterback Cannon Reid's head and the Chargers (1-5, 0-6) recovered the fumble.
On the Bengals' next two possessions, Clark's Bobby Coffman intercepted passes that set up two scores and the Chargers took a 19-7 lead. Coffman also caught a 27-yard pass during that scoring stretch.
"The guys kind of got emotionally down and we had to pick them back up," Lee said. "We had to show them that we could win with everybody. … We don't know (the extent of the injury) yet. He couldn't play last year because he tore his ACL. He kind of felt it on the same leg. We will see what the doctor has to say (Friday), and hopefully we can get a diagnosis that he's OK."
On their next possession, the Bengals were facing third-and-11 from their own 24 when Allison found senior receiver R.J. McCarter on a 26-yard completion that returned life to the Bengals offense. Six plays later, Allison hit McCarter on a 38-yard scoring strike to cut the Chargers' lead to 19-14.
McCarter finished with seven catches for 131 yards and a touchdown.
"The motivation of my team got me going," McCarter said. "I knew they were going to have my back, but what really motivated me was when I saw our starting running back go down. I knew I had to step up and take over. So, that's what I did.
"Ricardo has the most heart on the team. He is always playing 100 percent. He comes to practice every day, always early. So when he told me, 'R.J. make plays,' I knew I had to make some plays. When you look at Bonanza, it's the team. We play as a team. We win as a team. We lose as a team."
The Bengals trailed 19-16 at halftime and took control of the game when Lee rolled the dice on an onside kick to start the second half. Bonanza recovered and drove 45 yards to take a 22-19 lead on a 3-yard run by Ammon Montenegro early in the third quarter.
After the Bengals defense held the Chargers to a three-and-out, McCarter returned the punt 68 yards for another score. The Bengals sealed the win when Allison connected with freshman receiver Shemarion Bellegarde on a 44-yard scoring strike early in the fourth quarter.
Box score: