Centennial gets defensive, edges Arbor View in Sunset semifinal
November 10, 2012 - 12:32 am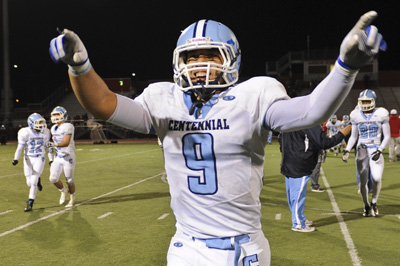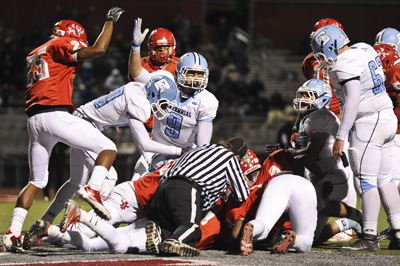 Centennial's football team had precious little cushion as time wound down on Friday night at Arbor View.
Jordan Karst made sure the Bulldogs wouldn't need any.
The senior defensive tackle came up with two sacks and a key pressure to stop an Aggies drive, and Centennial held on for a 14-9 victory in a Sunset Region semifinal game.
"This is something we've never done before," Karst said. "It's huge. Even on the lower level, we've never beaten Arbor View. It felt good to just take it to them."
The fifth-ranked Bulldogs (9-2) play at top-ranked Bishop Gorman (10-1) in the Sunset title game next Friday.
Karst had a huge play with No. 2 Arbor View (10-1) facing fourth-and-2 from its 38. Rasheem Parks dropped back to pass, but Karst got to the quarterback for a sack to end the drive and essentially seal the win.
"He was big," Centennial coach Leon Evans said. "He made a huge individual effort there toward the end, made a move inside and got to the quarterback. He did a great job tonight."
Karst was big on that entire drive. On first-and-15, Karst hit Parks as he threw, and defensive end Jordyn Hixson batted down the pass.
On the next play, Karst sacked Parks for a 5-yard loss.
"You've got to go hard," Karst said. "It's the last drive. You can't really stop."
Centennial couldn't run out the clock, instead giving the ball back to the Aggies at their 35 with 11.6 seconds to play.
But Parks was forced to scramble and was stopped for a 4-yard gain as time expired.
It was typical of the Centennial defense, which held a normally explosive Arbor View team in check.
The Aggies entered the game averaging 42.9 points and had scored at least 28 in every game this season.
"All year long they've been coming up big, and I didn't expect anything different from them tonight," Evans said of his defense.
Arbor View's double-wing offense averaged 393.4 yards rushing entering the game but managed 152 on Friday, with 61 coming on one play.
"Everybody in the valley should know who the 'D' is now," said Karst, who also recorded a tackle for loss.
The Aggies scored first, getting on the board when Jacob Speaks turned the corner on a pitch play and raced 61 yards for a TD with 6:13 to go in the first half.
Zach Boyd's extra-point attempt hit the upright, and Arbor View led 6-0.
The lead didn't last long.
Centennial took the ball 63 yards on eight plays, capped when Austin Turley hit wide receiver Brandt Honda with a 26-yard scoring strike with 2:47 left in the second quarter.
Honda beat his defender down the seam, and Turley floated the pass his way. Honda hauled it in just inside the end zone despite being pushed in the back before the ball got there.
The Bulldogs forced a punt on the ensuing possession and got the ball back with 1:12 to go in the half. Centennial quickly took advantage of a 16-yard punt, going 40 yards on four plays to punch in a touchdown just before halftime.
Turley, who had rushed for 4 yards on 31 carries entering the game, had runs of 19 and 15 yards on the drive, and Coby Newton banged his way in for a 6-yard TD run with 32.5 seconds left in the half.
"It was huge," Karst said of the getting points just before the half. "We needed them bad."
The only points of the second half came when Boyd hit a 35-yard field goal with 6:17 to go in the third quarter.
Newton finished with a hard-fought 116 yards on 30 carries for Centennial.
"He was able to hold onto the ball and get those tough yards for us tonight when we needed him," Evans said. "And he's been doing that all year like we expected him."
Speaks finished with 90 yards on 12 carries for Arbor View.