Centennial gets defensive in preparation for Wildcats
September 15, 2016 - 9:24 pm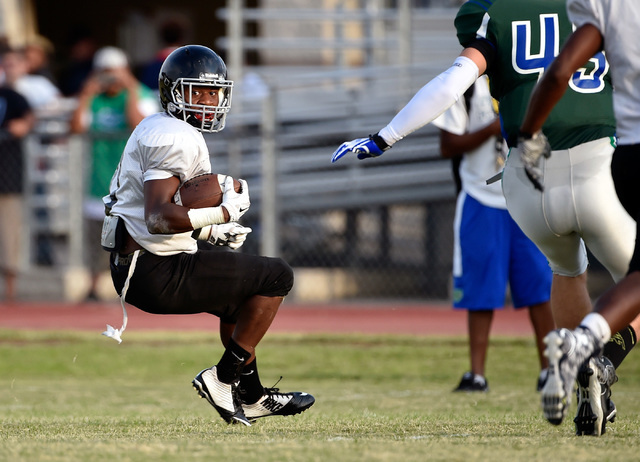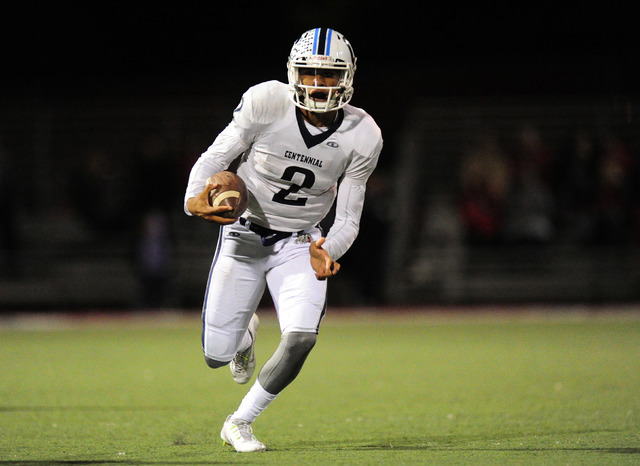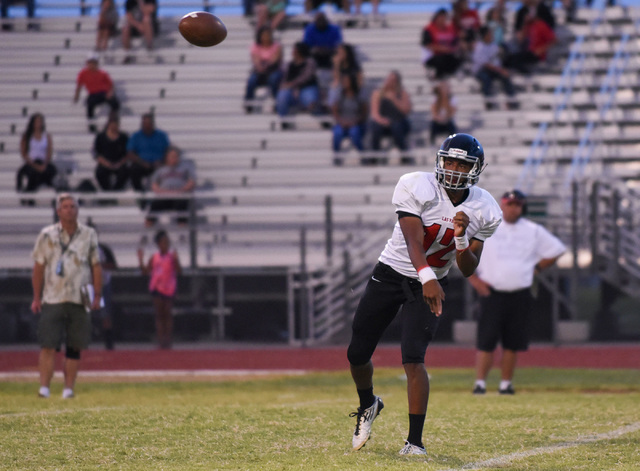 Centennial's football team provided plenty of offensive highlights in the team's first two games.
The defense? Not so much.
But after allowing 980 yards and 75 points in their first two games, the fifth-ranked Bulldogs (1-1) think they finally have things figured out on defense as they prepare to travel to No. 7 Las Vegas High (2-0) at 7 p.m. Friday.
"(Tuesday) night, as a matter of fact, they shut us out on offense," said Centennial quarterback Jamaal Evans, who had a hand in 11 touchdowns in the first two games. "It was a good boost for our whole team. We're ready for Vegas."
The Bulldogs scored 90 points in their first two games, but Centennial coach Leon Evans, Jamaal's father, said the team focused on plugging those defensive holes as it prepared for Las Vegas.
"We've given up almost 1,000 yards in two ballgames, and that's unacceptable here at Centennial," Leon Evans said. "So we've put some guys in the right positions this week, and we've had a great week of practice, so we're ready to get after it."
Centennial is coming off a bye week, and the Bulldogs used the time off to re-evaluate the defensive scheme.
"We've made a couple position changes and rearranged the scheme a little bit to make sure we can get a new look on things," senior linebacker Marvin Perkins said.
Perkins said stopping his team's offense in practice gave the defensive players a boost of confidence heading into the game with the Wildcats.
"I believe we see the best offense in the state each day at practice," Perkins said. "If we can stop them, I believe we can stop anybody."
Stopping Las Vegas won't be simple. The Wildcats are averaging 39 points and 316 yards. The team has continued to use two quarterbacks, but junior Zach Matlock has been especially impressive, completing 80 percent of his passes for 219 yards and two touchdowns and rushing for 89 yards and two scores.
Junior running backs Elijah Hicks and DiQuan Brown are big-play threats, and Perkins thinks discipline will be the key against Las Vegas' speedy backs and receivers.
"If we start jumping at guys or being undisciplined, they'll make a fool out of us," Perkins said.
If the Bulldogs can show improvement on defense, they should be contenders in the Class 4A Northwest League.
Evans has been nearly unstoppable on offense, completing 71.4 percent of his passes for 569 yards and five touchdowns. He's rushed for a team-best 224 yards and six scores. Receiver Savon Scarver, who has 13 catches for 188 yards and a touchdown, is a Division I prospect.
"We'll be scary, I think, in the future," Perkins said. "We're just going to keep working and trusting in each other and the coaches and we'll be fine."
Contact prep sports editor Damon Seiters at 702-380-4587 or dseiters@reviewjournal.com. Follow him on Twitter: @DamonSeiters