Class 3A: 'Pigs up front' lead Moapa Valley to playoff win over Cheyenne
November 2, 2018 - 11:39 pm
Updated November 2, 2018 - 11:44 pm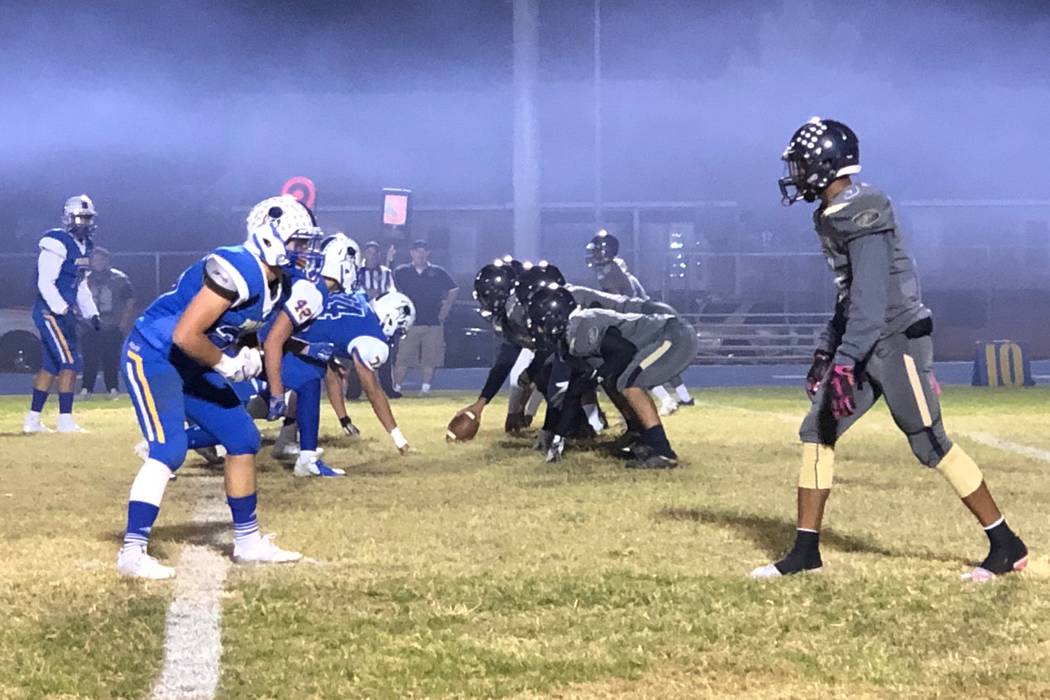 OVERTON — The running backs are the ones who score the touchdowns, get their jerseys bought and get drafted in fantasy leagues. But Moapa Valley's football team wants to make sure the right players get credit for Friday's two 100-yard-plus rushers.
Or to hear coach Brent Lewis say it: "Those running backs get the glory, but the pigs up front, man, they're the ones that make it all happen."
Braeden St. John ran for 106 yards and three touchdowns, and Hayden Redd ran for 121 yards as the host Pirates walloped Cheyenne 42-19 in their Class 3A state quarterfinal.
"When we can have two running backs go over 100 yards, that's something special for us," senior offensive lineman Kaleb Frankford said. "It makes us feel great, and it's great for them. Puts them in the light."
It would have been easy for the Pirates (10-1) to panic and abandon the run Friday. Cheyenne (9-3) opened the game with a 77-yard bomb from Joshua Rose to Rayvion Brown. Then Rose connected with Mike Reed on a 69-yard strike on the next drive.
Both times, Moapa Valley stuck to its plan and answered with sustained drives led by the ground game, and St. John ended both drives with touchdowns. He added a third touchdown with 2:17 left in the first half, and the Pirates didn't look back. St. John (20 carries) split the load with Redd (18), who added three sacks.
"For the running game, I can really just owe it all to my O-line, and for defense, well, our (defensive) backs really stepped up and helped cover, so we were able to sack the quarterback," Redd said.
Outside of the two long touchdowns, the Pirates locked down defensively. They held Rose to 8-for-22 passing — though he did throw for 273 yards and three scores — and held Cheyenne's ground game to 31 yards on 13 tries.
Brown finished with six catches for 161 yards and two touchdowns for the Desert Shields. Reed caught three passes for 113 yards and a score.
"I thought probably the only way they were going to beat us was by throwing it, so I don't blame them for chucking it," Lewis said. "It got us a little razzled early, and then I think we settled down and started taking over the game."
Moapa Valley, this year's Sunrise League champion, is accustomed to the state semifinals, where it will host either Lowry or Truckee next Saturday. The team has reached the state title game in 13 of the last 19 years, though it recorded only one playoff win and no league titles the two seasons before this one.
Lewis laughed at the idea that the Pirates have been down the last two years, but he conceded it's nice to be back.
"It's always funny when I hear people say Moapa was down. We took second (in the league) two years in a row and we're down," Lewis said. "We've been working hard to get back to this, and this is where we belong."
Pahrump Valley 32, Boulder City 30 — At Pahrump, the Trojans edged the Eagles in the Class 3A state quarterfinals.
Pahrump (7-3) will travel to Churchill County (10-0) for a semifinal at 1 p.m. next Saturday.
Boulder City finished 7-4.
Contact Justin Emerson at jemerson@reviewjournal.com or 702-387-2944. Follow @J15Emerson on Twitter.
Box score: