Class 4A football teams relish opportunity in playoffs
Updated October 28, 2021 - 4:45 am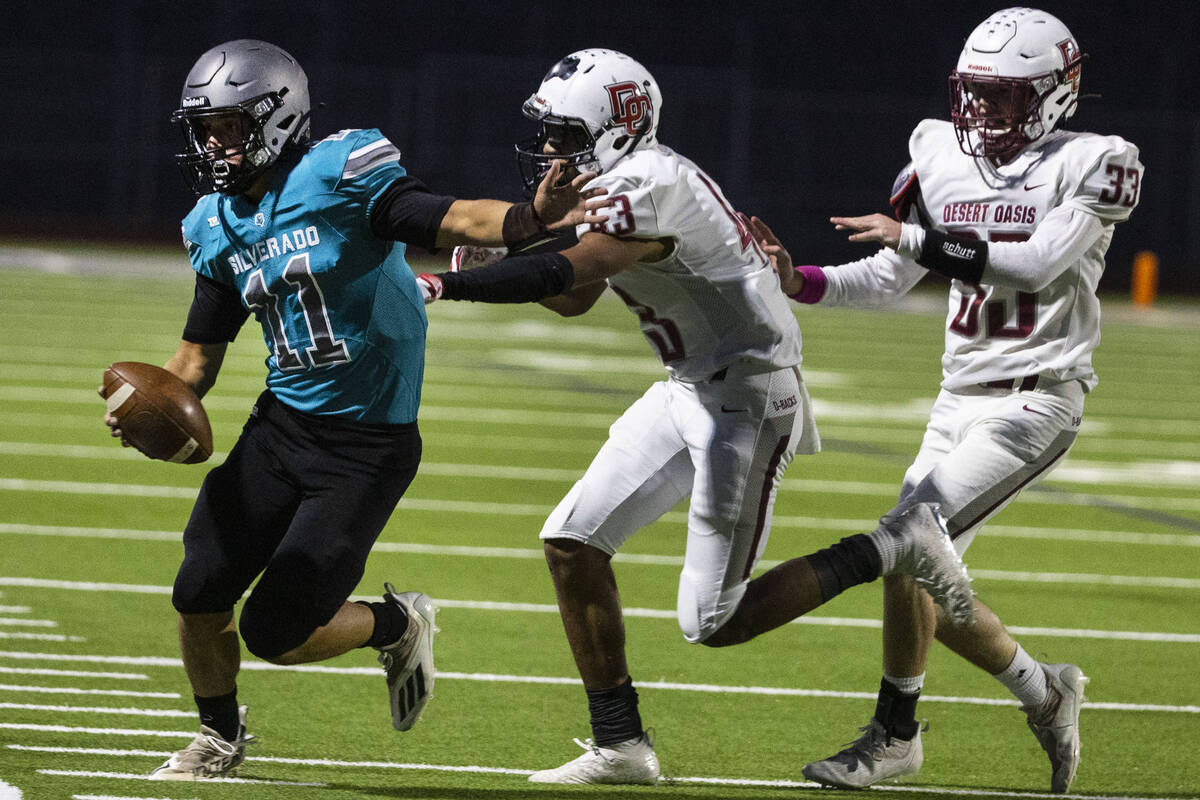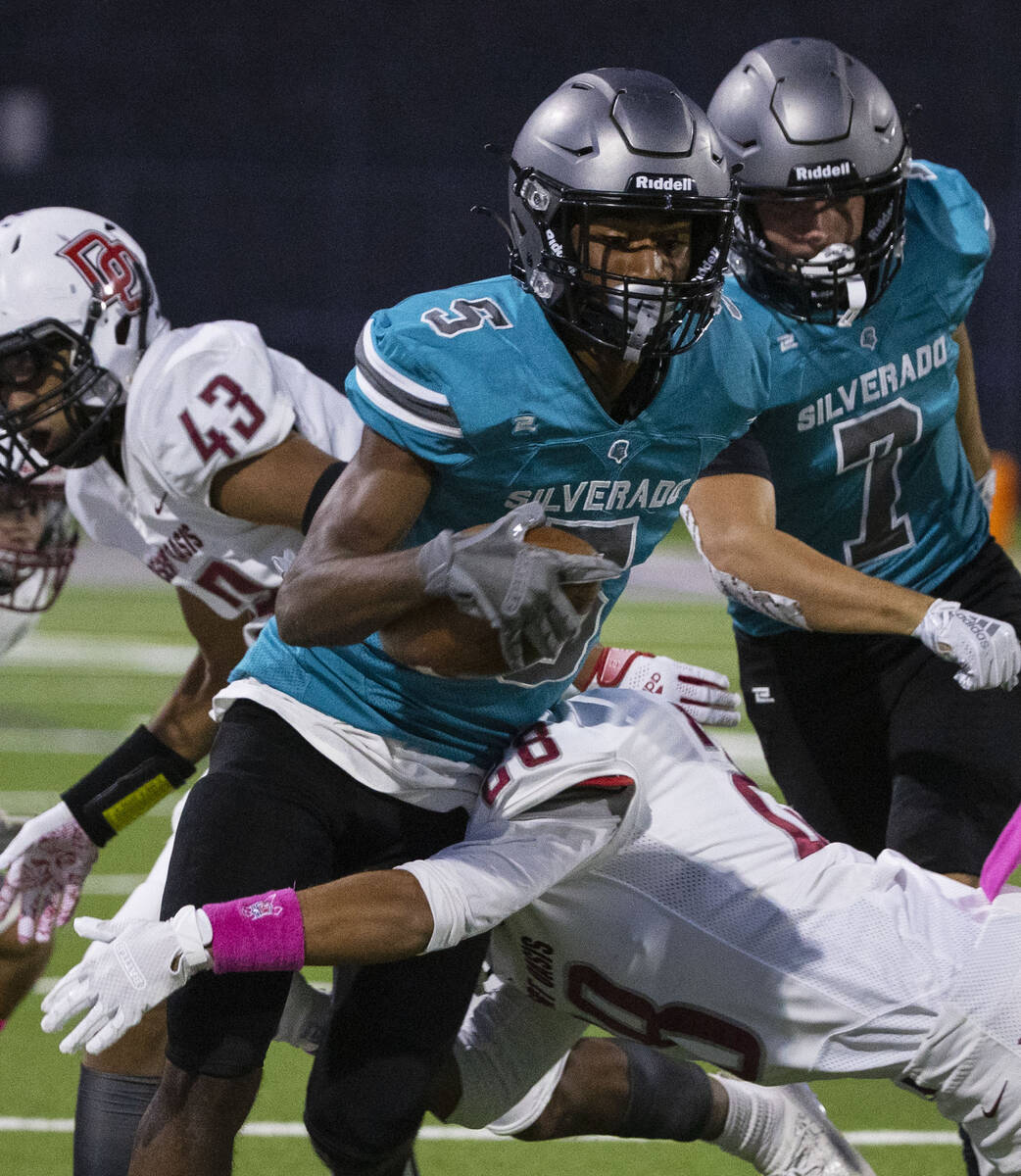 One of the benefits of adding a Class 5A this season was that the teams left in 4A got away from the likes of Bishop Gorman and Liberty.
That gives them a better chance to compete for a state championship. As one coach said this summer, "In the old 4A, you knew your season had an expiration date."
But it's no coincidence that every team that made the playoffs in the old 4A in 2019 — Clark, Coronado, Durango, Las Vegas and Silverado — also reached the postseason this season, and Coronado (Sky League), Las Vegas (Mountain) and Silverado (Desert) finished as league champions.
Those teams received first-round byes, as did Shadow Ridge, the second-place team in the Sky League.
"Shadow Ridge, Coronado, Las Vegas and Coronado, those teams can compete in 5A," Desert Oasis coach Brant Smith said. "We have our own juggernauts we have to deal with, just not Gorman or Liberty."
Silverado ran through the regular season undefeated, and seven of its nine wins were against 4A playoff teams. The Skyhawks are the clear favorites entering the postseason, especially after wins over Shadow Ridge and Coronado.
But it probably won't be an easy run to a championship for Silverado, especially considering the resumes of the other teams it could meet.
Coronado has allowed six points or fewer in four of its five games since a 32-14 loss to Silverado, a game it led 14-10 after three quarters. Las Vegas is 6-0 against 4A competition, with its three losses against 5A teams. Shadow Ridge's running game gives it a chance to control the clock against anybody.
As for teams that will open Thursday, Desert Oasis has the best record at 7-2. But its two losses drive home the disparity between the top four teams and the rest, because they came against Silverado and Shadow Ridge by a combined score of 146-47.
"We have to play better than we did last week (against Silverado). Really, we have to play our best," Smith said. "When we play our best, we can match up against most of the teams in 4A. When we make mental errors, we can lose to anybody."
The Diamondbacks have a tough draw against Durango, a team that has been inconsistent but has a strong defense that limited Las Vegas to 10 points and Shadow Ridge to 17.
In the other three games, Basic will host Chaparral, Clark will host Spring Valley and Cimarron-Memorial will host Sierra Vista.
Basic made a strong statement by routing Clark 41-6 last week, and Cimarron-Memorial took care of business against winless Sunrise Mountain to clinch a winning record in the Desert League and a hosting spot.
"It's a great opportunity for our football program to be back in the playoffs," Cimarron-Memorial coach Shane Kanie said. "It's been 10 years since we had a home playoff game, so there's some pressure there. But we're excited about the opportunity we have."
Creating more opportunities for teams to be in the playoffs is one of the reasons for the new alignment that included five classifications.
And while none of the teams play at the level of Gorman or Liberty, the 4A teams expect their playoffs to generate plenty of interest.
"I think the 4A has caught a lot of buzz," Kanie said. "A lot of people around town are excited about what's going on in 4A. There are some really good football teams, and as somebody in 4A, it's great."
Contact Jason Orts at jorts@reviewjournal.com. Follow @SportsWithOrts on Twitter.
Top 5 games
All games at 6 p.m., unless noted
Desert Pines at Arbor View — It's a rematch of a game from Sept. 17, won by Arbor View 22-21 when it overcame a 21-7 halftime deficit. The Aggies have gotten off to slow starts in each of their last three games, something they probably can't afford to do this week.
Foothill at Green Valley — A battle of Henderson teams that have had strong seasons. Green Valley finished second in the Class 5A Mountain League behind Liberty. Foothill was third in the Desert League, with its only league loss against Bishop Gorman.
Legacy at Liberty — Liberty appears to be peaking at the right time in its quest to successfully defend its 2019 state championship. The Patriots begin their run against a Legacy team they thumped 48-7 on Sept. 17.
Faith Lutheran at Bishop Gorman — Bishop Gorman is on a mission to recapture the state championship and has yet to allow a point against an in-state opponent this season. Faith Lutheran has struggled to a 2-6 record and to find consistency on offense.
Durango at Desert Oasis — The matchup to watch is Desert Oasis' high-flying offense against Durango's stout defense. Desert Oasis' Tyler Stott has thrown for 3,284 yards and 37 touchdowns, but will need his offensive line to handle a tough Durango front.
Other games
Class 4A
Chaparral at Basic
Sierra Vista at Cimarron-Memorial
Spring Valley at Clark
Class 3A
Eldorado at Virgin Valley
Valley vs. SLAM Nevada, at Eldorado
Class 2A (regular season)
Calvary Chapel at Democracy Prep, 7 p.m.
Needles at White Pine, 7 p.m.
Class 1A (regular season)
Beatty at Pahranagat Valley, 7 p.m.
Beaver Dam at Spring Mountain, 7 p.m.
Mountain View at Sandy Valley
Tonopah at Mineral County, 7 p.m.