COMMENTARY: Showdown game brings back memories of Valley-Chaparral 1987 classic
September 25, 2014 - 9:21 pm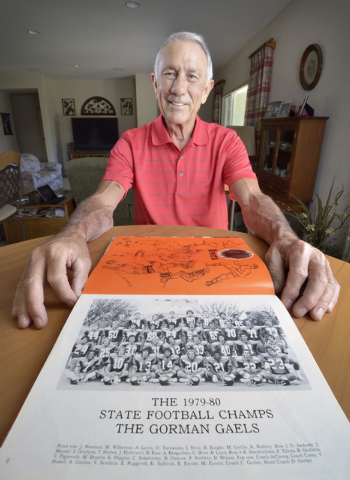 He is pretty sure they could play with Bishop Gorman's football team. Oh, not win. Not outscore the Gaels. Maybe not even be all that close on the scoreboard when four quarters had expired.
But play with the state's best and most powerful program of today, yes.
They wouldn't be as big or as fast or as skilled. Kids are just different now. Better in most all things that exists between goal posts.
"I think we would stay on the field with them," Dave Gerber said. "Now, they're way, way more talented than we were in those days. It's apples and oranges in most ways. How anyone now locally can stay with them is amazing. It's just not an even playing field. They have 22 great players in any given game, and everyone else has five or six.
"We wouldn't beat them, but we had some good-sized kids back then."
There isn't a more significant prep football game in the country this week than what will transpire at Gorman Friday night, when the Gaels and their No. 2 national ranking host No. 1 St. John Bosco (Calif.) at 6 on ESPN (Cox Cable 30).
It culminates an opening to the season of six games for Gorman that represents the nation's toughest schedule to this point, one in which the Gaels have managed to avoid more than a few land mines to arrive at this pivotal matchup 5-0.
It will be intense and emotional and stressful, all the attributes that a certain local playoff game had in 1987.
You can make an argument, given the national implications, tonight represents the biggest high school game in Nevada history; you can make another that Valley against Chaparral in a zone semifinal meeting 27 years ago was its most impassioned.
Gerber was the coach at Valley then (he earlier led Gorman to state titles in 1974 and 1979), and there were only 10 high schools across Las Vegas.
His team had a running back named Paul Wofford, whom Gerber estimates played more than 60 minutes against Chaparral that evening.
Offense. Defense. Special teams. Wofford hardly left the field, and Valley survived and advanced 38-31 in four overtimes.
Valley returned to the school late that night, when Wofford and two others began a trip to Weber State to attend a football game the following day. Along an interstate in Utah, Wofford fell asleep at the wheel, lost control and crashed.
Two days later, he died from head injuries.
The passengers weren't seriously hurt.
"The all-conference team had been decided before the (Chaparral game), and we weren't going to tell anyone who made it just yet, but Paul was really interested," Gerber said. "So after the game and before he began that car trip, I told him he had made it. He was really happy.
"What happened then was very, very tragic. He had to be tired after such a game. To this day, no one really knows why he was the one driving the car."
Valley's players would attend their teammate's funeral on a Thursday, beat Bonanza in the zone final the following night and present the trophy to Wofford's mother in the stands.
There wasn't a dry eye within miles of the Silver Bowl.
Valley lost to Wooster 10-7 in the state championship, but to this day those who saw the four-overtime game against Chaparral insist the emotions that built as the game extended time and again haven't since been matched locally.
Tonight will be emotional in other ways.
Gorman coach Tony Sanchez has compared his team's nonleague schedule as playing in the Southeastern Conference, but if the opponents thus far have been in the realm of Alabama and Texas A&M and Auburn, well, the Gaels after tonight are again looking at more of a Vanderbilt and Kentucky sort of existence in terms of discrepancy in skill between them and local teams.
You can't brag about playing the top part of the SEC and not admit when you face the bottom.
This is, then, Gorman's final opportunity of 2014 to impress the myriad of national pollsters who annually decide who should be considered the country's best prep team, about as subjective a process as exists in all levels of sport.
One former Gaels coach never could have imagined such focus and attention would be paid to one high school game.
"You weren't going to find us playing on national television back in the day," said Gerber, whose brother Chuck followed him as Gorman coach and led the Gaels to three state titles in the early 1980s. "It really is an unbelievable story, all that Gorman has been able to build with its football program."
He will watch the game on ESPN tonight, understanding that the level of player running up and down the field is on a different level than most from 1987.
But he won't alter this thought: They could have played with the Gaels. Valley would have shown up.
Not beat them, mind you.
That just doesn't happen locally now.
Las Vegas Review-Journal sports columnist Ed Graney can be reached at egraney@reviewjournal.com or 702-383-4618. He can be heard from 11 a.m. to 2 p.m. Monday through Friday on "Gridlock," ESPN 1100 and 98.9 FM. Follow him on Twitter: @edgraney.