Defense starts, running game finishes Arbor View victory
September 15, 2018 - 12:18 am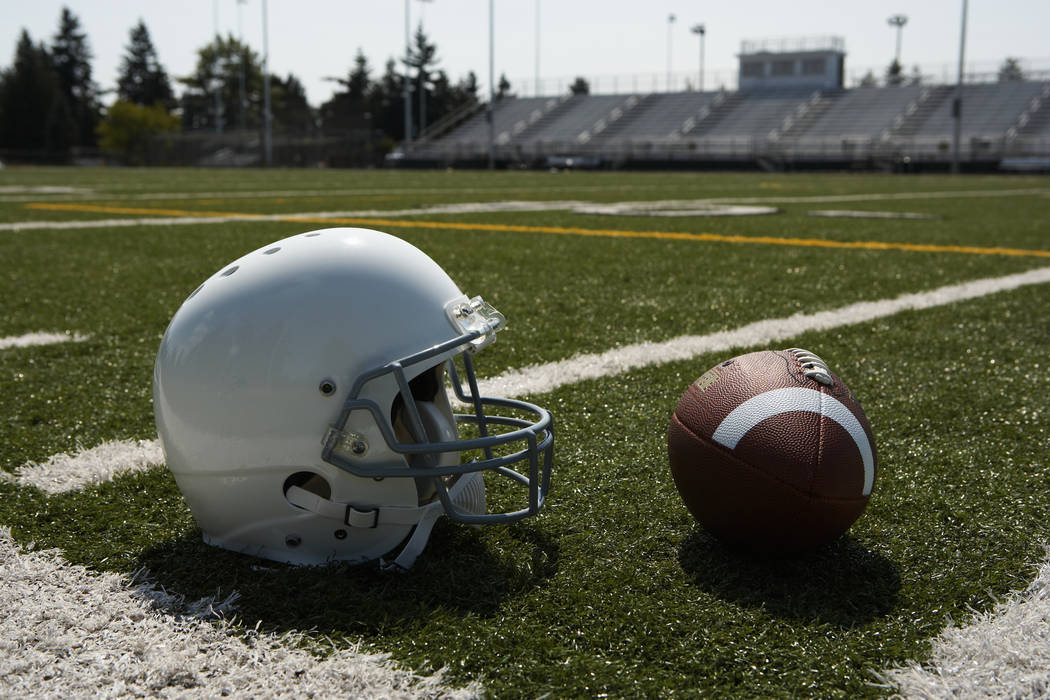 Sometimes a cliché resonates.
On Friday night the best offense — at least for the Arbor View football team — really was a great defensive effort.
Arbor View scored its first two touchdowns of the game on interception and fumble returns before finally getting its vaunted running game going in an eventual 28-13 Northwest League victory at Centennial.
The Aggies (4-1, 1-0) didn't even record a first down in the game until there was just more than 1 minute left in the first quarter.
They finished the first half with just four of them, yet led 7-6. With 4:43 to go in the first quarter, Darius Harrison stepped in front of a Centennial receiver, snatched a Colton Tenney pass out of the air and raced 56 yards down the right sideline with an interception return that staked Arbor View to a lead it never relinquished.
"It was one of those games," Arbor View coach Dan Barnson said. "Our defense did great. When the defense scores twice, it helps you out."
The Bulldogs (2-2, 0-1) though, did respond on their next series.
Tenney found a streaking Amari Miller, who juggled the ball but secured it and went 58 yards to bring Centennial within 7-6 with 3:12 to go in the first quarter. The two-point conversion run failed, leaving Arbor View with the slim lead.
That's the way it stayed until the 7:29 mark of the third quarter when the Aggies' defense did it again.
Arbor View forced a fumble at the Centennial 40-yard line and Rickey Chiles grabbed it. Chiles had nobody in front of him as he raced the 40 yards to extend the Aggies lead to 14-6. After that, the running game finally got going for Arbor View. Though Centennial struggled to move the football, the Aggies ran the ball on 25 of their 30 plays in the second half.
The workhorse was Kyle Graham, who finished with 111 yards on 19 carries, including TD runs of 15 yards at 1:19 of the third and 11 yards with 52 seconds to play.
"When I see one man I've got to beat, I just try to get into the open green," Graham said. "I just try to have fun with it after that."
Graham's second score extended the lead to 28-6.
It was the Aggies' 21st consecutive league victory. Their last loss came on November 8, 2013, against Palo Verde. Since the start of of the 2010 season, Arbor View is 44-3 in Northwest League play.
It just took a little longer than normal on Friday to put away the victory.
"Centennial had a game plan and stuck to it," Barnson said. "Their guys believe. We made some small adjustments at halftime. That's Arbor View football. That's the chess game."
Box score: