DIVISION I-A FOOTBALL: Crusaders force eight turnovers, capture first state title
November 23, 2013 - 10:23 pm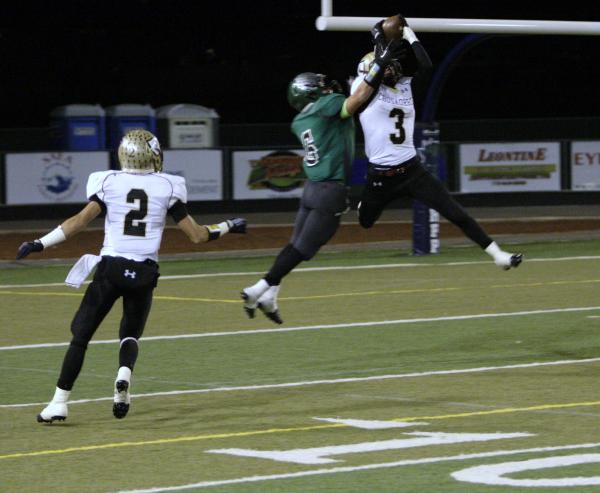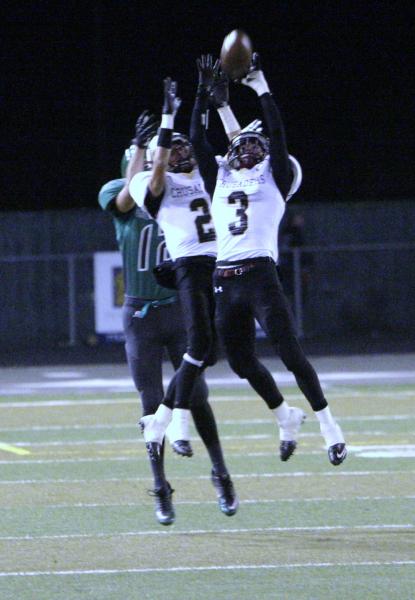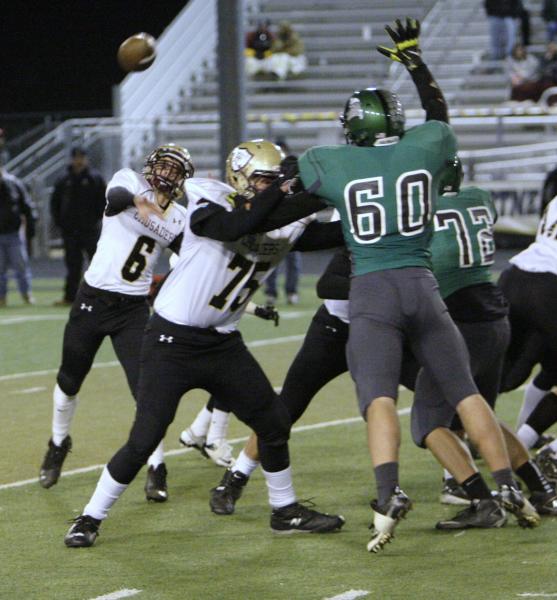 RENO — Two minutes and 21 seconds still were remaining in the Division I-A state football championship game Saturday when Faith Lutheran players attempted to dump a bucket of Gatorade on head coach Vernon Fox.
It was about the only thing the Crusaders missed their target all night.
Faith Lutheran forced eight turnovers and allowed Churchill County just 158 yards of offense in their 17-0 win to claim the Division I-A state championship at Damonte Ranch. It's the first football state title in the 34-year history of the school.
Keenan Smith ran for two touchdowns to stake the Crusaders to the lead, then Faith Lutheran's defense did the rest.
Fox, who also serves as his own defensive coordinator, oversaw a defense that shut out a Churchill County offense which came in averaging 44.9 points per game. The Crusaders intercepted Churchill County quarterback Morgan Dirickson five times.
"Defensively I couldn't be more pleased with the guys tonight," Fox said. "I felt like if they had to go to the pass game we just had to put pressure on this kid, move him off his spots and that worked out well for us, and we were able to get our hands on some balls."
Smith scored on a 7-yard run to cap a 58-yard drive and put Faith Lutheran ahead 7-0 with 35 seconds left in the first quarter.
"We got a quick start and then capitalized on some of the mistakes they made," Fox said. "Us being able to get the ball back and put some points up, it put us in a good position where we could be comfortable, but at the same time not take our foot off the pedal."
On the first play of the second quarter, John Molchon returned a fumble 30 yards to the Churchill County 5, and two players later, Smith punched it in from the two.
Smith led Faith Lutheran with 170 yards on 25 carries.
"We thought we could take advantage up front," Smith said. "Our O-line did a very good job pushing. We just saw the power was working and stayed with it."
A fumble by Trent Tarner at the Faith Lutheran 12-yard line stopped Churchill County's best scoring chance with about 8 minutes left in the second quarter.
The Crusaders intercepted Dirickson four times in the second half.
"We got the momentum and we never looked back, Smith said. "As a team we just saw that they were down on themselves as we just never let go of the pedal."
The Crusaders also controlled Fallon kick returner Cameron Matzen, who had had more than 1,800 return yards and several touchdowns.
"We're no fools, we saw how many yards and touchdowns (Matzen) put up, so obviously you want to give our guys time to cover and corral, and they did an excellent job," Fox said.
Box score:
Faith Lutheran 17, Churchill County 0