DIVISION I FOOTBALL AWARDS: Kalili bursts onto scene
November 20, 2013 - 10:07 pm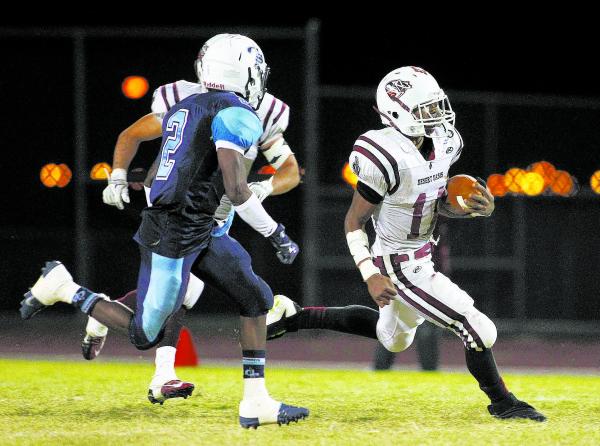 Desert Oasis football coach Scott Staudinger only had to watch a couple of practices before he knew how special senior running back Jocquez Kalili could be. It didn't take that much longer for Kalili to prove it to the rest of the Southwest League.
Kalili, playing for the first time since his freshman year in Texas, rushed for 1,633 yards and 23 touchdowns and was named the Offensive Most Valuable Player in the Southwest League by the coaches.
"It only took us about two days in fall camp," Staudinger said. "He made a lot of guys miss and had a good run at practice, and we knew right then that we probably had something special going on."
The 6-foot, 180-pound Kalili used his speed and quickness to rack up yards.
"(His strengths are) just his speed and his ability to find running lanes," Staudinger said. "He's as good as I've seen at stopping and getting back to full speed in about two steps. He's very shifty, and can stop and go really fast."
Kalili, the area's leading rusher, said he hadn't played since his freshman year because his family had moved around a lot. He showed little rust when given the chance to play this season. He rushed for 500 yards and 10 touchdowns in the first two games.
"I was surprised. It's such a big difference between freshman ball and varsity football," Staudinger said. "You'd think the speed of the game and the speed at which people come down to tackle you would affect you a little bit. He showed none of that."
Legacy defensive back Casey Hughes, who helped the Longhorns hold opponents to seven points or less in four games, was the league's Defensive MVP. Centennial's Leon Evans was named Coach of the Year.
Palo Verde long has been a rushing team, but quarterback Parker Rost was named the Northwest League's Offensive MVP this season. Rost has passed for 1,008 yards and 16 touchdowns with just two interceptions. The senior also has rushed for 239 yards and nine TDs. Rost's father, Darwin, was named Coach of the Year after leading the Panthers to the league title.
Shadow Ridge's J Henderson, who had 59 tackles, 6½ sacks and five interceptions, was named the Northwest's Defensive MVP.
In the Northeast League, Green Valley took two of the top three honors after going undefeated in league play.
Quarterback Christian Lopez was named the Offensive MVP. Lopez has passed for 3,099 yards and 31 TDs entering Friday's Sunrise Region title game against Liberty. Gators coach Brian Castro was named Coach of the Year.
Las Vegas High linebacker Jacob Littlefield was the Northeast's Defensive MVP. Littlefield finished with 124 tackles, including 18 tackles for loss and seven sacks. He also intercepted two passes.
The Southeast League featured several strong offensive performers, but Basic's Antraye Johnson and Liberty's Tyler Newman proved to be the brightest stars, sharing the Offensive MVP award.
Johnson passed for 1,676 yards and 11 touchdowns and rushed for 1,205 yards and 13 scores. Newman leads the area in passing with 3,399 yards and 37 touchdowns.
Liberty defensive end Jarvis Polu, who has 41 tackles and five sacks, picked up the Southeast League Defensive MVP award.
Basic's Jeff Cahill was named Southeast Coach of the Year.