DIVISION IV FOOTBALL: Big second half keeps Pahranagat Valley streak intact
November 23, 2013 - 10:07 pm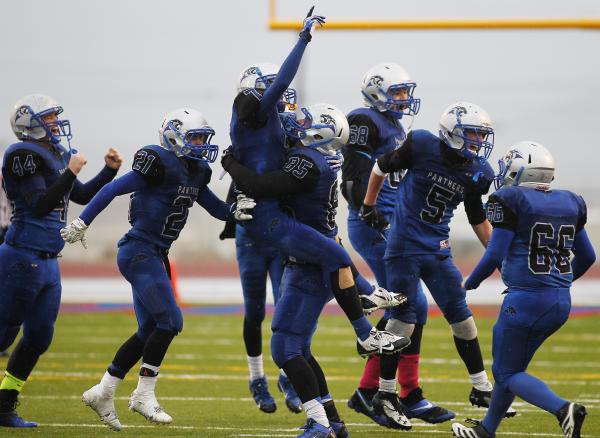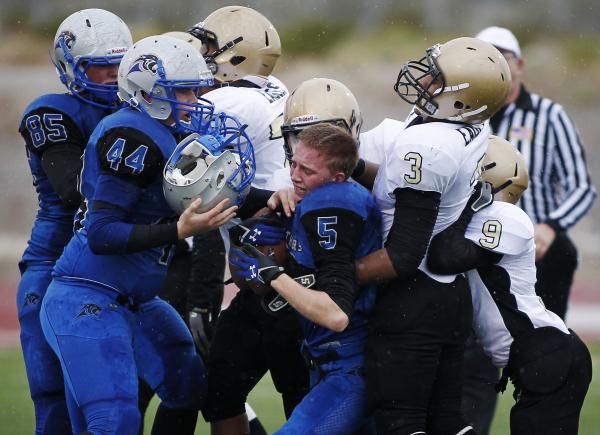 INDIAN SPRINGS — Pahranagat Valley's football team hadn't trailed in a game all year.
But in Saturday's Division IV state championship game, the Panthers trailed Spring Mountain 8-6 at halftime.
It didn't last long.
Pahranagat Valley scored the final 30 points to win its sixth straight title with a 36-8 victory over the Golden Eagles.
"I tell you, they never get old," said longtime Pahranagat Valley coach Ken Higbee, whose team ran the nation's longest winning streak to 69 games. "This one's as good as any, because everyone, state-wide and everywhere, said this team couldn't do it. This was a team that decided they were going to prove people wrong."
The Panthers (12-0) lost a huge chunk of last year's team and returned only two upperclassmen this year, so there was uncertainty entering the season.
"(When) you lose the six seniors that we did last year and replace them, (you) basically start all over again," Higbee said. "These young kids came out and did a great job. In that second half, our offensive line just decided we were going to inflict some will on people."
Two normally high-powered offenses were anything but potent early Saturday.
The Panthers' only score in the first half came on a 70-yard punt return by Jordan Cryts with 1 minute, 12 seconds left in the first quarter.
"We always talk about winning all three phases of the game," Higbee said. "We spend a ton of time on special teams, and when you do that, that is kind of what happens."
Arias Jefferson set up the Golden Eagles' first score when he intercepted a pass at the Pahranagat Valley 25-yard line with 1:10 in the second quarter.
Joshua Banasiak scored on a 1-yard touchdown run with 33 seconds left. His 2-point conversion gave Spring Mountain its only lead of the game.
Banasiak finished 11 of 24 for 116 yards passing for the Golden Eagles (7-3).
"We felt really good holding them to no offensive scores in the first half," Spring Mountain coach Aaron Masden said. "I don't think we came out and matched their intensity in the second half. We knew that Alamo was going to come out hard."
Pahranagat Valley did just that.
It was all downhill for Spring Mountain after it received the second-half kickoff and was quickly forced into a three-and-out.
Despite having a punt return touchdown called back because of a penalty, Cryts ended up scoring on a 1-yard run to give the Panthers a 14-8 lead.
Pahranagat Valley kept the ball on the ground thereafter, chewing up possession and getting scores. The Panthers finished with 182 yards rushing in the second half, primarily from Cryts and Wade Leavitt.
Leavitt finished with 141 yards rushing, 73 yards receiving and two touchdowns.
"I haven't been a part of all of it, but I'm glad we could keep it rolling just because we've been working hard at it," Leavitt said. "Sixty-nine and zero, that's incredible."
The Panthers will have the majority of their players coming back next year, and they can't wait to keep the streak going.
"This one means the most to me because I've had to work the hardest for it," Leavitt said. "I had to be a captain; I've had to be a leader. This is the most fun one so far … I've been on this team for three straight years now, and I'm going for one more."
Box score:
Pahranagat Valley 36, Spring Mountain 8