Experienced Liberty targets historic upset
December 2, 2016 - 6:54 pm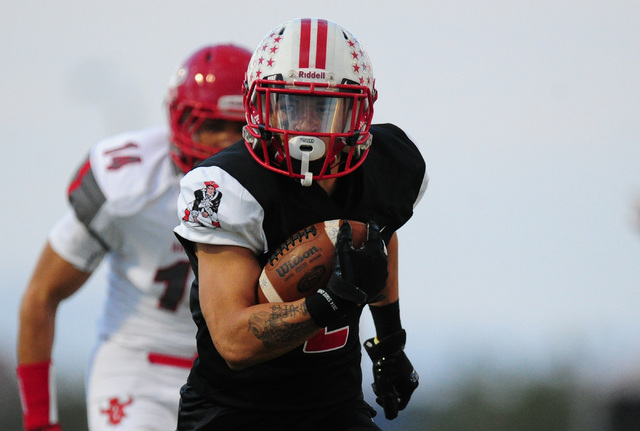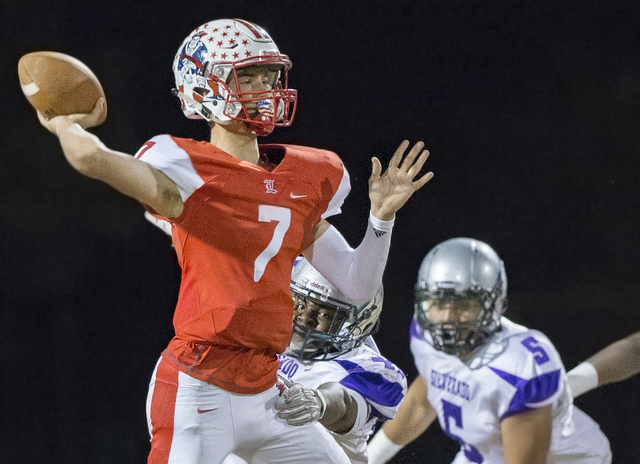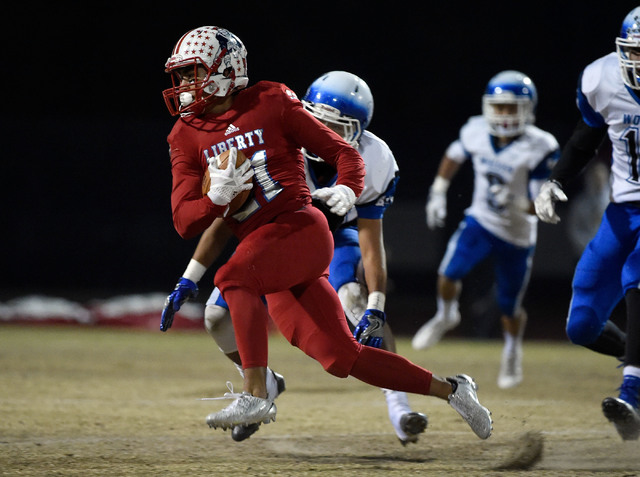 The first step to overcoming any obstacle is belief that it can be done.
Liberty may believe it can scale the Everest-sized mountain that is Bishop Gorman, but that won't make the task any easier.
The Patriots (12-1) will get their chance when they take on the seven-time defending state champion Gaels (14-0) in the Class 4A state football championship game at 12:10 p.m. Saturday at Sam Boyd Stadium.
"It's a great experience for us," Liberty senior linebacker Damahny Whittle said. "It's a different atmosphere, and I believe in my team 100 percent. We're going to be focused and be about our business."
To put into perspective just how monumental Liberty's task is, consider the numbers.
Gorman has finished the past two seasons ranked No. 1 in the nation by USA Today, and currently sits atop the rankings. The Gaels have won 53 consecutive games and haven't lost to a Nevada team since 2008, a span of 86 games.
In the 85 contested games (the Gaels won one game by forfeit), Gorman's average margin of victory was 48.9 points. In 36 playoff games, the margin was 41.1, including an average of 42.1 in state title games.
Gorman defeated Liberty 50-0 in the 2014 state semifinals and 62-21 in last season's state final. But the Patriots have some things on their side this season.
Four-year varsity players like Ethan Dedeaux and Darion Acohido will be facing Gorman for the third time. The two 1,000-yard receivers bring unusual experience and confidence.
"When your best players really believe that it can be done, it trickles down to the average kids or the kids that aren't the leaders," Liberty coach Rich Muraco said. "I feel the real difference between this team and maybe some of the other teams is the true belief in each other. It's just a different feeling. I can't describe it, but you can feel it around the team."
Muraco said one of the things that has changed this year is an understanding of roles, and a true conviction that the team comes first.
"They're less selfish," Muraco said. "I don't have kids that will complain if they don't get the ball. If Darion only catches three passes and we win, I don't have to worry about him or his parents calling me and complaining that they're not getting the ball enough.
"Everybody has put the team first. In previous years, sometimes that didn't happen."
Acohido said that sense of team is one of the group's strengths.
"It's great to know that my teammate next to me, my brother, he's going to do his part and he knows I'm going to do my part," Acohido said. "And the result, we're going to be satisfied with that. Because that's what we expect is greatness."
Muraco said some of his past teams have been able to hang with the Gaels for stretches, but either ran out of gas or didn't respond well when Gorman started to pull away.
But the Patriots, who are ranked No. 21 by USA Today, have better depth this season — no one starts both ways — and the team has faced superior competition this season. Muraco points specifically to a road win over Westlake (Texas), and a road loss to Centennial-Corona (California), in which the Patriots fell behind early but didn't fold.
"That's kind of what gives me more hope this year going into Gorman that we're not going to give up," Muraco said. "If we get down by two scores, we're not going to panic."
Acohido said the team's previous experience against Gorman will help, too.
"We've been playing against Gorman since our youth, so we know who we're going to play against," Acohido said. "We've done this before, we know the level we have to play at to beat a team like that. We just have to bring our experience and our skills to the game."
Contact prep sports editor Damon Seiters at dseiters@reviewjournal.com or 702-380-458. Follow @DamonSeiters on Twitter.
BISHOP GORMAN vs. LIBERTY
When: 12:10 p.m. Saturday
Where: Sam Boyd Stadium
TV/Radio: KVMY-12
Tickets: $10 adults, $5 students, $3 seniors (62 and older)
RELATED
Bishop Gorman vs. Liberty is state title matchup with national relevance
Complete coverage of high school sports