Field goal puts daunting Liberty in Green Valley's path
November 6, 2014 - 10:54 pm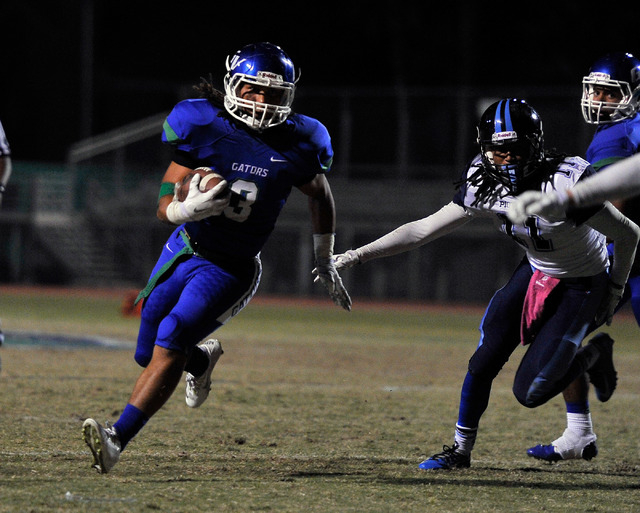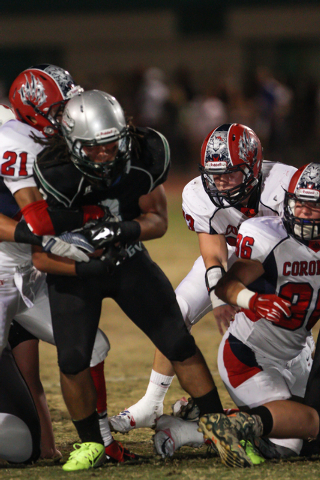 Less than a second in last week's regular-season finale changed Green Valley's playoff fate.
Even though the Gators trailed Foothill by seven points with time running down, Green Valley was set to host a quarterfinal game in the Sunrise Region football playoffs. But then the Falcons called timeout with 0.6 seconds left and kicked a field goal that knocked Green Valley to the No. 3 seed because of a tiebreaker.
Now the Gators (7-2), one of the favorites in the Sunrise Region, find themselves on the road against four-time defending region champion Liberty (7-2) at 7 tonight.
"The challenge is in front of us, and we're playing on the road," Green Valley coach Brian Castro said. "We're certainly no stranger to that; we've played a lot of football games on the road this year. So I think we'll show up and be all right."
Green Valley has played five road games this season, going 4-1. The loss against Foothill last week ended a six-game winning streak.
"We need to stick to our game," senior quarterback Christian Lopez said. "The last couple weeks we've been taking people light instead of just playing how we play. I think we're going to get back to that this week."
Green Valley's defense has had its issues in recent weeks. Since holding Coronado to seven points on Oct. 10, the Gators have given up at least 37 points in each of the final three games, including a season-high 58 last week. The previous week, the Gators allowed 38 points to Eldorado, a team that was winless in the Southeast League.
Liberty has had its challenges on offense this season, but the Patriots are coming off one of their best games.
Freshman quarterback Kenyon Oblad passed for 458 yards and three TDs, and the Patriots totaled 630 yards of offense in a 48-20 win over Las Vegas last week.
"That's a challenge for us this week," Castro said. "They do a good job, and they've got a lot of athletes running around back there. The biggest thing for us is getting lined up in the right spots pre-snap and playing from there."
Another challenge for the Gators will be playing without star running back Albert Lake, who is fourth in the area in rushing with 1,258 yards and 14 TDs. Lake suffered a broken right fibula on his first carry against Foothill.
"You never want something like that for a kid, especially with the year he was having," Castro said.
Castro said it took his players awhile to adjust to being without Lake, who also was a standout defensive back.
"They were shocked early," Castro said. "We had a hard time getting back on track and focusing on what we needed to do. I think they're OK with it now, and they know that's what it is. Like we've done all year long, it's the next guy in mentality. We'll miss him, but that's the way we've got to play."
Without Lake, the Gators will look to senior Brenan Adams to carry the load. Adams, who transferred from Liberty, has rushed for 963 yards and eight TDs. He has carried the ball 158 times, while Lake has 133 rushes.
"He's been solid for us all year long," Castro said. "He's been behind Albert in terms of who gets to run out on the field first, but their carries are about even. So we definitely don't worry when he's in the game and believe that he can carry the load for us."
And Lopez said Lake's injury will give his squad something more to play for.
"It motivates us a lot," Lopez said. "Me and him did a lot of training over the offseason, and to see him go down just motivates my game a little more."
Contact reporter Damon Seiters at dseiters@reviewjournal.com or 702-380-4587. Follow him on Twitter: @DamonSeiters.