FIELDER'S CHOICES: A sure bet on Palo Verde-Gorman … a full house
November 12, 2009 - 4:59 pm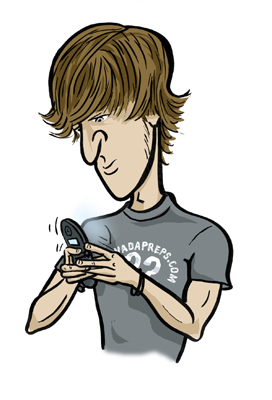 For the first time since I started writing for the Review-Journal, I'm already on location for a football game.
The Palo Verde-Bishop Gorman game might draw the biggest crowd of the year, and I'm writing from next to the south end goal post at Gorman to make sure I have a seat for the game.
You might want to consider getting there early, too. It's big whenever these teams play each other. This year just might draw the biggest high school crowd of any game ever played in this state.
They should move it to Sam Boyd Stadium, but UNLV officials won't let them. It would produce the second-biggest crowd of the year in the stadium, behind only the U2 concert. And might draw more people than any three Rebels' games combined.
If you come to the game tonight, make sure you come up and say hi … if you can find me.
Here are my big-school picks. Small-schools fans, read this story and then go to the one below it on the main page of the site for your picks.
Palo Verde (10-1) at Bishop Gorman (11-0)
I'm a little more used to seeing these teams meet in the next round, but Legacy went and got really good and knocked Palo Verde down a notch.
Last year the Panthers put it on Notre Gorman in the Sunset final, running away with the game in the second half.
But this Palo team isn't quite as good, and the Gaels actually have a passing game this year.
Riddle me this: What are: 50, 56, 31, 58, 72, 63, 50, 61 and 41?
Answer: Gorman's margin of victory in its last nine games.
Palo moved on last year. This year, the empire strikes back. Gorman by 12.
Cimarron-Memorial (8-2) at Legacy (11-0)
If not for a questionable roughing-the-kicker call in overtime, the Longhorns wouldn't be undefeated.
Cimarron remembers that call well. The Spartans saw it, the missed kick, and a made 2-point conversion after the penalty … and it cost Cimarron a win.
The Spartans, with great runners James Poole and Stephen Nixon, need no other motivation.
Legacy battled through some nerves last week to dump Spring Valley. Devin Wiedemann will need to be at his best Friday.
This should be a battle. But in the end, Cimarron's speed might be enough. Cimarron by 4.
Desert Pines (6-4) at Basic (9-1)
It's almost never good when your punter is your team's spotlight player in a game.
But that was the case for Basic when these teams met on Sept. 4. Kelly Armistead's fake punt sent Basic on its way to a 25-6 win at Desert Pines.
And it sent the Wolves on their way to a great season.
Desert Pines' offense can either be explosive or almost nonexistent. Explosive would be the way to go this time.
Basic would love another shot at Del Sol — and that could come in a state semifinal. This gets the Wolves one step closer. Basic by 7.
Liberty (7-3) at Canyon Springs (7-2)
These two teams combined for five wins last season with Liberty getting four of those.
But they've both made tons of progress this year with Liberty's team full o' Tais moving up the Southeast League ladder to finish third.
The Patriots can shorten games with their ball-control offense. And that just might be the right game plan.
Keeping a close eye on the Pioneers' Deavin Rimmey would be another good idea. Though Canyon Springs can also throw it with Tyler Ward at quarterback.
Liberty won by eight when the teams played on Sept. 17. This one should have a different result. Canyon Springs by 2.
Valley (3-7) at Del Sol (9-1)
If you're going to be 3-7, make sure you're in the Northeast League, where wins over Rancho, Eldorado and Chaparral are good enough to earn a playoff spot.
Valley went 0-5 in games against teams that made the playoffs, including a 35-12 loss to Del Sol on Aug. 28.
The Dragons have been much better than most people thought, but they'll be without leading rusher Dezerick Reed on Friday after he was ejected from last week's game.
They'll miss him and will be happy to have him back for next week's game. Del Sol by 8.
Foothill (5-5) at Las Vegas (8-1)
Foothill isn't exactly riding a big wave of momentum into the postseason. Consecutive losses to end the year almost ended the Falcons' season, but some help from their best friends at Green Valley got the Falcons in.
Las Vegas, on the other hand, has won six straight — though four of those are against Valley, Chaparral, Eldorado and Rancho.
The Wildcats haven't been convincing against playoff teams, needing a late score to put away Canyon Springs and barely surviving Desert Pines. And then there's that loss to Del Sol that I won't even mention.
Still, this is usually Las Vegas' time of the year.
Foothill has scored more than 15 points only three times this season. That's not enough. Las Vegas by 10.
Last week: 13-1 (overall), 10-4 (with points).
Season: 82-20 (overall), 74-28 (with points).