FIELDER'S CHOICES: A sure thing … a three-day weekend for me
September 16, 2009 - 9:04 am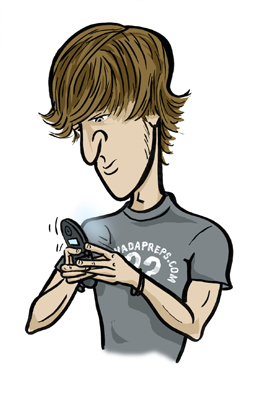 No, I'm not a day early.
Well, I am, but for a good reason. With Rosh Hashanah this weekend, the school district has moved football games to Thursday night this week.
And that means tailgating a night earlier and taking Friday off of school.
I'm not encouraging skipping school Friday. Just saying after a long night of watching games and getting reports on others, the chances of me being in class tomorrow aren't strong.
So take good notes for me. And teachers, no tests tomorrow. Picking games is hard enough.
Cimarron-Memorial (2-0, 2-0) at Palo Verde (3-0, 1-0)
There's nothing like burning a potential league title showdown in Week 4. Oh, well.
As you might have seen on television last week, Palo Verde is fast. Like by you before you even knew they were there fast. Catching Chappell Thomas is almost impossible.
Cimarron was beyond impressive in laying the smack down on Arbor View last week. Stephen Nixon, Zach Barbara and James Poole can hold their own in any matchup.
But Palo Verde is still the team to beat in this league. And until someone beats the Panthers, it'll stay that way.
The Spartans seem to like having me pick against them. They'll love this one. Palo Verde by 8.
Del Sol (2-0) at Las Vegas (2-0)
Ever wonder why these teams bother to play each other in the regular season if they're only going to end up meeting for the Sunrise title?
Might not be the case this year, though, with Silverado looming and Canyon Springs primed for a good year.
The talk around the skate park (when we weren't discussing quantum physics and world peace) was that Las Vegas was the best team on the right side of town.
Farrell Victor is off to a good start, but the Wildcats didn't look good two weeks ago against Snow Canyon (Utah). That means they've had two weeks of Coach Faircloth's gentle reminders of what they should be doing. Ouch.
For a team that supposedly had huge rebuilding issues, Del Sol has started well, especially on defense.
Smile boys, you're on TV this week. Las Vegas by 7.
Silverado (2-0) at Desert Pines (1-1)
Which Desert Pines team shows up? The one that barely scored against Basic or the one that couldn't stop against Western?
Here's a hint. Silverado's defense is a few steps up from Western's.
Dalton Leilua has to protect the football for the Jaguars to have a chance.
People keep waiting for the Skyhawks to do something to get their season off track. With Trent Tipton running the show and Terran Madu-Jules just flat out running, I don't see it happening. Silverado by 10.
Pahrump Valley (0-2) at Mojave (0-2)
Yeah, I know. You're wondering why I would pick this game. Well, someone has to win.
Pahrump is better than it was last year but still has a long road ahead of it.
Mojave still wishes this were 2007, but the Rattlers are happy they're not playing Palo Verde or Legacy again.
Mojave hasn't scored yet this year. That changes. Mojave by 4.
Arbor View (2-1, 1-1) at Legacy (3-0, 2-0)
Not an easy turnaround for Arbor View, which comes in off a big loss to Cimarron last week. The Aggies have to get back on track quickly or risk falling out of the hunt for the league title.
I like Legacy's balance on offense. Deshae Edwards already has more than 400 yards on just 40 carries and six rushing touchdowns.
Devin Wiedemann has completed only 11 passes, but six of those have gone for touchdowns.
Tough one to pick with Legacy coming off steamrolling Mojave and the Longhorns' next two league games coming against Cimarron and Palo Verde.
I like you, Arbor View. I really do. And that's why my pick is … Legacy by 3.
Desert Oasis (1-1, 0-1) at Bonanza (2-1, 1-1)
Since being held to six points in its opener against Foothill, Bonanza has rattled off 94 points (and given up 60) in two games.
The offense got healthy fast, and if the Bengals can get through this one, they'll be 5-1 after beating Pahrump and Western.
Dasean Martin is on his way to a big year for Bonanza, but his team's defense needs to improve.
Desert Oasis was its own worst enemy last week with five turnovers against Durango. The Diamondbacks' defense was good; it just kept getting put into bad spots.
The Snakes will keep improving, but they might have to wait for their first league win. Bonanza by 6.
Rancho (0-2) at Foothill (1-1)
Tell me Foothill isn't happy to look at the schedule and not see the words Palo and Verde anymore.
Connor Afoa and the Falcons can get back to controlling the tempo and get back on the winning track.
Rancho is still trying to find a starting quarterback who can be consistent. And when you have more than one quarterback, you have none. Foothill by 12.
The Meadows (1-1) at Calvary Chapel (0-1)
Class 2A starts league play this week. Please try to contain your excitement.
Seriously, though, The Meadows should be a contender for the league title with Garrett Gosse filling in at quarterback after Gerard Martinez transferred.
Calvary Chapel hits the field for the first time since lightning stopped its comeback bid against Rite of Passage (and erased the game film, too).
This should be a matchup of maybe the top offense against arguably the top defense in Southern 2A. The Meadows by 14.
Last week: 6-2 (overall and with points).
Season: 21-5 (overall), 20-6 (with points).