FIELDER'S CHOICES: Arbor View equals small-school heaven
November 17, 2010 - 7:02 pm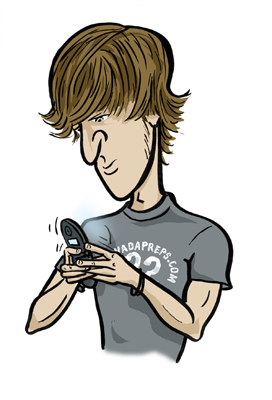 It's championship week for the small schools, and that means, well … that basketball is around the corner, I guess.
Actually, it means if you're a small school fan, Arbor View is the place to be on Saturday. Which is weird, because I'm not sure Arbor View is ever the place to be.
All three title games will be played at Arbor View on Saturday, and I've heard that Nevadapreps.com will have a live play-by-play for all three. Thankfully, I don't have to enter it all.
Check back later in the week for my Class 4A picks. Trust me, they'll be good.
As for the small-school picks, there shouldn't be many mysteries here. I said two weeks ago Pahranagat Valley would win the Class 1A title and Truckee would take the 3A. Read on to see how.
Pahranagat Valley (11-0) vs. Coleville (11-0)
Why Pahranagat Valley can win: Ask any of the Panthers' last 30-some odd opponents, none of whom have defeated Pahranagat.
The Panthers hung 92 points (yes, 92) on Carlin last week, and can score from the parking lot. The defense is good, too. Pahranagat Valley is as good as 8-man football gets.
Why Coleville can win: Two years ago when these teams met in the semifinals, Pahranagat couldn't stop Coleville and had to keep onside kicking to win a close 128-74 verdict. Emmi Sandoval is one of the top players in the state, no matter what class.
The final score should be somewhere between the 2008 final and last year's 60-44 Pahranagat win. In other words, there will be points. Lots and lots of points. Don't be surprised if the scoreboard at Arbor View reads "tilt."
At this pace, the state title may never leave Alamo. Pahranagat Valley by 16.
Mountain View (7-5) vs. Pershing County (7-4)
Why Mountain View can win: Led by quarterback T.J. Engel, the Saints have a really good offense, one that has scored 39 or more points in six straight games.
The comeback win over Rite of Passage last week had to give Mountain View a ton of confidence, especially the way the Saints shut down the Rams in the second half.
Why Pershing County can win: Mountain View often struggles to stop opposing rushers. Now take a guess at Pershing County's base formation.
Yep, wishbone. Marcus Tippens and Jared Jensen have combined for 2,040 yards and 26 touchdowns on the ground. The Mustangs average only five passes per game.
These are two No. 4 seeds in a title game, so anything can happen. I like Pershing County's defense, except for the fact that the Mustangs got throttled by Rite of Passage six weeks ago. Eh, go for the local team here. Mountain View by 4.
Moapa Valley (7-4) vs. Truckee (11-0)
Why Moapa Valley can win: The Pirates throw often, but they're also surprisingly diverse. Seven different players have at least three touchdowns.
The defense is opportunistic, and can be very good. Lowry gave Truckee its only scare of the year before losing 22-16. And Moapa just beat Lowry.
Plus, I'll be picking against Moapa this week, and the Pirates win every time I do.
Why Truckee can win: Truckee didn't allow any points until the seventh game of the season. Go ahead and re-read that; yes, that's seventh game.
The Wolverines have given up 58 points all season. The offense is a little better than average — if by that you mean, has scored 501 points.
Quarterback Ben Bolton has thrown for 2,104 yards with 25 touchdowns and four interceptions, and seven different receivers have at least 10 catches. Yeah, they're good. Really good.
Moapa Valley will keep it closer than most teams would, but the Class 3A Nevada state title should be taken back to California. Truckee by 8.