FIELDER'S CHOICES: Don't stand around like a 'Mannequin' as postseason heats up
November 9, 2016 - 9:34 pm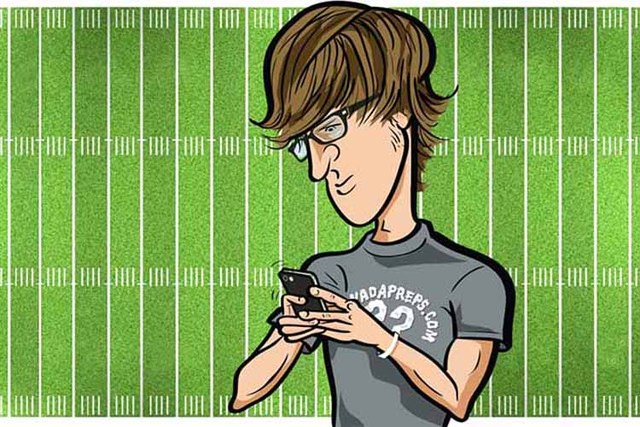 Everybody at my school is obsessed with the "Mannequin Challenge."
You've probably seen the videos on social media or the internet, with groups of people striking up a pose as someone walks through and records the elaborate scene.
I decided to join the fun and do my version of the challenge. Ready?
Picture a football field, with four would-be tacklers reaching at air, the referee's arms extended above his head, and me, Fielder, standing in the end zone after scoring the winning touchdown.
Cue Rae Sremmurd's "Black Beatles," please.
\(•_•)
( (>
/ \
The postseason gets juicy this week with games Thursday, Friday and Saturday.
The Southeast League tournament, aka the Class 4A Sunrise Region playoffs, hits the semifinal stage, while the Class 3A and small-school divisions play the state semifinals.
And the 4A Sunset Region playoffs begin after all those wacky tiebreakers finally got sorted out.
■ Foothill at Basic — I hate to say I told you so, but … I told you these teams would meet in the Sunrise semifinals. And if Thursday's game is anything like Foothill's 37-35 victory over the Wolves on Oct. 21, then we're all in for a treat.
The Falcons erupted for 29 straight points in the fourth quarter to upset Northwest League champion Canyon Springs last week and are riding a three-game winning streak. Peaking! … Foothill by 3.
■ Silverado at Liberty — A moment of silence, please. After two seasons, this is the final time I will be able to write about Skyhawks senior running back Keikiokalani Misipeka.
Keikiokalani Misipeka. Keikiokalani Misipeka. Sorry, I just really like his name, OK?
Patriots senior Darion Acohido has scored on special teams in three straight games, including two punt returns for touchdowns last week against Valley. I'm guessing Silverado kicks away from him. … Liberty by 30.
■ Legacy at Sierra Vista — This Class 4A Sunrise Region quarterfinal reminds me of "Martha & Snoop's Potluck Dinner Party" on VH1. Seems cool at first — the Longhorns and Mountain Lions are a combined 15-3, after all — but upon further inspection, it's a hot mess.
These teams have one common opponent (Moapa Valley), but the Longhorns won by 38 and Sierra Vista earned a nine-point victory. This is when the Northwest League shows its superiority. … Legacy by 11.
■ South Tahoe (California) at Desert Pines — The Jaguars are back in the Class 3A state semifinals after getting past nemesis Moapa Valley last week, and coach Tico Rodriguez says it's because his team is winning ugly. I respectfully disagree.
The nail on my left pinky toe is ugly. My neighbor's dog with the overbite and crooked tail is ugly. Playing dominant defense and handing the ball to talented running back Isaiah Morris is a beautiful thing. … Desert Pines by 9.
■ Palo Verde at Bishop Gorman — Palo Verde was the last Nevada team to beat the Gaels. I bet you've never read that in this space. You probably didn't know the Warriors blew a 3-1 lead, either.
For reals, though, the Panthers deserve credit for making the playoffs for the 17th consecutive season. Especially after an 0-6 start. … Bishop Gorman by 42½.
■ Bonanza at Faith Lutheran — The Bengals, under first-year coach Dion Lee, are back in the playoffs for the first time since 2011, and they come in hotter than Abuelita's salsa with four straight wins. The Stats and Info Dept. also wanted me to point out that Bonanza (5-4) won five games the past three seasons combined. Noted.
The Crusaders didn't have anything to play for in the season finale, and I should have kept that in mind before I incorrectly picked them to beat Centennial two weeks ago. Now, Faith Lutheran is rested, and I NEVER pick against a Vernon Fox-coached team in November. … Faith Lutheran by 6.
■ Chaparral at Spring Creek — Who is that old guy with the funny accent my grandpa watches on TV who says, "Surprise, surprise, surprise"? Gomer Pyle? Seems appropriate for the Cowboys, who are in the Class 3A state semifinals for the second straight season after not advancing that far since 1990.
Chaparral knocked off top-seeded Virgin Valley last week in large part because it outrushed the Bulldogs 166-142. That was only the fourth time this season the Cowboys have rushed for more than 100 yards as a team. Surprise, surprise, surprise. The Spartans feature a potent offense, so this would be a good week to get the ground game going again. … Spring Creek by 13.
■ Whittell at Pahranagat Valley — This is a rematch of last year's Class 1A (then Division IV) final won by the Panthers. Duh. They've won 103 straight.
That game up in Dayton, with the mountains in the backdrop, was 38-28 late in the third quarter before Pahranagat Valley pulled away in the fourth. This could be close, but I can't fathom the Panthers losing in Alamo. … Pahranagat Valley by 10.
Last week: 6-2, 5-3 (with points)
Season: 67-24, 58-33 (with points)
Contact Fielder at Fielder@nevadapreps.com. Follow @FielderNVP on Twitter.