FIELDER'S CHOICES: Intrigue abounds on best week of season
October 28, 2015 - 9:51 pm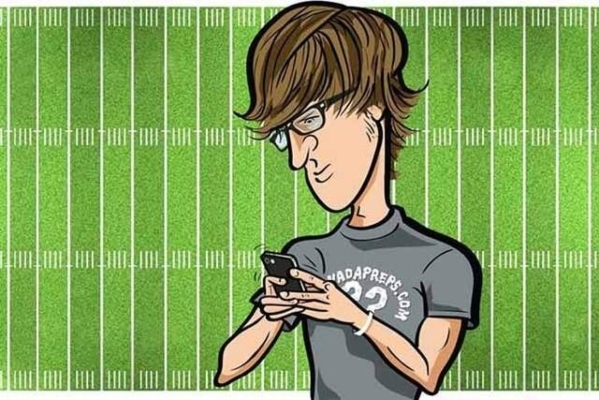 This is my favorite week of the prep football season.
The Division I-A Southern Region playoffs begin, there are two league titles up for grabs, and all the games are Thursday because of Nevada Day.
The only thing that could make this week any better is if Las Vegas coach James Thurman wore a zombie costume on the sideline during the Wildcats' game against Silverado.
C'mon, Coach. Pleeeeease.
If you're looking for the party, it will up north when Arbor View hosts Centennial in the game of the week. It's not quite like last year when both teams entered the regular-season finale undefeated, but it's close. The winner gets the Northwest League title, and the loser gets to be in the same half of the bracket as Bishop Gorman for the Division I Sunset Region playoffs.
Eric, Skeet and I are going to put on our Halloween costumes and drive to Arbor View to watch. I'll be dressed as "Hotline Bling" Drake and showing off my dance moves in the parking lot, so be sure to say hello.
I whiffed on my upset special last week (well played, Centennial), but that hiccup didn't ruin my hot streak. For more of my ghoulish Halloween picks, check out Nevadapreps.com.
Centennial at Arbor View — There are so many good storylines here: league title on the line, two of the best linemen in the state (Aggies senior Keenen King and junior Greg Rogers of Centennial) possibly facing off, not to mention more evidence to support my theory that every good football rivalry pits blue against red.
Since 2008, Arbor View has battered the Bulldogs, winning seven of the past eight meetings. I like history, and I think the Aggies defense will be able to slow Centennial quarterback Jamaal Evans. Let's go Red! … Arbor View by 4.
Palo Verde at Bishop Gorman — I always write the same thing when these rivals get together. The Gaels haven't lost to an in-state team since 2008. The Panthers were the last Nevada team to beat Gorman. Yada, yada, yada.
Palo Verde, which got off to a slow start this season, deserves credit for making this into the Southwest League title game by winning three straight. But we all know the Panthers might as well start planning for that playoff game against Desert Oasis next week. … Gorman by 44.
Desert Pines at Cheyenne — We'll have plenty of time during the postseason to extol the Jaguars, who are officially the greatest No. 3 seed in the history of the Division I-A playoffs. So let's concentrate on the Desert Shields, since they'll be turning in their pads and helmets after this one.
Cheyenne won more games this year (seven) than the past two combined (six) and ended the regular season with four consecutive shutouts. The Desert Shields haven't allowed a point for 199 minutes, 23 seconds, of game time, but the scoreless streak might not make it to 200 minutes. … Desert Pines by 23½.
Mojave at Chaparral — These teams have undergone more changes than Miley Cyrus since Mojave blanked the Cowboys 25-0 in the season opener. At this point, I don't even recognize the Rattlers, who will start a different quarterback and running back from the teams' first meeting.
This has been a feel-good season for Chaparral, which has won five games on the field and two more by forfeit. To get to eight wins, the Cowboys have to survive a low-scoring slugfest, and I think that type of game favors the visitors. … Mojave by 3.
Silverado at Las Vegas — There's a lot going on here aside from Zombie Coach Thurman, with both teams still harboring Northeast League title aspirations. I have a better chance of scoring a date with Aya Cash than Silverado does of winning the league title, but the Skyhawks are mathematically alive from what I can tell. Las Vegas, meanwhile, has a much more realistic shot.
The Wildcats are riding a six-game winning streak and a victory would set up a battle for the outright league title next week against Liberty. I hope they're not looking ahead. … Las Vegas by 6.
Foothill at Coronado — It's too early to sort out all the postseason scenarios involving the Southeast League, and it's probably pointless since Basic looks like it will be the top seed regardless. One thing I am certain of is that the winner of this game stays in the running for the No. 2 seed.
The Falcons' offense sputtered last week, which is a bit surprising since Foothill hadn't scored fewer than 45 points since Week 1. Time to start a new streak. … Foothill by 8.
Cimarron-Memorial at Bonanza — The winner of this game earns the final playoff berth from the Northwest League and a date with Bishop Gorman to open the Sunset Region playoffs. Some people see that as unfair, but I think it'd be a cool story to tell my kid(s) that I played against the No. 1 team in the nation. … Cimarron-Memorial by 5.
Agassi Prep at Lincoln County — All right, a little Division III action just to mix things up a little bit. This is one of two big games in the Southern League (Needles at White Pine is the other), and we could see a three-way tie for second place if things break a certain way.
The Stars would miss the playoffs with a loss and a victory by The Meadows. The Lynx would earn their first league title since 2008 with a win and a Needles victory in Ely. I don't know much about these teams, but Panaca seems like a tough place to play, so I'll ride with the home team. … Lincoln County by 4.
Last week: 8-1, 8-1 (with points)
Season: 57-18, 51-20-1 (with points)
Contact Fielder at Fielder@nevadapreps.com. Follow him: @FielderNVP.