FIELDER'S CHOICES: Poor picks lead to desperate measures
November 13, 2013 - 10:28 pm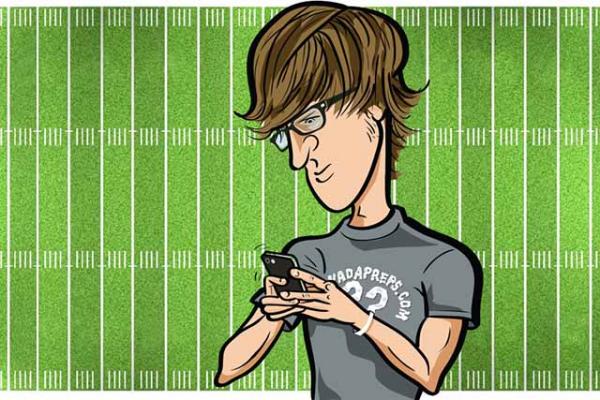 My competitive side clearly has gotten the better of me. But I can't help it. I'm desperate.
After I "derped" my way to a 4-5 record against the spread last week, I gave in and finally used Eric and Skeet's prep football power ratings to help with my picks.
Eric and Skeet do their ratings a little different. They don't care about metrics such as points per possession. They're more concerned with whether a team gives out helmet stickers for a good play. You get a bonus point doing that. Morons, I know.
I vowed in September that I never would use their ratings, especially since those two still have unbeaten Pahranagat Valley rated ahead of Bishop Gorman. But I can't finish worse than .500 ATS again. I'd never be able to show my face at school.
So, even if it means I have to use ratings that don't take into account strength of schedule — not to mention the number of players on the field — to help me pick postseason winners, I'm willing to make that sacrifice.
We put in all the information for the Division I Sunrise Region semifinals and the Sunset Region quarterfinals, and a few of the results were pretty wacky. In fact, I used Eric and Skeet's power ratings for all of my postseason picks this week.
■ Las Vegas at Green Valley — All hail the Northeast League, which went 6-4 against the Southeast League during the regular season and then won three of four last week in the opening round of the Sunrise Region playoffs. (Three of the Northeast's five losses belong to Silverado, by the way.)
The regular-season meeting between these teams is a "Game of the Year" candidate as the Gators scored 15 points in the final 5:45 to pull out a 39-38 win. The Wildcats dominated much of that game, though, and Eric and Skeet's power ratings see Green Valley "Gatoring" in the semifinals yet again. … Las Vegas by 2.
■ Canyon Springs at Liberty — A quick confession: I'm puzzled by this game. I even tried to shoot some video of the teams with my smartphone to help figure it out, but Coach Cooper and Coach Muraco each eighty-sixed me from their practice.
The Pioneers struggled twice this season with Coronado, including last week, and that's throwing off the entire formula. Ultimately, I'm not sure Canyon Springs' offense can keep up with the Patriots' aerial attack. But Eric and Skeet think this one has upset written all over it. … Canyon Springs by 1.
■ Legacy at Arbor View — These teams meet annually in the regular season for the "Battle of the Bulls" trophy, which has been sitting in the Longhorns' locker room since their 7-0 win at Arbor View on Sept. 26. Trophies are cool and all, but this is their first postseason meeting. And that's when true rivalries are born.
Eric and Skeet's ratings like the Aggies, but it's tough to know where these teams' heads are at after each suffered a demoralizing loss in the final week of the regular season. Awesome. Now I'm going to have that Basement Jaxx song "Where's Your Head At" stuck in my head all day. Don't YouTube it. Trust me. … Arbor View by 3.
■ Cimarron-Memorial at Palo Verde — The power ratings indicate this is not your typical No. 1-vs.-No. 4-seed matchup, no offense to those other No. 4 seeds out there. The Spartans won their first five games by dominating time of possession and playing solid defense. If Cimarron wins enough third downs on both sides of the ball, that formula could work against the Panthers.
Of course, I write all that knowing full well the same formula didn't work for Arbor View last week against Palo Verde. And Arbor View is better than the Spartans. Even Eric and Skeet's ratings agree. … Palo Verde by 14.
■ Shadow Ridge at Centennial — This is the second-biggest mismatch in the Sunset Region playoffs, according to Eric and Skeet's ratings. Personally, I fear any football team whose coach is also the school's baseball coach. The Mustangs are liable to use the hidden-ball trick or some sneaky play like that JV team in Southern California pulled off.
The Bulldogs smashed Shadow Ridge 40-7 on Sept. 20 for their first win of the season and appear to be playing even better right now. Looks like that tough nonleague schedule paid off after all. … Centennial by 17.
■ Spring Valley at Bishop Gorman — Things that are uglier than this game: My ex-girlfriend Amy, the UNLV basketball team's zone offense, Pontiac Azteks, Khloe Kardashian, monkfish, the Green Bay Packers' quarterback situation, Chris Bosh, the drive on I-5 from Los Angeles to Sacramento and Lady Gaga. … Gorman by 42.
■ Lowry at Faith Lutheran — The Buckaroos make the trip from Winnemucca for this Saturday afternoon Division I-A state semifinal. I have no clue whether Lowry is as good as its 10-1 record indicates, but I do know Faith Lutheran better be prepared to stop the run.
This has been a magical season for the Crusaders. They might build a statue of first-year coach Vernon Fox if they reach the state final. …Faith Lutheran by 1.
■ Battle Mountain at Mountain View — The Saints held off Battle Mountain 7-6 last season at this stage of the Division III playoffs, and there's every reason to believe we'll see another close game this time.
Eric and Skeet's ratings are useless when it comes to Northern Nevada teams, so I'll go out on my own and pick the team on a nine-game winning streak. At the very least, we know a team with "Mountain" in its name will play for the state title. … Mountain View by 4.
Last week: 6-3, 4-5 (with points)
Season: 69-20, 60-29 (with points)