FOOTBALL: Gorman rolls to Southwest title
October 31, 2014 - 12:17 am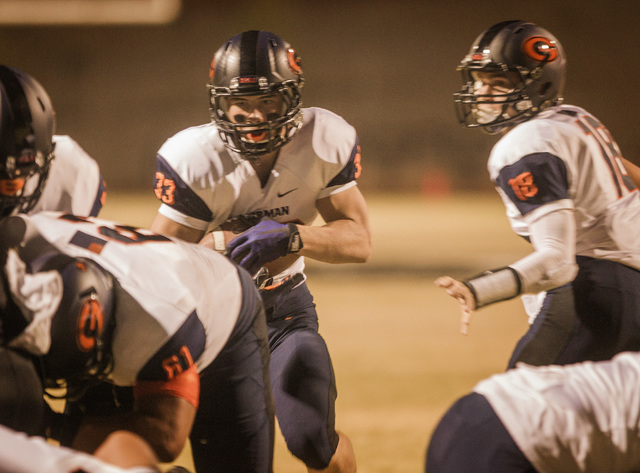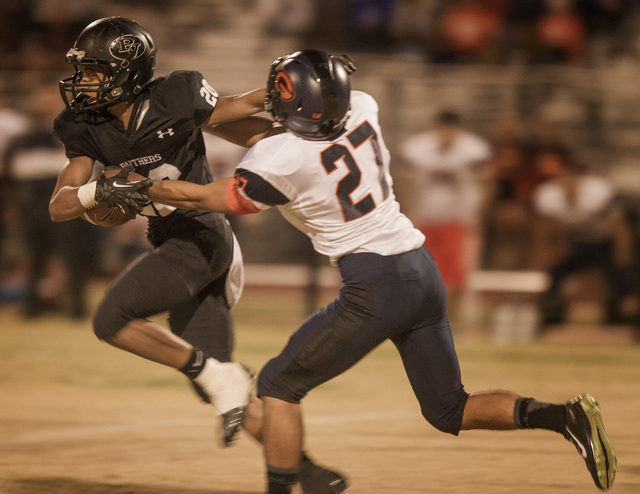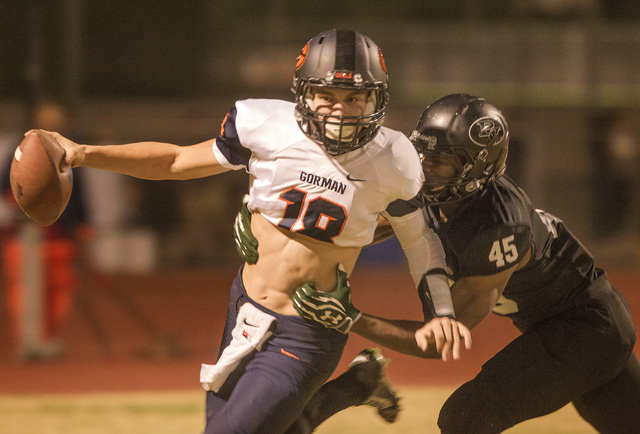 Palo Verde's football team was fired up as it took the field Thursday night to face top-ranked Bishop Gorman.
The visiting Gaels needed a few minutes to extinguish that fire but ultimately did so in convincing fashion with a 49-0 victory over the sixth-ranked Panthers.
Russell Booze rushed 13 times for 187 yards and three touchdowns to lead Gorman (10-0, 4-0 Southwest), which will host Desert Oasis in a first-round playoff game Nov. 7. Palo Verde (6-3, 3-1) will open the playoffs at home against Cimarron-Memorial.
Gorman coach Tony Sanchez said Booze has been an underrated team leader throughout the season.
"It's unbelievable what he's accomplished this year," Sanchez said. "No matter who we play."
The Panthers defense started strong, sacking Gaels quarterback Tate Martell and forcing a fumble at the Gorman 25 on the game's second play.
"I'm proud of our guys," Sanchez said. "It's the first time all year where we've come out and sputtered, but they overcame that."
Palo Verde failed to capitalize on its good field position, and the Gaels took control late in the quarter with a nine-play, 60-yard drive that resulted in a 9-yard TD pass from Martell to Alize Jones.
Things got out of hand in the second quarter, as Gorman needed just nine plays to put its next 21 points on the board. Tyjon Lindsey started the scoring flurry with an 81-yard TD reception from Martell, who completed 9 of 13 passes for 190 yards. Lindsey caught three of those passes for 105 yards.
Booze's 53-yard sprint on the Gaels' next possession made it 21-0, and Jonathan Shumaker made it 28-0 with a 1-yard scoring plunge just before halftime.
Sanchez said the score did not matter.
"Nothing changed at that point," he said. "I hardly looked at the scoreboard. We're just trying to get execution."
Booze added two touchdowns in the second half on runs of 10 and 21 yards, and Biaggio Walsh punctuated the rout with a 1-yard TD run up the middle midway through the fourth quarter.
The Panthers, who were held to 58 yards of offense in the first half, got their best look at the end zone with a 13-play, 58-yard drive in the third quarter. But Gorman's defense squelched the drive at its own 22, and Palo Verde never got another good look.
Aaron Chisholm carried 14 times for 67 yards for the Panthers.
Foothill 58, Green Valley 48 — At Green Valley, Devon Mueller threw three touchdown passes and Justice Jackson rushed for 165 yards and scored twice as the Falcons stunned the No. 4 Gators.
And the Falcons earned a home playoff game when Cory Fisher hit a 33-yard field goal on the game's final play, giving Foothill the Southeast League's No. 2 seed on a tiebreaker.
Offense was certainly the centerpoint of the evening, as the two teams combined for 919 total yards.
Mueller completed 9 of 18 passes for 164 yards, and threw TD passes of 60 yards to Fisher, 11 yards to James Hagen and 27 yards to Nick Gardner. Mueller also added 67 yards on 14 carries and a pair of touchdown runs on the ground for Foothill (5-4, 3-1 Southeast)
Jackson had scoring runs of 3 and 11 yards for Foothill, which finished with 277 yards rushing.
Green Valley quarterback Christian Lopez had a big night for the Gators, with 96 yards rushing and three touchdowns. Lopez passed for 191 yards a two more scores. Brenan Adams gave the Gators a big lift, replacing the injured Albert Lake. Adams rushed for 158 yards and a touchdown on 25 carries.
The Gators (7-2, 3-1 Southeast) finished with 447 yards, 256 of those on the ground.
Legacy 14, Shadow Ridge 6 — At Shadow Ridge, the Longhorns prevailed after three scoreless quarters, earning the No. 3 seed in the Southwest League.
Legacy broke the tie with 7:55 left as Tanoa Alapati found D'Angelo Lindsey from 20 yards out to cap a 16-play, 77-yard drive that ate up more than eight minutes. After a Shadow Ridge punt, DeMichael Walker gave the Longhorns insurance as he burst untouched up the middle for a 37-yard touchdown on Legacy's next offensive play.
Shadow Ridge got on the board on its next possession as Elijah Quintoa found a wide-open De-Zhon Rogers for a 35-yard score. The Mustangs did not get the ball back, however, as Legacy ran out the remaining 4:37 to end the game.
Walker rushed for a game-high 119 yards on 25 carries for Legacy (3-6, 2-2 Southwest). Dominick Wilson paced Shadow Ridge (3-6, 1-3) with 63 yards on 15 carries.
— Jesse Vineyard
Coronado 30, Basic 0 — At Coronado, the Cougars used a smothering defense to lock up the top seed in the Southeast League.
Coronado limited Basic to 56 yards rushing and forced three second-half turnovers.
Cougars quarterback Spencer Cofer threw two touchdown passes and kicked a 42-yard field goal. Jordan Patterson scored the final touchdown of the game for Coronado (6-3, 3-1 Southeast) and paced a balanced rushing attack with 44 yards on the ground, while Travis Boman caught six passes for 68 yards and a touchdown.
Aeneas McAllister threw for 130 yards for the Wolves (4-5, 1-3), whose closest foray into Coronado territory ended in a missed 36-yard field goal late in the second quarter. Dallon Ellett caught seven passes for 68 yards for Basic, the fourth seed in the Southeast.
— Mike James
Canyon Springs 56, Silverado 17 — At Canyon Springs, senior quarterback Bradley Alexander threw a 39-yard touchdown pass to Zavionte Stevenson on the first offensive play of the game to start the Pioneers.
Alexander's first two passes both found the end zone, and he finished 9 of 11 for 283 yards and four touchdowns. He also took a lateral from reciever Tre'von Dean on a trick play and ran 53 yards for a touchdown with three seconds left in the first half to give the Pioneers (6-3, 3-1 Northeast) a 35-14 lead.
Dean took over at quarterback in the third quarter and went 4 of 5 for 87 yards, including a 71-yard touchdown to Kasey Allison in the fourth quarter. Allison led all receivers with three catches for 108 yards and two touchdowns.
Stevensen led Canyon Springs on the ground with 10 carries for 63 yards and a touchdown.
Silverado (3-6, 1-3) was unable to get anything going on offense. Canyon Springs held them to only 2.7 yards per carry, and the Skyhawks only mustered 110 rushing yards. Dre Fletcher ran 18 times for 67 yards, and quarterback Mitchell Ballard scored on a 1-yard quarterback sneak in the first half.
The win, coupled with Liberty's 48-20 win over Las Vegas, gives Canyon Springs the No. 1 seed in the Northeast Divison.
— Jesse Granger
Cimarron-Memorial 47, Bonanza 0 — At Cimarron-Memorial, quarterback Derek Morefield ran for two touchdowns and threw for two scores to power the Spartans (4-5, 2-2 Northwest).
Cimarron clinched the Northwest's League's No. 3 seed for the Sunset Region playoffs.
Morefield provided first-half TD runs of 3 and 9 yards and hit Channing Reagan for a 33-yard strike over the middle for the Spartans, who got a 6-yard TD scamper from Armond Whitney to make it 27-0 at half.
Morefield completed a play-action pass to Maurice Bennett, who fell inside the front left pylon for a 16-yard score, and Whitney followed a 36-yard carry with a 43-yard TD sprint to push the lead to 40-0 at the end of the third quarter.
Sophomore Tyree Riley ripped off a 52-yard TD run to cap the scoring.
Whitney finished with 111 yards on nine carries for the Spartans, who got two interceptions and a blocked field goal from Joe Tito.
Wyatt Allison completed 14 passes for 89 yards for Bonanza (0-9, 0-4), which got two sacks and a blocked extra point from Ammon Montenegro.
— Brennan Karle
Desert Oasis 35, Durango 13 — At Durango, the Diamonbacks (2-7, 1-3 Northwest) rushed for 237 yards and five scores in a win over the Trailblazers.
Durango opened the scoring on a 2-yard touchdown run by Leontre Austin, but Brannon Flowers returned the ensuing kickoff 52 yards and six plays later Angelo Craig scored n a 15-yard run. Qwade Huff and Franco Rocco each rushed for a second-quarter score to give Desert Oasis a 21-6 lead at the half.
Troy Smidt Jr. caught a 14-yard TD pass from Jonathan Schofield to cut the Trailblazer deficit to eight, but Devin Ford and Landon Vizcarro scored fourth-quarter rushing touchdowns to secure the Diamondback victory.
— Adam Berchin
Eldorado 55, Valley 18 — At Valley, Deven Dabbs completed all 10 of his passes for 267 yards and four touchdowns to lead Eldorado (4-5).
Dabbs threw touchdown passes of 75 yards to Joshua Brown, 23 yards to Tyler Spivey and 18 yards to Shane Barnes.
Iyen Medlock scored for Valley (0-9) on a 39-yard run just after halftime and an 18-yard run that closed the scoring. Kyler Jackson scored on a 52-yard run for the Vikings.
— Ron Harris
The Meadows 41, Needles 28 — At Needles, Calif., Jack Berkley had 34 carries for 210 yards and four touchdowns to lead The Meadows (8-2, 7-0 Division III Southern) past Needles (6-3, 4-3).
Thayne Carlson added 56 yards and a score on 14 carries, and Jacob Gleason was 4 of 11 for 90 yards and had a TD run for The Meadows.
Needles' Kobee McCorkle had nine rushes for 93 yards and a touchdown, and Mason Paget hauled in two receptions for 22 yards and a score. Quarterback William Dunn finished 3 of 6 for 29 yards and a TD and added 58 yards rushing and a TD for the Mustangs.
Lincoln County 51, Mountain View 20 — At Panaca, Preston Robbins rushed 24 times for 242 yards and four touchdowns to lead the Lynx (6-3, 5-2 Division III Southern).
McClain O'Connor completed 9 of 14 passes for 152 yards and a TD and rushed 13 times for 142 yards for Lincoln County, which got two rushing touchdowns from Will Culverwell and a receiving score from Cody Thornock. The Lynx led 20-8 at halftime.
Mountain View's Connor LeBoeuf had five receptions for 92 yards and a TD and returned a kickoff 63 yards for a score in the fourth. Quarterback Ian Locke had 127 yards passing, 121 yards rushing, 9 yards receiving and two TDs for the Saints (4-5, 3-4).
Spring Mountain 68, Round Mountain 0 — At Round Mountain, Norman Crawford ran for two touchdowns and returned the second half kickoff 91 yards for a score to lead the Golden Eagles (7-2, 6-1 Division IV Southern).
Cory Duncan had two touchdown runs for Spring Mountain, which led 54-0 at the half.
Edward London tossed a 55-yard TD pass to Maurice Stitt for the Golden Eagles.
Round Mountain finished 5-4, 3-4.
Pahranagat Valley 98, Beaver Dam 40 — At Littlefield, Ariz., Wade Leavitt scored four second-quarter touchdowns and finished with six touchdowns as the Panthers (9-0, 7-0 Division IV Southern) rallied from an early 6-0 deficit to rout the Diamondbacks.
Luiz Gonzalez's 22-yard touchdown reception gave Beaver Dam (0-7, 0-6) a short-lived lead, but the Panthers turned on the jets.
Shawn Wadsworth scored four touchdowns, and Tabor Maxwell completed five touchdown passes for Pahranagat Valley.
Tonopah 1, Indian Springs 0 — At Tonopah, the Muckers (4-5, 2-5 Division IV Southern) were winners by forfeit over the Thunderbirds (0-8, 0-6).
Indian Springs had just 15 eligible players on its roster, seven of whom were ill or injured.
Box score:
Bishop Gorman 49, Palo Verde 0