Gaels hold Durango to 40 yards of offense in blowout win
October 28, 2016 - 12:47 am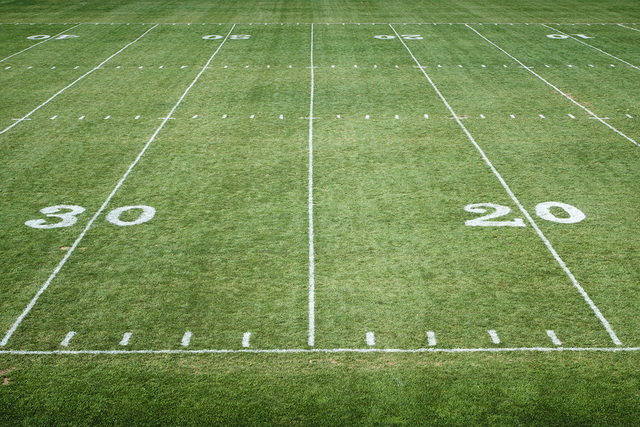 Bishop Gorman's first mistake Thursday came when quarterback Tate Martell fumbled at midfield on the opening drive.
Actually, that was the Gaels' only mistake.
Biaggio Ali Walsh rushed 13 times for 129 yards and two touchdowns — all in the first half — to lead top-ranked Gorman to a 56-0 home victory over Durango.
"Other than the fumble to start the game off," said Gaels coach Kenny Sanchez, "I thought we did a great job of moving the ball."
The Trailblazers (6-2, 3-2 Southwest) recovered the early fumble at the Gorman 49 for their best opening field position of the night. But the ensuing drive fizzled quickly, and Durango failed to convert on a fourth-down conversion attempt.
The Gaels (10-0, 5-0) took advantage four plays later, scoring on a 17-yard pass from Martell to Jalen Nailor. Ali Walsh added a 9-yard TD run on the next drive, and Martell followed a Durango interception by connecting with Austin Arnold for a 20-yard TD only 15 seconds later to give Gorman a 21-0 first-quarter lead.
The Trailblazers were unable to answer, finishing the first half with negative offensive yardage and no first downs.
"That's always our goal," Sanchez said. "We try to limit their first downs and go for a shutout."
The rout got uglier in the second quarter, with Nailor catching a screen pass and pounding his way in for a 15-yard TD with 11:17 to go. Ali Walsh scored again on an 8-yard run midway through the quarter, and Bubba Bolden capped the first half with a 38-yard interception return to give the Gaels a 42-0 lead at halftime.
Durango's one effective second-half drive was good for 73 yards, but fizzled at the Gorman 7. The Trailblazers finished with just 40 yards of offense, while the Gaels forced two interceptions.
Martell added a 16-yard TD run in the third, and reserve quarterback Dorian Thompson-Robinson had a late scoring run to provide the winning margin.
Sanchez said he likes his team's chances heading into next week's regular-season finale against undefeated league foe Sierra Vista.
"This senior class is special," he said. "But they've got a job to finish. We still haven't fulfilled our goals yet."
Martell completed 7 of 8 pass attempts for 115 yards, and Arnold had seven rushes for 80 yards.
Box score: