Gators lucky, good against Cougars
October 16, 2015 - 11:48 pm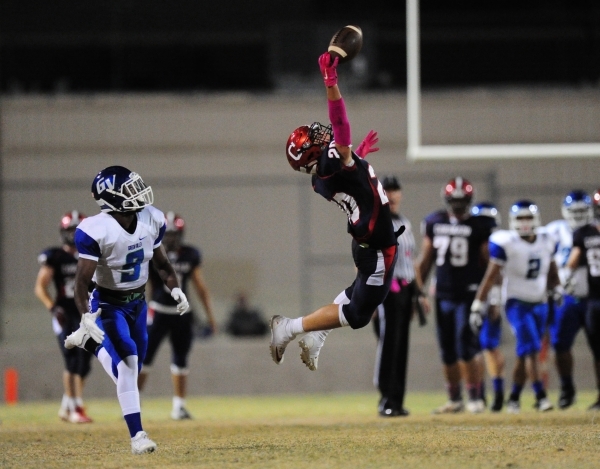 The Green Valley football team's defense didn't need any extra help considering how well it played Friday night.
The Gators got some anyway from an unlikely source.
A.J. Amelburu tossed three touchdowns, and No. 10 Green Valley benefited from a lucky break early in the fourth quarter en route to a 28-10 victory over host Coronado.
"This is a big win for us," said Green Valley coach Brian Castro, whose team halted a two-game losing streak. "A lot of our kids know guys on this football team and went to middle school with them, so it was important for our guys to get it done."
Green Valley (3-4, 1-1 Southeast League) was nursing a 21-10 lead when Cougars running back Sean Stayton broke into the clear on the first play of the fourth quarter. Stayton, who finished with 146 yards on 20 carries, appeared to be pulling away from three Gators defenders when he bumped into the back judge and was tackled at the Green Valley 37-yard line.
Coronado (2-4, 0-1) turned over the ball on downs four plays later, and Amelburu capped a five-play, 65-yard drive with a 17-yard touchdown pass to Ryan Becker that put the Gators on top 28-10 with 7:21 remaining in the game.
"We've worked hard enough to deserve a break," Castro said. "In terms of that play, it's not good for that kid, but it worked out for us. The official is part of the game, and what else can you do?"
Amelburu completed his first 14 passes and finished 23-for-30 for 306 yards as Green Valley took advantage of the Cougars' soft coverage with several screen passes to receivers Marquez Powell, Isiah Macklin and Christian Mayberry.
Powell had seven receptions for 109 yards and a touchdown, while Macklin, a San Diego State commit, made five receptions for 93 yards and a score. Mayberry added seven catches for 63 yards.
"I felt like I got in a good rhythm," Amelburu said. "I made a few mistakes throughout the game, but I fixed them and I'm glad we came out with the victory."
Green Valley muffed the opening kickoff and the Cougars took advantage as Stayton's 34-yard run helped set up Landon Rowland's 1-yard sneak less than three minutes into the game. Coronado was on the verge of taking a two-touchdown lead on its next drive, but tight end Cole Grismanauskas took a big hit at the goal line after hauling in a pass from Rowlan, and the Gators recovered the fumble in the end zone.
Powell turned a short screen into a 38-yard touchdown that tied the game at 7 with 7:54 left in the second quarter, and Amelburu hit Macklin in stride for a 37-yard score that put Green Valley up 14-7 with 3:09 remaining until halftime.
"We just try to get the ball to guys in space and let them make a play," Castro said. "We knew if we were going to move the ball we needed to throw the short game. We had some receivers doing a great job blocking and some linemen getting down field, too."
Brendan Dixon-Whittle added a 1-yard touchdown run with 4:45 left in the third quarter to put the Gators on top 21-10.
Green Valley forced two turnovers, blocked a field goal and stopped the Cougars twice on downs while holding Coronado scoreless in the second half.
DaQu'an Davis had four catches for 106 yards to lead Coronado.
"They did a good job tonight," Castro said of his defense. "They made plays when we needed them to make plays."
Contact reporter David Schoen at dschoen@reviewjournal.com or 702-387-5203. Follow him on Twitter: @DavidSchoenLVRJ
Box score: