Gorman AD fires back after realignment plan targets Gaels' dominance
Updated January 31, 2023 - 9:30 am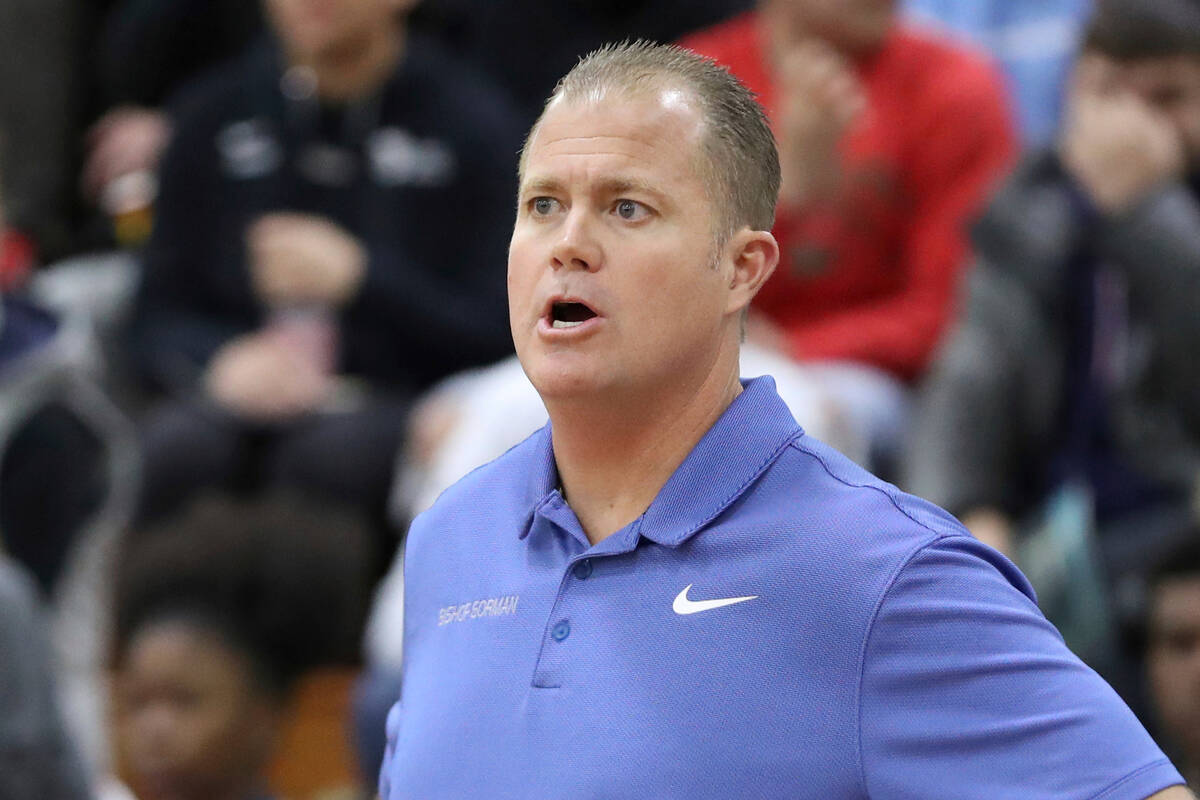 Tensions over Bishop Gorman's football domination came to a head at a meeting Monday in which rival high school coaches put forth a plan that would all but end the Gaels' presence on the national stage.
A Nevada high school football realignment proposal that would limit the Gaels to one out-of-state game per season would be a "step back" for the state, Bishop Gorman athletic director Grant Rice said Monday in response to the plan.
At the Nevada Interscholastic Activities Association Realignment Committee meeting, Rice was brought into the virtual discussion after he expressed concern during public comment about a proposal that would make the Class 5A South a one-division, 10-team league.
Under the proposal, 5A South teams would play nine league games and have the option to play one non-league game. Rice said he understood concerns expressed by some coaches about recent competitive imbalance, but he said the proposal would be "bad for all of Nevada," and "set back Nevada quite a bit."
Last season, Bishop Gorman outscored opponents 574-23 in nine in-state games. The Gaels have won the past two state football championships and 12 out of 13 in the top division.
"For us to take a step back in 2023 and put our kids, all of Nevada, not just Bishop Gorman students, where they can't play other states, get recruited by other colleges, be seen on any kind of West Coast or national level, I think it's a complete step back for Nevada," Rice said at the meeting.
During public comment, Liberty football coach and Southern Nevada Football Coaches Association president Rich Muraco said that a survey on the plan was sent to 30 SNFCA coaches. He said the proposal has support from 25 coaches. Muraco added that nine of the 10 schools in the proposed, realigned 5A South back the plan.
"The vote from the Southern Nevada Football Coaches Association is 9-1 in favor of this proposal, with the one school not wanting it being Bishop Gorman," Muraco said during public comment. "The CCSD principals of the schools are in favor of the proposal 9-0.
Kevin McPartlin, the southern representative on the realignment committee, said the proposal is preferred by the schools' principals in both 5A and 4A classifications.
"We feel very strongly that if you choose not to move forward with this proposal, then you're sending a very loud and clear message that the wants and needs of CCSD schools are not being met," Muraco told the committee. "And that you're going to take the needs and wants of one school, which is Bishop Gorman."
Bishop Gorman, Liberty, Silverado, Arbor View, Desert Pines, Shadow Ridge, Coronado, Las Vegas, Green Valley and Foothill would make up the 5A South. It was noted in proposal two that Foothill would drop down to 4A if Faith Lutheran decided to appeal up to 5A.
Also included in the proposal, which will be put to a vote at the NIAA realignment committee meeting on Monday, was a playoff format in which the top four Southern schools would play in an Open Division championship. The remaining six schools would play for a 5A state championship against schools from the 5A North.
If approved at the realignment meeting next week, the proposal then would go to the NIAA Board of Control, which would make the final decision.
Another proposal mirrors the structure of California high school football and would introduce promotion and relegation between divisions. The 5A South would have three divisions — Division, I, II and III — with seven schools in each division.
Under that proposal, Bishop Gorman, Liberty, Arbor View, Silverado, Desert Pines, Shadow Ridge and Coronado would be in 5A Division I South. No Northern schools would be in 5A Division I.
All seven teams would play for a 5A Division I state title and the bottom two teams would drop down to 5A Division II South for the next season. The top two teams from 5A Division II South then would move up to Division I.
Contact Alex Wright at awright@reviewjournal.com. Follow @AlexWright1028 on Twitter.