Gorman defense finds winning formula
December 7, 2013 - 10:31 pm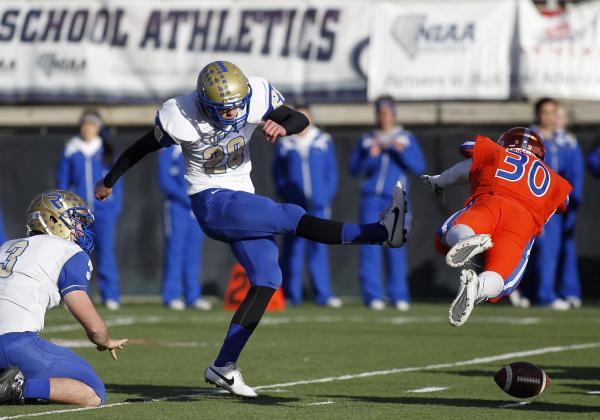 Bishop Gorman's defense took it on the chin in the season opener against Mountain Pointe (Ariz.), giving up 319 rushing yards.
The Gaels made sure that didn't happen again.
Gorman allowed just 332 rushing yards in four playoff games, including 95 in Saturday's 48-14 win over Reed in the Division I state title game.
"We were a little stunned Week 1, and we came back and played lights out," said senior defensive tackle Zack Singer. "No one could run the ball on us."
That included a Reed team that was averaging 368.3 rushing yards in four postseason games. The Raiders (12-2) ran for 400 or more in two of those games, but had little success against Gorman (13-2).
Reed didn't have a run of more than 3 yards in the first half. The only run of more than 10 yards in the game for the Raiders was a 34-yard scamper by backup quarterback Jackson Gilmore against Gorman's reserves. Fifty-five of Reed's rushing yards came on that final drive.
"They were as advertised," Reed coach Ernie Howren said. "They were as big and strong up front as we've seen all year. And you have to credit Gorman's coaching staff. They did some things we hadn't seen on film. Schematically, they changed some things up and did a great job of making adjustments."
Reed running back Jordan DeLeon entered the game with 1,779 rushing yards, but managed just 16 yards on 13 carries. His longest rush was 4 yards. Quarterback Chris Denn had 1,262 rushing yards coming into the game, but finished with 27 on eight carries against Gorman.
"That's just kind of the forte of our defense," Sanchez said. "The one thing we've been able to do all year, is we've been able to stop the run. Our guys are pretty stout, and they do a real good job up front."
After allowing the big numbers in a 28-21 loss to Mountain Pointe, Gorman didn't allow more than 200 rushing yards in a game the rest of the season. The Gaels held eight opponents to less than 100 rushing yards.
Singer said that success all started with the team's front seven.
"Our linebackers stepped up and did a phenomenal job," Singer said. "The defensive line stepped up and did a phenomenal job. We were questions before the season. We lost a couple guys. Everyone was doubting our front line, our front seven."
Singer and company certainly erased those doubts. And Sanchez said the unit fed off senior linebacker Chris Lalli, who had two tackles for loss Saturday, including a key stop after Reed had driven inside the Gorman 10. The Raiders had to settle for a field-goal attempt, which was blocked.
"Nevada defensive player of the year, come on," Sanchez said of Lalli. "It don't make any difference what game you're in. That kid is all over the place. He's energy, he's everywhere, he's a physical player, he plays his guts out. He's the kind of guy that can define you on one side of the ball. I think his toughness and his tenacity really exudes and kind of transcends our whole team."