Gorman dismisses standout RB Starks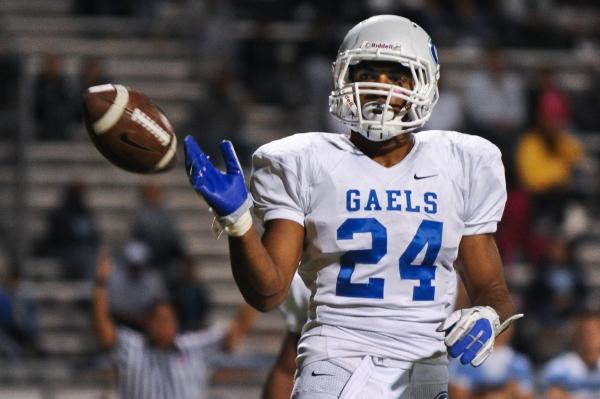 Bishop Gorman football coach Tony Sanchez confirmed Wednesday that the team will not include standout running back Nathan Starks this fall.
"He's been dismissed from school for disciplinary reasons for violation of school rules," Sanchez said. "That's the school's official statement."
The 6-foot, 210-pound Starks rushed for 1,821 yards and 27 touchdowns as a junior in helping the Gaels to their fourth consecutive state title. He ran for 172 yards and two touchdowns on 13 carries in a 63-10 win over Liberty in the Division I state title game.
Starks, considered the state's top recruit, had scholarship offers from numerous schools, including Alabama, Notre Dame, Oklahoma, Texas and Southern California. He is the No. 26 recruit in the nation, according to rivals.com.
Starks' high school career is over, not only at Gorman but in the state.
Nevada Interscholastic Activities Association transfer rules state that athletes who transfer from a private school must sit out 180 school days or one year, meaning that Starks would not be eligible to play at any private or public school in the state next season.
Sanchez declined to comment further on the situation or what it would mean for the team.
But it will be a blow for an offense that already was taking a hit because of graduation. Gorman had lost quarterback Jarrett Solomon, the Review-Journal's 2012 Player of the Year and a four-year starter, and all-state receivers Jamir Tillman and Ryan Smith.