Gorman hosting Miami Central in national prep football showdown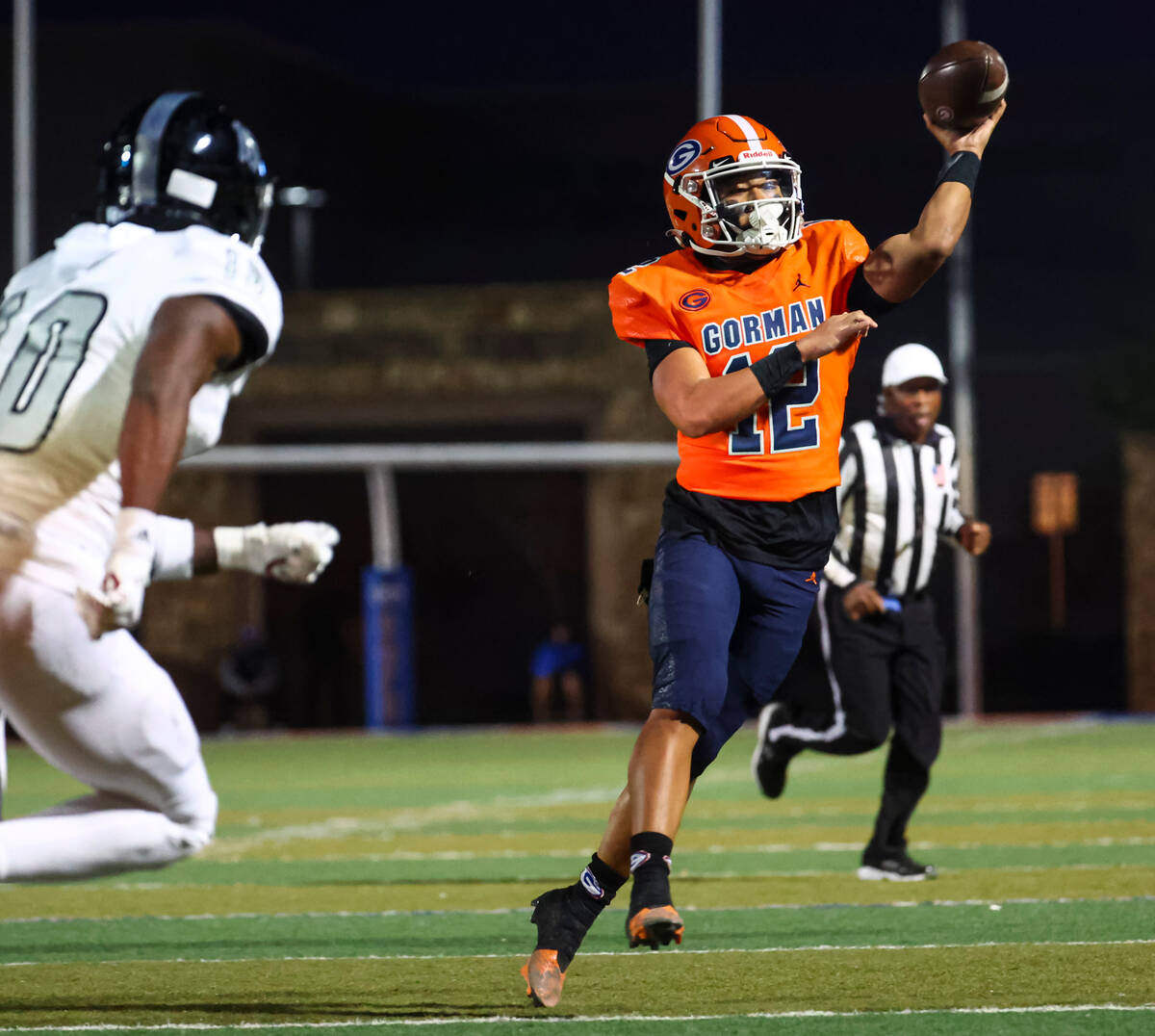 Bishop Gorman football coach Brent Browner lets his players have a lot of input in the program. That includes looking for out-of-state opponents to fill the Gaels' nonleague schedule.
One team his players were adamant about playing this season was Miami Central (Florida), which went 14-0 last season on its way to the Florida 2M state championship.
The Rockets, who have yet to play this season, were the highest-ranked undefeated team last season, finishing ranked No. 3 by MaxPreps and No. 4 by USA Today.
Browner fulfilled his players' request, as Gorman, ranked No. 2 nationally by MaxPreps, faces No. 6 Miami Central in its home opener at 7 p.m. Friday. It will be Gorman's most-anticipated nonleague game this season in its quest for a national championship.
"We want to play really, really good teams," Browner said. "We're lucky to have that opportunity to challenge ourselves against one of the best teams in the country, if not the best team in the country."
Gorman (2-0) opened its season with a pair of wins on the road. The Gaels pulled away in the second half of their season-opening 63-42 win at Corner Canyon (Utah). They followed it up with a 60-15 win against Long Beach Poly (California) in the Nike Kickoff Classic in Beaverton, Oregon.
The Gaels' offense has been as good as advertised, averaging 578 total yards per game while scoring on 19 of 21 possessions. Senior quarterback Micah Alejado, a Hawaii commit, is completing 81.8 percent of his passes and averaging 276.5 passing yards per game.
Senior Audric Harris, an Arizona commit, leads the Gaels in receiving, averaging 124 yards per game. Senior Micah Kaapana, a Michigan commit, leads the Gaels in rushing, averaging 131.5 yards per game.
"That group is more senior (led). Those guys have been together for a long time," Browner said of the offense. "They have this cohesiveness, and offensive coordinator Craig Canfield does a great job getting them ready. … That's a group of kids that have dedicated themselves since January, and that's a big piece of why they're successful."
Questions surrounded Gorman's defense, as senior linebacker and UNLV commit Charles Correa was the only returning starter. Browner said he's seen his "young" defense, led by sophomore defensive end Prince Williams and freshman linebacker Tamatoa Gaoteote, get better with more snaps under its belt.
He pointed to how the defense responded to in-game adjustments against Corner Canyon as a sign of its improvement.
"Having a young team to go up there, that was a really good game," Browner said. "They stayed involved. The defense got better as the game went on."
Gorman and Miami Central faced off in 2021 in Naples, Florida, and Gorman came away with a 21-20 win after Miami Central missed a 35-yard field goal that hit the crossbar on the final play.
Alejado, then a sophomore, led the Gaels on a four-play, 80-yard drive late in the fourth quarter. Alejado connected with former Gael and current Southern California wide receiver Zachariah Branch on a 37-yard touchdown pass to take the lead.
Browner said Miami Central's defense is "stacked," with Armondo Blount, a five-star defensive lineman and Florida's top class of 2025 recruit, leading the way.
"We understand how good that defense is," Browner said. "With that many five-star players on defense, it's not going to be an easy sled for the offense. They're up for the challenge. They're excited about it."
In USA Today's initial Super 25 high school football rankings, Gorman is No. 3 behind California schools Mater Dei and St. John Bosco, respectively. Miami Central is ranked No. 4.
Browner said he isn't letting his team's focus go beyond Friday night's game.
"At this point, we're not worried about the national championship or anything like that," Browner said. "We just want to play good football, be disciplined, be physical and go out there and let the chips fall and see how good we are."
Contact Alex Wright at awright@reviewjournal.com. Follow @AlexWright1028 on X.
Up next
Who: Miami Central (Florida) at Bishop Gorman
When: 7 p.m. Friday
Where: Fertitta Field
MaxPreps rankings: Bishop Gorman No. 2, Miami Central No. 6
USA Today rankings: Bishop Gorman No. 3, Miami Central No. 4
Previous meetings: Miami Central 24, Bishop Gorman 20 (2017); Bishop Gorman 21, Miami Central 20 (2021)