Gorman line paves way to romp past Palo Verde
November 30, 2013 - 9:54 pm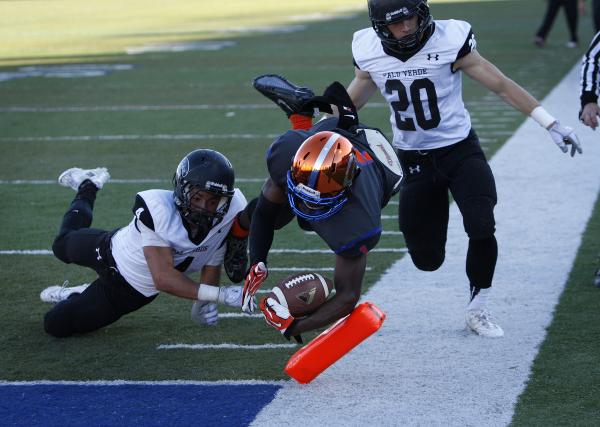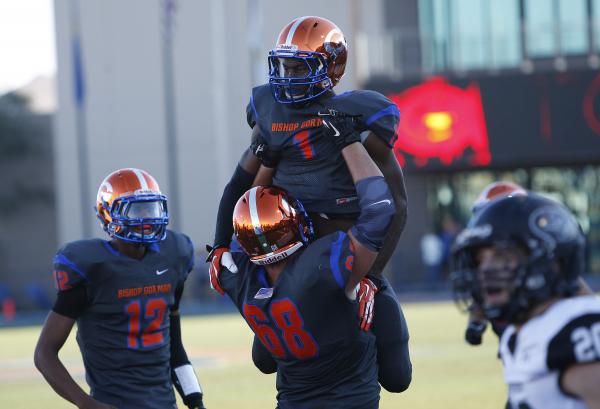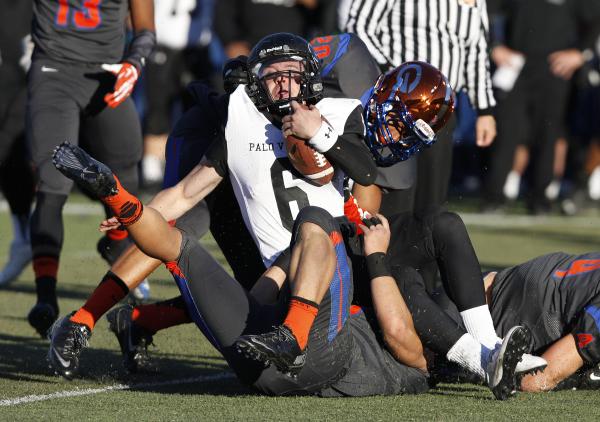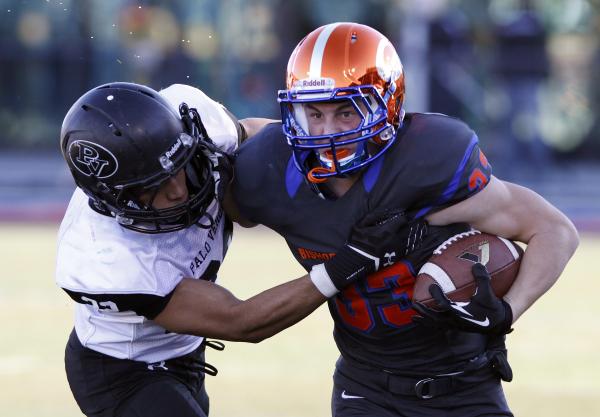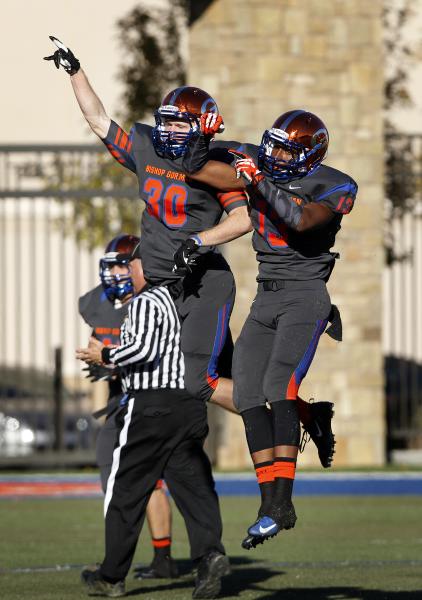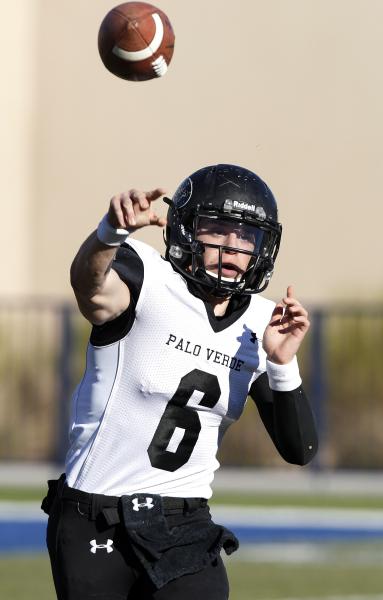 Offensive linemen often are the unsung heroes of football, toiling so others can excel and grab headlines.
Bishop Gorman quarterback Randall Cunningham was singing his line's praises on Saturday.
The Gaels dominated the line of scrimmage on the way to a 45-7 home victory over Palo Verde in the Sunset Region championship game. The Gaels (12-2) will play Reed (12-1) in the Division I state title game at 1:05 p.m. Saturday at Sam Boyd Stadium.
"Today was one of the best games that our offensive line has had creating holes," Cunningham said. "We had three running backs in, so I feel like each running back really made a statement today, and our offensive line showed the state what they're capable of doing."
Gorman's massive line, led by 6-foot-2-inch, 292-pound senior center Zack Singer and 6-4, 272-pound senior tackle Nick Gates, helped the Gaels rack up 383 yards rushing. Junior guard Jackson Perry (6-3, 285) went out in the first half with an injury, but sophomore Julio Garcia (6-2, 282) stepped right in, and Gorman averaged 7.2 yards per carry.
"We didn't know we'd be able to dominate the line of scrimmage the way we did so fast up front," Gorman coach Tony Sanchez said. "But it was obvious at the very beginning of the game that we'd be able to run the football, and we did and it was a great job. I'm proud of those guys."
Cunningham led the way with 127 yards rushing and two touchdowns on 18 carries. Daniel Stewart added 104 yards and a touchdown on 12 carries, and Russell Booze rushed for 55 yards and two scores on seven tries. Jonathan Shumaker, the team's No. 3 back, had 81 yards and a touchdown on 11 attempts.
"Our offense clicked very well," said Cunningham, who was 11-for-17 passing for 109 yards. "I feel like we could do anything this game; pass, run, it didn't really matter. The offensive line did a great job, and I feel like all around, the team just did a great job on both sides of the ball."
The Gaels needed just four plays to go 75 yards, capped by Booze's 5-yard run, and score on the game's opening drive 1 minute, 26 seconds into the game.
Gorman punted just once all day.
Cunningham added touchdown runs of 1 and 6 yards in the first half as the Gaels took a 21-0 halftime lead. Cunningham had 96 yards rushing in the first half as Gorman outgained the Panthers 290-61 in yards of offense.
Gaels kicker Ramiz Ahmed started the second-half scoring with a 43-yard field goal with 7:38 left in the third quarter. Stewart added a 9-yard touchdown run, and Shumaker scored on a 3-yard run in the third quarter. Booze had a 1-yard touchdown run with 9:13 left to make the score 45-0. The rest of the game was played with a running clock because of the state's 45-point mercy rule.
As good as Gorman's offense was, its defense was nearly as impressive. The Gaels limited Palo Verde (10-2) to 165 yards, and 63 of those came on the Panthers' final drive. Parker Rost evaded the pass rush and found running back Calvin Beaulieu behind the Gorman secondary for a 40-yard touchdown pass to cap the drive.
It was the only play of more than 20 yards that Gorman allowed. The Gaels also intercepted three passes, including two by cornerback Dylan Weldon, and recovered a Palo Verde fumble.
"The defense came out and did a phenomenal job," Sanchez said. "We just didn't give up any big plays. A lot of times when you play an offense like that, it's easy to fall asleep in the secondary and then they get a couple big ones. They've done that to people all year. Our guys, to come up with all those interceptions and not fall asleep, was fantastic."
The Gaels also shut down the Panthers' running game, limiting Palo Verde to 86 yards on 29 carries.
"I just saw a fired up defense that wasn't going to let nobody run on them or throw on them," Cunningham said. "I just saw a fired up team out there."
Cunningham said the team played with the intensity needed to get a chance at a fifth consecutive state title.
"It feels great to get this win at home in our last home game against our rival," Cunningham said. "And it feels great to win by this margin and be able to go on to the state championship next week."
Box score:
Bishop Gorman 45, Palo Verde 7