High school football: Top 2026 Nevada propects to watch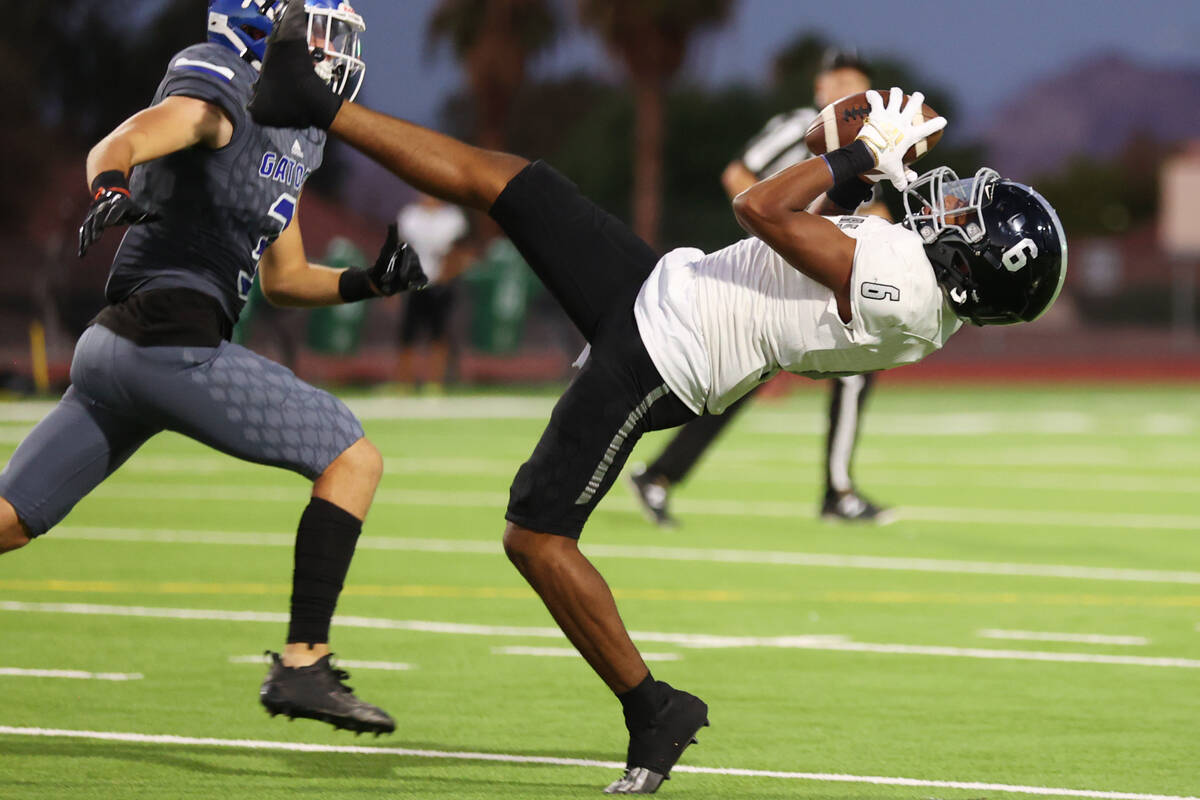 A new high school football season is underway and so is the opportunity for a new crop of players to make an impression on college coaches.
Nine of the top 10 class of 2024 recruits have already committed. While none of the class of 2025 recruits have committed yet, the top prospects have racked up dozens of offers.
The attention is now turning to class of 2026 prospects, current sophomores, who made an impact as freshmen last year and are getting more playing time this season.
Here is a look at five class of 2026 prospects to watch:
Massiah Mingo, Desert Pines wide receiver
As a freshman, Mingo was Desert Pines' top target, averaging 16.8 yards per reception and had eight touchdown catches. His talent caught the attention of the two-time defending college football national champions Georgia, which was Mingo's first Division I offer last October.
Mingo's speed and athleticism make him a threat to break off a big catch or return a kick for a score. Listed at 5 feet, 10 inches and 165 pounds, Mingo has other Division I offers from Colorado, Utah, Arizona and UNLV.
Treyshaun Jackson, Desert Pines safety
Jackson was another freshman who made an impact for the Jaguars last season, earning Class 5A Desert League second-team honors. He had 41 tackles and three interceptions while also playing offense and special teams.
Like Mingo, Georgia offered Jackson last October for his first Division I offer. Jackson, listed at 5 feet, 10 inches and 170 pounds, has added offers from Arizona, Colorado State, Utah and UNLV.
Jett Washington, Bishop Gorman wide receiver/safety
Washington, a four-star, is the only 2026 prospect in the state ranked by 247Sports and is a top-100 recruit nationally. In three games for Gorman this season, Washington, listed by the team as a wide receiver and safety, has played on defense and recorded 15 tackles.
At 6 feet, 3 inches and 190 pounds, Washington holds notable Division I offers from Georgia, Arizona, Utah, Washington, Nebraska and UNLV. With the talented senior class Gorman has at the wide receiver position, Washington will get a lot of action on defense this season and be expected to be one of the Gaels' top targets the following two years.
Prince Williams, Bishop Gorman defensive end
With only one returning starter from last season, there are plenty of new faces on the Gorman defense. Williams, a 6-foot, 3-inch 240-pound defensive end, has provided a punch up front for the Gaels.
Through three games, Williams leads the team with three sacks and has 27 tackles. Williams has Division I offers from UNLV, Hawaii and Utah, according to his social media accounts.
Jayden Williams, Arbor View wide receiver
Williams is one of the young skill position players for the Aggies this season. Last year, Williams averaged 16.3 yards per reception in nine games. Williams is averaging 20.9 yards per reception through two games.
Listed at 5 feet, 9 inches and 160 pounds, Williams' lone Division I offer is from Utah Tech, but he made the rounds impressing at various summer camps. With a breakout year as the Aggies' top target, more offers could be coming Williams' way.
Contact Alex Wright at awright@reviewjournal.com with any recruiting information. Follow @AlexWright1028 on X.
Arbor View forward has UNLV in final five
Pharaoh Compton, a four-star class of 2024 forward by 247Sports, has UNLV in his final five school list along with San Diego State, Iowa, Tennessee and Louisiana State. He released his list Sunday night on his social media accounts.
Compton, listed at 6 feet, 7 inches, transferred to Arbor View this summer for his senior year after playing last season at Arizona Compass Prep in Chandler. A Las Vegas native, Compton is the top 2024 recruit in Nevada and the No. 85 overall prospect nationally by 247Sports.
UNLV made Compton's list over other notable schools such as Arizona State, Kansas State and Texas A&M, which all made the NCAA Tournament last season.
The Rebels landed former Liberty point guard Dedan Thomas Jr., the state's top 2024 recruit, in May. Thomas reclassified to the class of 2023 and will play for the Rebels this season.