Kapeli, Liberty stay grounded, race to easy win over Del Sol
October 1, 2011 - 11:13 pm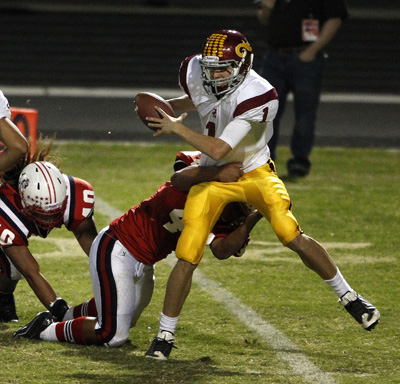 Some football coaches say offensive balance is the key to winning.
Not Liberty's Rich Muraco.
The fifth-ranked Patriots ran the ball on their first 30 offensive plays Saturday night and finished with 349 yards rushing on the way to a 34-0 home victory over No. 7 Del Sol.
"It worked perfectly," Muraco said. "Our kids played great, and they executed the game plan flawlessly. They blocked well, and I can't say enough about our offensive line tonight."
The Patriots (4-1, 2-0 Southeast League) lined up with two fullbacks in front of running back Niko Kapeli. And Kapeli's plan was simple, to follow his older brother Jordan, a 235-pound fullback. It worked out well, as Niko Kapeli finished with 209 yards and four touchdowns on 32 carries.
"I had my brother blocking, all the linemen blocking," Niko Kapeli said. "We just tried to run it down their throats."
The offensive line, which features three players who weigh at least 265 pounds, dominated and allowed Liberty to chip away from the start. The Patriots went 79 yards on 14 plays on their opening drive, which took 6 minutes, 36 seconds and was capped by a 6-yard Niko Kapeli run.
The longest play on the drive was a 10-yard run, and 12 plays went for 3 to 6 yards.
"Our strength is our offensive line, and we wanted to establish the run, wear them down and keep (Chris Marshall) off the field," Muraco said, referring to Del Sol's star running back. "He's an amazing running back. Every time he touches the ball, we hold our breath."
Marshall had a big game against Liberty last year, but this time his two longest plays were called back because of penalties. Marshall finished with 40 yards on 13 carries to lead Del Sol (3-2, 1-1).
"All week all we talked about was Chris Marshall," Muraco said. "Last year he ran for 274 yards on us, so I just kept saying that to the defense."
Niko Kapeli added touchdown runs of 6, 3 and 12 yards in the first half. The Patriots didn't attempt a pass until getting the ball back at midfield with 57 seconds left in the half.
Kai Nacua completed 2 of 4 passes on the drive, including a 33-yard screen pass to Niko Kapeli that set up his 12-yard touchdown run with eight seconds left in the half.
"Niko's a workhorse," Muraco said. "He loves getting the ball, we love feeding it to him, and he makes things happen."
Steven Ware added a 1-yard TD run in the third quarter.
Muraco said the win was big for his team, which trails Green Valley by a half-game in the Southeast.
"This was a huge win for us, for sure," Muraco said. "Obviously Green Valley's playing really well this year, and Foothill's always tough, but traditionally Del Sol's the power in our division, and we wanted to keep the momentum going from our win last week against Silverado."