Las Vegas to focus on Del Sol's Eamon
November 20, 2008 - 10:38 pm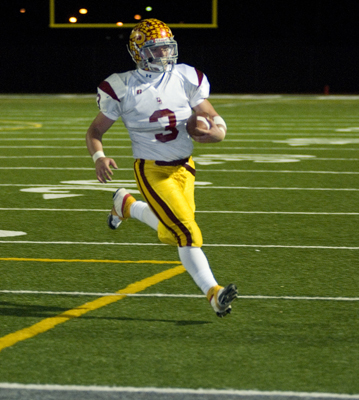 Forgive Las Vegas High football coach Chris Faircloth if he has just a few more nightmares about Del Sol running back Derek Eamon.
Trying to find a way to stop a running back that has 695 yards in the last two games will do that to you.
Faircloth's Wildcats (11-1) will need to find a way to at least slow Eamon to have a chance to knock off the visiting Dragons (10-2) when the teams meet at 7 tonight in the Sunrise Region title game.
"He's a really special kid," Faircloth said. "We all read about him in the paper as a running back running up some unbelievable yardage, but he's one heck of a linebacker. He may be as good a two-way player as there is in the city."
Eamon certainly has established himself as one of the area's top running backs. The senior has rushed for 1,675 yards and 23 touchdowns this season, averaging 10.0 yards per carry.
Not bad for someone who didn't get a rushing attempt until the third week of the season and didn't take over as the team's primary ball carrier until Week 8.
The Coronado transfer has rushed for 1,325 yards and 17 touchdowns in the Dragons' last five games, including a 410-yard, five-TD performance against Basic last week.
"It's scary to talk about, but it almost feels like he's getting better as the year goes on," Del Sol coach Preston Goroff said. "Usually this time of year people are starting to get banged up and kind of making it through, but as the game goes on, he just seems to get stronger.
"And the scary thing is he goes both ways. I can't imagine what he'd be if he was just a one-way player."
At 220 pounds, Eamon has the size to be a punishing runner, but he's shown good speed as well.
"It's going to be a big challenge," Las Vegas defensive back Jon Tagle said. "He's big and fast. He's not just power; he can run you over, and he can outrun you."
Faircloth said Eamon gets through the line so quickly he often ends up matched against much smaller defensive backs in the open field. And when that happens, Eamon has the clear advantage.
"The hardest thing about him is he accelerates so well that he forces you to use your secondary to tackle him because he gets out so fast," Faircloth said. "And it's always a mismatch when you get to the secondary because he's as fast as those kids, and he's a much bigger, stronger kid than the kid you have to use to tackle him."
Tagle said that means the Wildcats will have to rally to the ball and help each other on defense.
"It's rare you can take this kid down by yourself," Tagle said. "We're going to need to gang tackle. Someone hold him up and everyone else come and help tackle is probably the only way we'll be able to contain him."
The Dragons also can give the ball to 230-pound fullback Jon Kirschbaum, who has rushed for 774 yards and seven TDs and averages 10.9 yards per carry. Then there's tailback Ernest Hall, who was the go-to guy before Eamon took over. Hall has rushed for 1,191 yards and 14 TDs.
"That's a real good set of backs, probably the best set of backs we've seen all year," Tagle said.
Las Vegas has won the last five Sunrise titles, a streak the players are eager to continue.
"We're real fired up," Tagle said. "Right now it's five, so we're the ones to either make the tradition keep going to six or end it."
It will be the third straight year the teams have met in the Sunrise final game. Las Vegas won the first two meetings, beating Del Sol 38-8 in 2006 and 28-25 last season.
"The kids are looking forward to showing that they belong with this group, with the elite teams in town," Goroff said. "Hopefully, we can finally win a big game."