Las Vegas tunes up for postseason by walloping Valley
October 28, 2016 - 12:41 am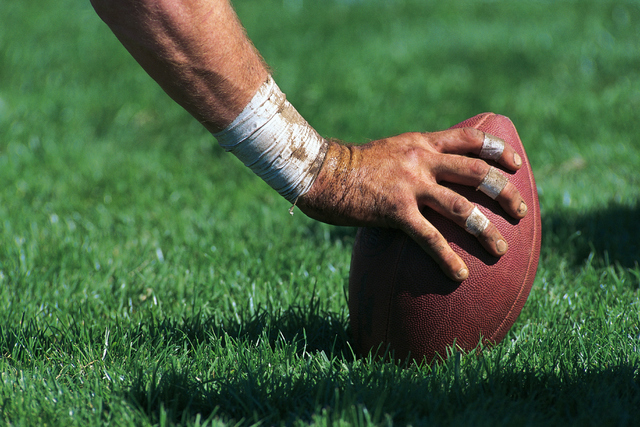 Las Vegas scored on its first two offensive plays of the game to roll to a 56-14 victory over host Valley on Thursday.
Zach Matlock was 6 of 7 passing for 165 yards and threw four touchdown passes as the Wildcats (7-2, 3-1 Northeast League) locked up a No. 2 seed for the playoffs.
Aaron Najera was on the receiving end of two of Matlock's touchdown passes, while DiQuan Brown rushed four times for 105 yards and a score.
Las Vegas scored 21 points in the first quarter and never looked back. The Wildcats used the game to mentally get prepared for playoff season, and it showed.
"It was impressive in how we came out and did what we had to do," Wildcats coach James Thurman said. "It was a nice way to end the first season. Now, we have to be ready for the second season."
Valley (2-7, 1-3) already had clinched its first playoff berth since 2011, but any hopes for more vanished early in the contest.
The Vikings tried to go for a long pass on the game's first offensive play, but Sonny Gibson's throw intended for Iyen Medlock was picked off by Wildcats cornerback Zion Edwards.
On Las Vegas' first offensive play, Matlock threw a dump-off pass into the flat to Elijah Hicks, who eluded a couple of defenders then outraced the Vikings defense for a 43-yard scoring pass play just 20 seconds into the contest.
"It seemed that the bye week may have hurt us because we lost momentum and didn't come out well," Vikings coach George Baker said.
After a three-and-out by Valley, Matlock found slot receiver Jack Hernandez wide open down the middle for a 55-yard touchdown pass. Less than three minutes in, the Vikings trailed 14-0 and things kept going downhill from there.
"We tried to take a couple of chances," Baker said. "Things didn't work out. When you play a team that has such strong tradition and is as talented as Las Vegas, things can snowball pretty quickly."
Las Vegas is known for its strong running attack behind Hicks and Brown, but took to the air early against Valley. Matlock found Najera on a 4-yard touchdown pass with 3:39 left in the first quarter to make it 21-0.
"We wanted to break a couple of tendencies," Matlock said. "Everyone thinks we always run on first down, so we wanted to show that we can pass the ball a bit, too. We do have some playmakers, and we try to get them the ball as much as possible, but we want to show balance, too."
Hicks officially touched the ball only twice on offense but scored both times. His second TD came on a 2-yard run early in the second quarter.
Matlock's fourth scoring pass was an 18-yarder down the middle to Najera with 8:17 left in the second quarter, making it 35-0 for Las Vegas.
Brown had a 21-yard touchdown run early in the third quarter as many of Las Vegas' backups were in.
"We are ready for the playoffs," Matlock said. "If we play to our potential, we can beat a lot of teams in the city."
Valley found the end zone in the fourth quarter thanks to Medlock, who first hauled in a 57-yard touchdown pass from Gibson early in the fourth quarter. Medlock then scored on a 74-yard run off a fly sweep.
Vikings senior running back David Smith racked up 60 yards on 15 carries before he was ejected in the second quarter.
Box score: