Liberty, Centennial set for showdown
September 17, 2015 - 10:58 pm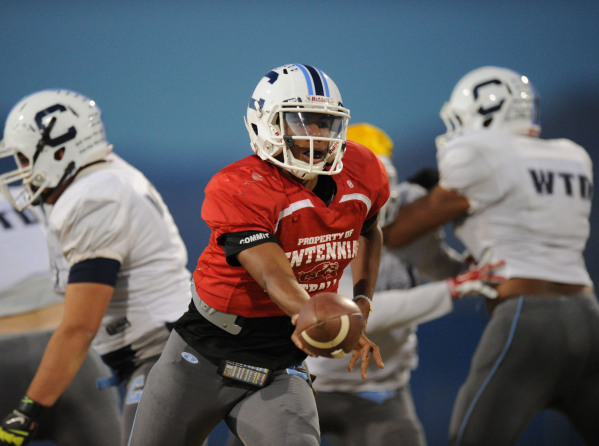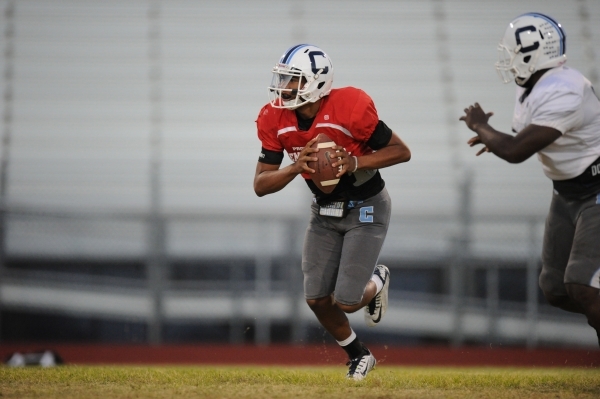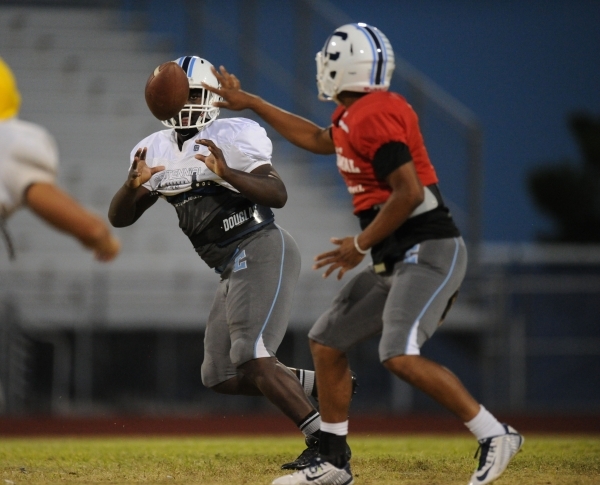 Centennial's offense has been pretty explosive this season, as the Bulldogs have averaged 35 points and scored on seven plays of 25 or more yards in the first three weeks.
But the third-ranked Bulldogs (3-0) probably don't want to get into a shootout when they host No. 2 Liberty (1-1) at 7 p.m. Friday.
The Patriots bring an offense that scored 76 points in their last game, including six scoring plays of 25 or more yards.
"We have to definitely play our game," Centennial defensive lineman Greg Rogers said. "We missed a lot of tackles early in these past few games, so we just have to make tackles, win the battle up front for sure and go out there and dominate."
Missing tackles could be a recipe for disaster, especially against Liberty junior Ethan Dedeaux.
Dedeaux scored six touchdowns in the team's 76-53 win over Mililani (Hawaii), which was ranked No. 24 in the nation at the time by USA Today.
Dedeaux has touched the ball only 17 times on offense in the team's first two games. But he's averaged 19.4 yards per touch and scored six times. He's also scored on a 91-yard kickoff return and intercepted two passes on defense. Dedeaux has rushed nine times for 153 yards and caught eight passes for 176 yards.
He's not the team's only weapon. Junior running back Chad Tebay rushed for 224 yards and a touchdown against Mililani, and sophomore quarterback Kenyon Oblad has completed 64 percent of his passes for 447 yards and four scores with no interceptions.
But Liberty's offense doesn't appear to have the Bulldogs scared. Instead, Centennial's players are focused on putting their best foot forward after a couple of close calls in the team's first three games. Centennial beat Legacy 27-26 in its season opener and topped Palo Verde 31-24 in overtime last week.
"This Palo game, we barely won," said senior linebacker Tishawn Barnaby, who leads the team with 37 tackles. "But now we're more confident as a team. We're starting to hang out more, and we're just living like a team."
Rogers agrees that the Bulldogs are ready for a better showing this week.
"I think, personally, we're a different team from what we've been the last three weeks," he said. "I know we can play way better than what we've been showing out there on the field. I think this week is definitely going to be a tough test, but we're going to go out there and do what we have to do to look like the team we really are."
To fully slow Liberty, the Bulldogs defense probably will need help from the team's offense.
Junior quarterback Jamaal Evans has passed for 606 yards and six touchdowns, and senior running back Rhamondre Stevenson has returned after missing the opener to rush for 219 yards in the past two games. Stevenson, an all-state pick last season, ran for 153 yards and a touchdown against Palo Verde.
Receiver Savon Scarver has emerged as a big-play threat with 13 catches for 326 yards and four touchdowns. All four of Scarver's touchdowns have come on plays of 30 or more yards, including an 88-yarder against Palo Verde.
"Jamaal's definitely got the offense going," Rogers said. "Rhamondre's finally getting back in the groove. Savon Scarver's going out there and dominating how he's been doing; he's definitely a sleeper wide receiver out here in Nevada."
The showdown between two of the area's top teams has Centennial's players excited.
"It's pretty awesome that we get to face somebody like Liberty so early in the season," Rogers said. "They're a very dominant team. We're a very dominant team as well."
Barnaby said: "Everyone is talking about it around town, No. 2 and No. 3 going at it."
Contact prep sports editor Damon Seiters at 702-380-4587 or dseiters@reviewjournal.com. Follow him on Twitter: @DamonSeiters.