Liberty stuns 10-time defending state champ Bishop Gorman in OT
November 22, 2019 - 10:08 pm
Updated November 23, 2019 - 12:08 am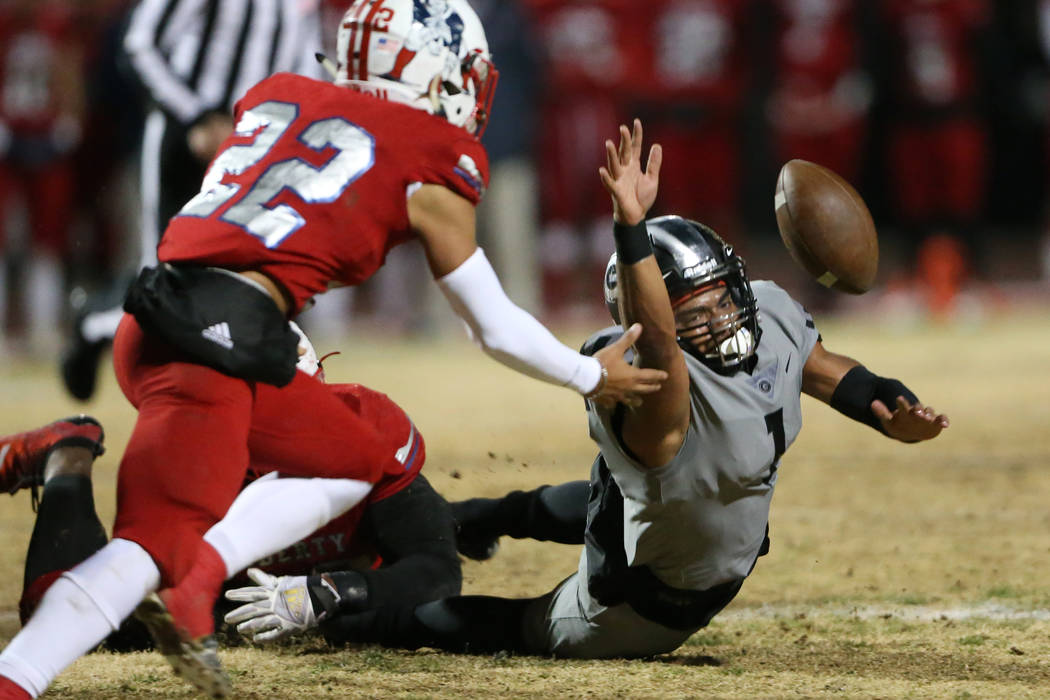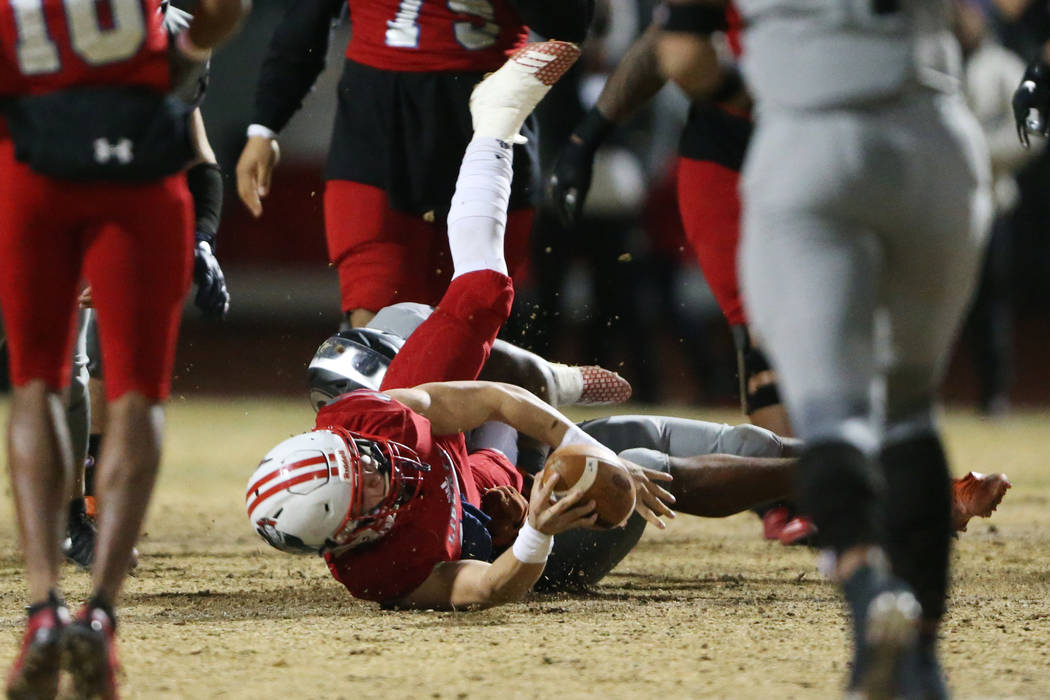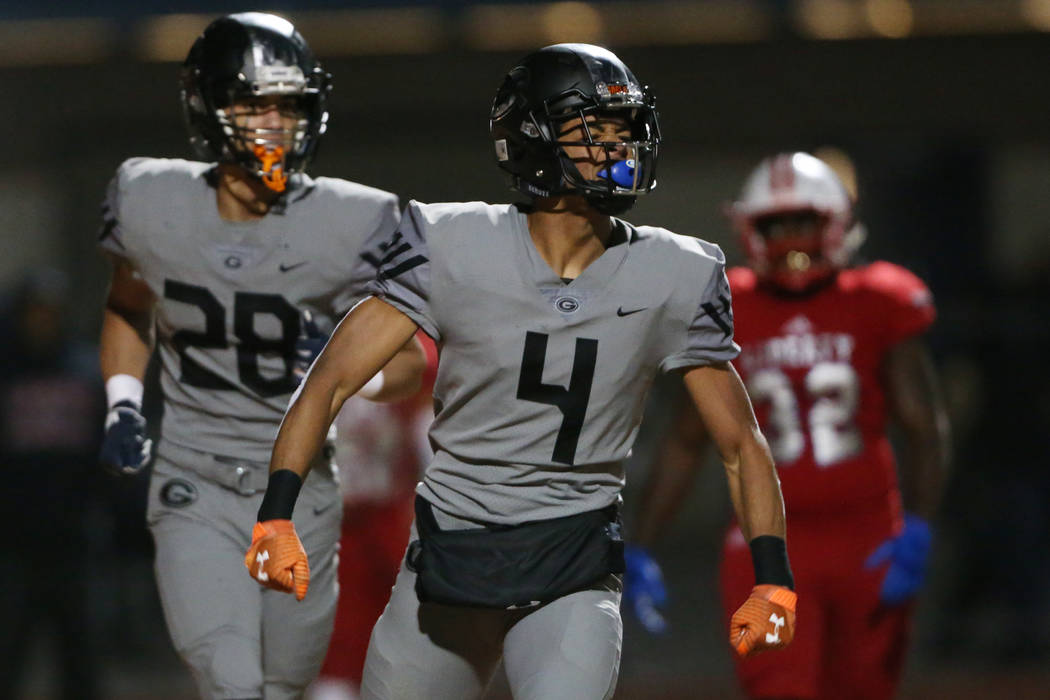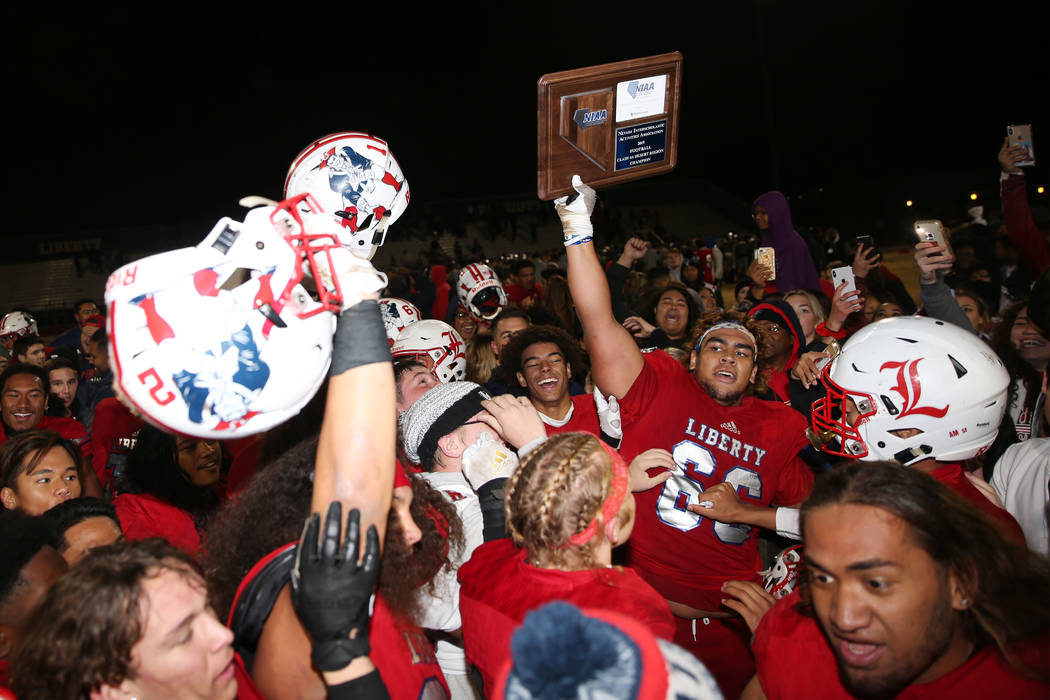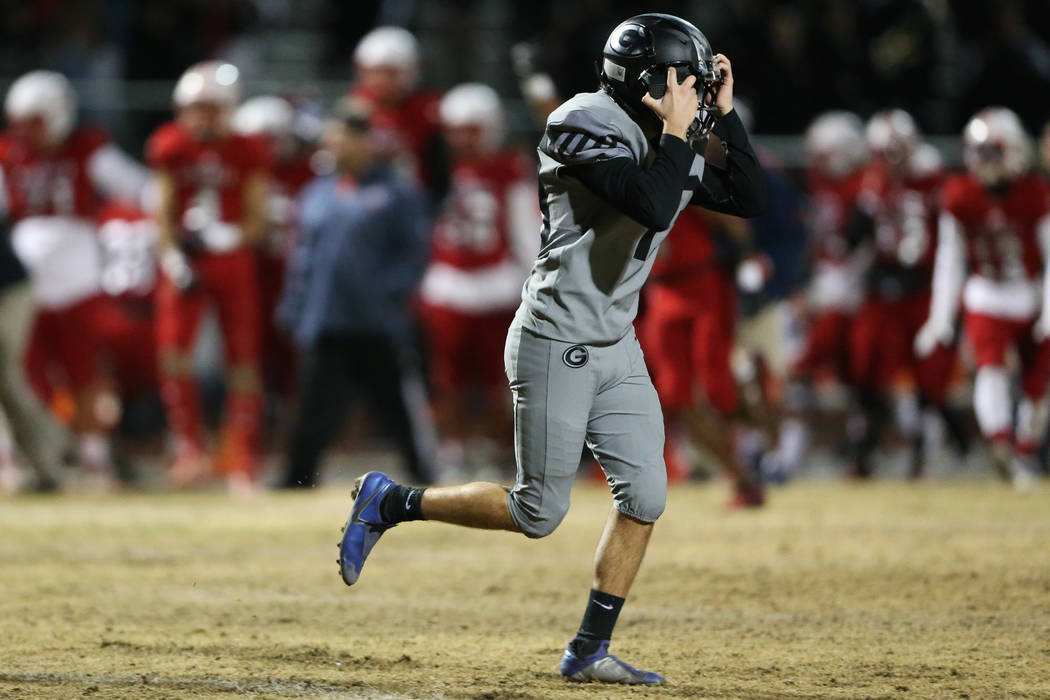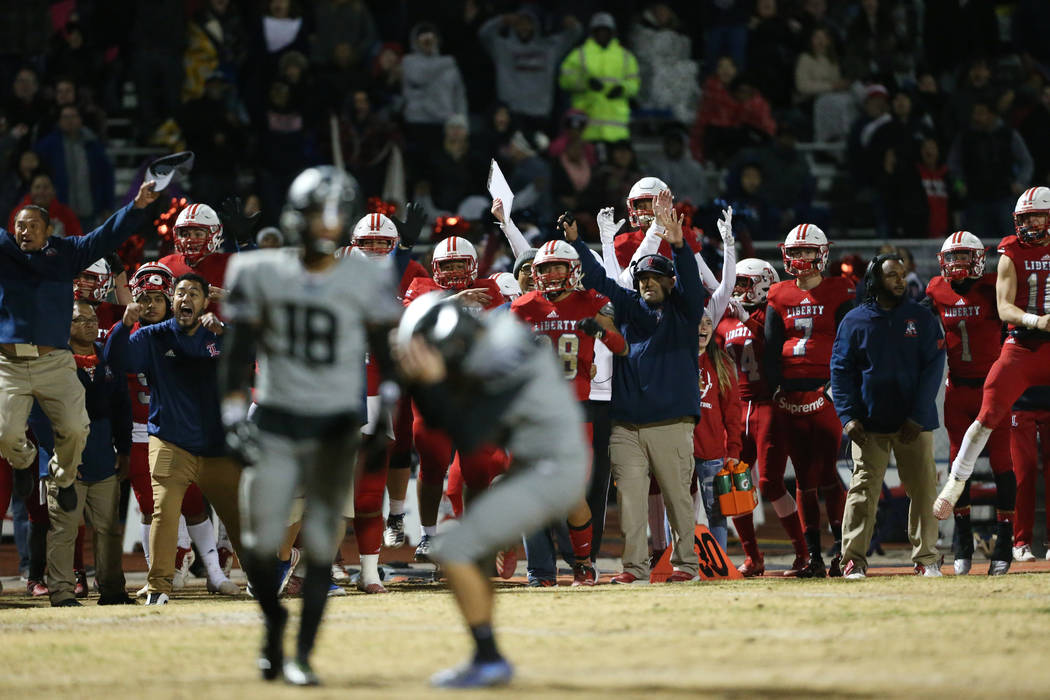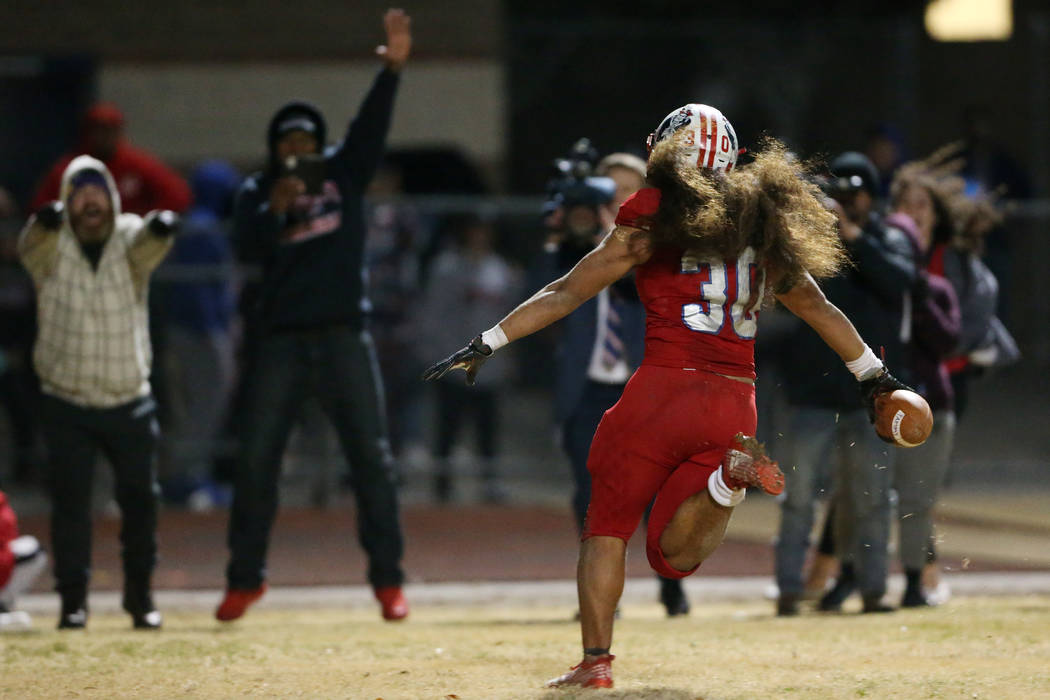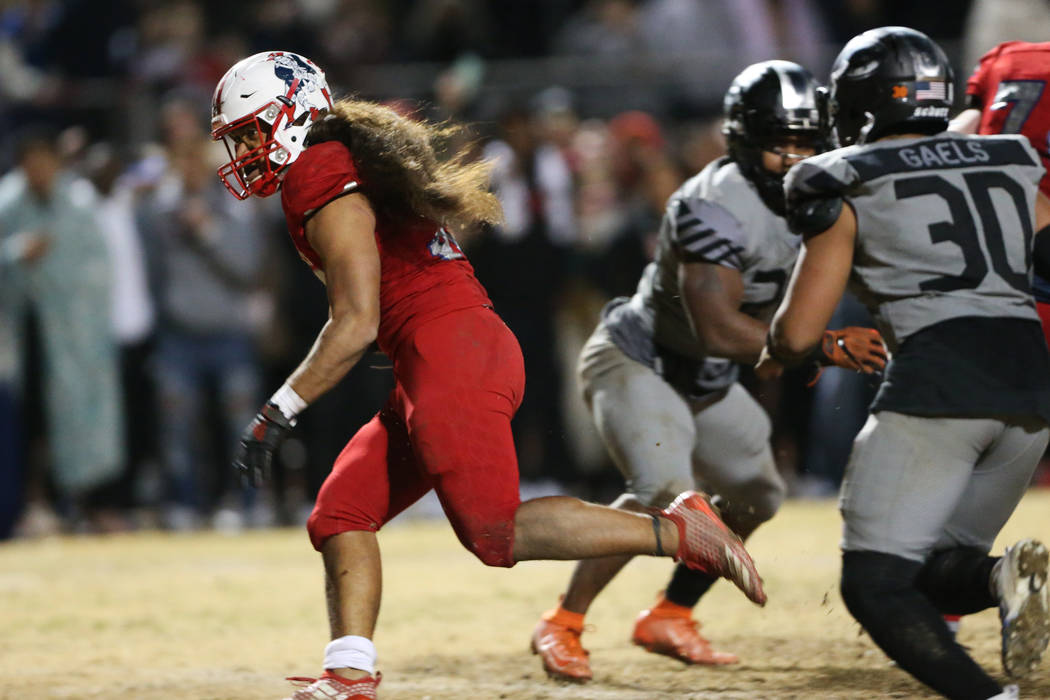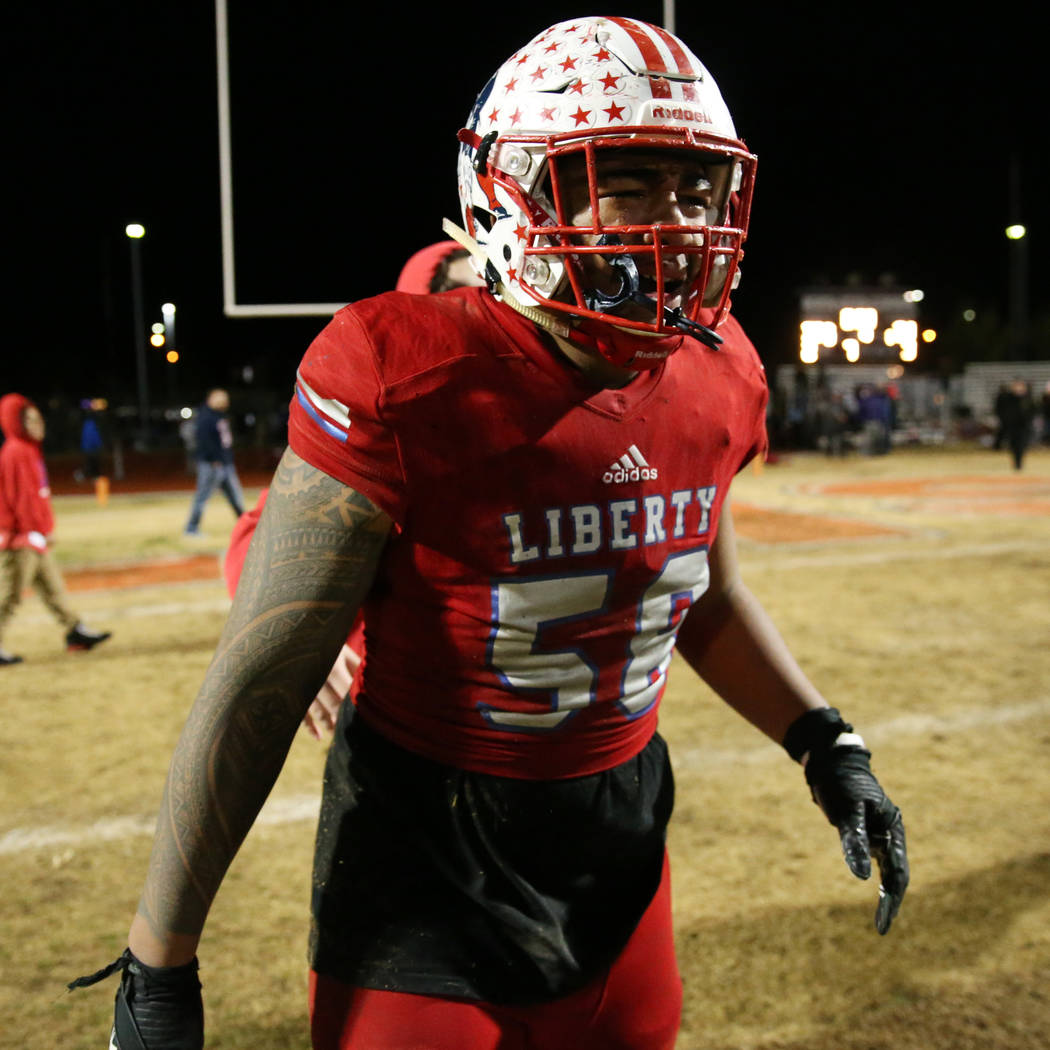 His team trailed 10-time defending state champion Bishop Gorman 17-3 at halftime Friday night, but Liberty football coach Rich Muraco somehow knew it wasn't over.
In the end, he was right.
The Patriots rallied in the second half and scored on a 7-yard run up the middle by Zyrus Fiaseu in overtime to stun the visiting Gaels 30-24 in the Desert Region championship game.
Gorman last lost to a Nevada school on Nov. 21, 2008.
"At halftime I told the kids we were going to win it," Muraco said. "They believed, and you have to believe to win a game like this."
Liberty quarterback Daniel Britt led an 11-play, fourth-quarter drive that he capped with a 5-yard touchdown run to tie the score 24-24 with 3:33 remaining in regulation.
Gorman threatened on its last regulation drive, but could not find the end zone in the final minute. The Gaels missed a field goal in their overtime possession, setting up Fiaseu's heroics.
"The line opened a hole, and it was wide," Fiaseu said of his winning score. "I was one-on-one with the safety, and I took it and scored."
That opportunity seemed unlikely in the first half, as the Gaels looked dominant in establishing a 10-0 lead on a 45-yard pass from Micah Bowens to Rome Odunze and a 25-yard field goal by Dylan Hamika.
Liberty, which blew two first-half scoring chances, made the score 10-3 with a 31-yard field goal late in the second quarter, but Gorman answered with a quick 90-yard drive capped by Bowens' 44-yard TD pass to Cam Kade Hunterton just before halftime.
But the Patriots appeared to gain confidence as the second half developed, scoring on a 3-yard Fiaseu run and an 18-yard pass from Britt to Germie Bernard to tie the game 17-17 with 2:10 left in the third quarter.
Gorman took a 24-17 lead on a 3-yard Bowens run with 9:43 left in regulation, but Britt answered with the clutch scoring drive that included three key runs and a fourth-down conversion. His 5-yard TD run tied the score with 3:33 remaining.
"Daniel is really the first quarterback we've had who is a dual threat," Muraco said. "So we decided that he was going to be the guy who'd give us a chance against Bishop Gorman."
Gorman's overtime possession resulted in little and produced no points when Hamika's 24-yard field-goal attempt sailed wide.
Liberty opened its overtime possession with a 3-yard gain before putting the ball in Fiaseu's hands on a second-down play that almost didn't happen.
"I have so much confidence in our kicker that we almost kicked the field goal on first down," Muraco said. "If Fiaseu had been stopped, we were going to kick the field goal on third down."
Muraco, whose team started the season 0-5 against national level competition, said those tough losses played a role in Friday's victory.
"We kind of questioned after that start if maybe we bit off more than we could chew," he said. "But those losses helped us analyze our team. It's an amazing feeling knowing that all the years of work have finally paid off."
Britt rushed 19 times for 115 yards and completed 14 of 18 passes for 162 yards. Fiaseu carried 17 times for 71 yards.
Bowens completed 10 of 20 passes for 188 yards and two TDs, but only 21 of those yards were in the second half.
More preps: Follow at nevadapreps.com and @NevadaPreps on Twitter.