Liberty whips Centennial, 50-7, for first state football title
Updated December 7, 2019 - 8:21 pm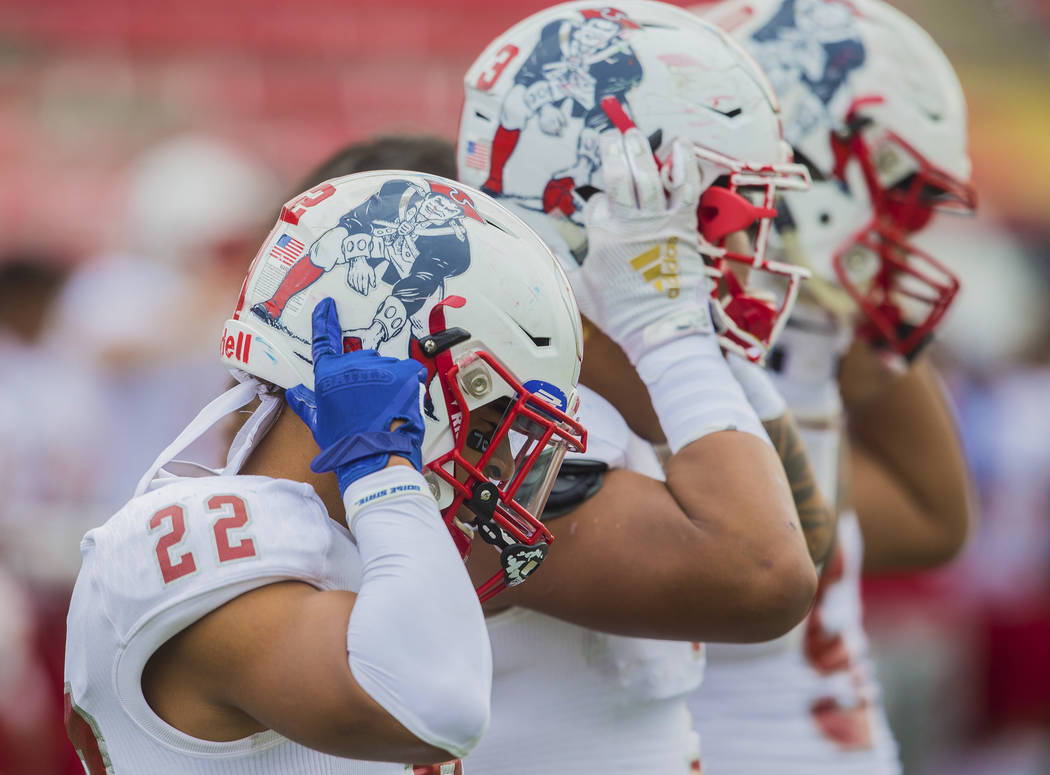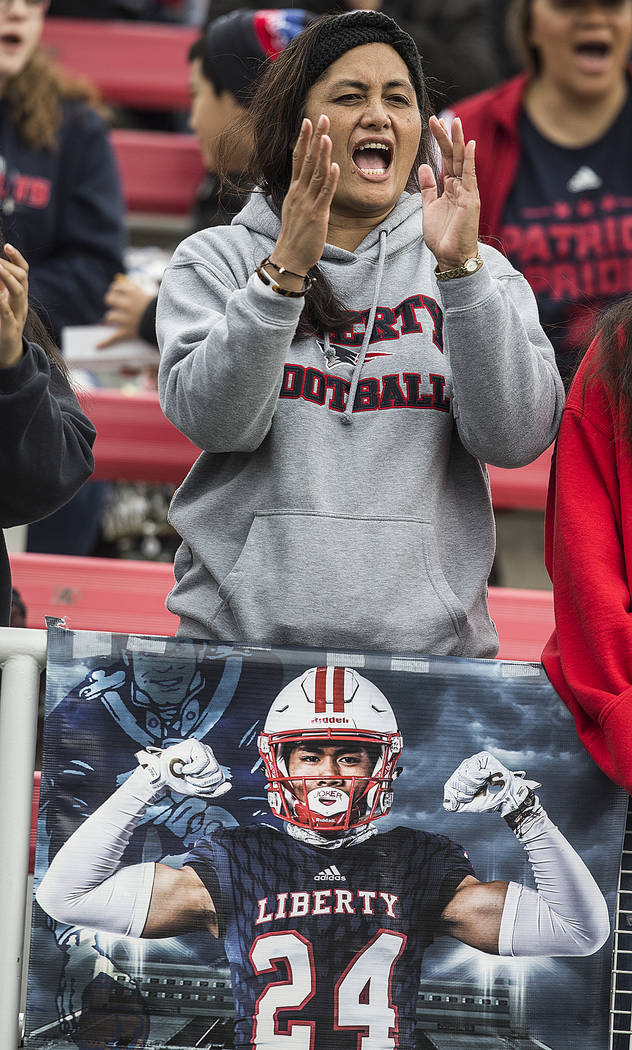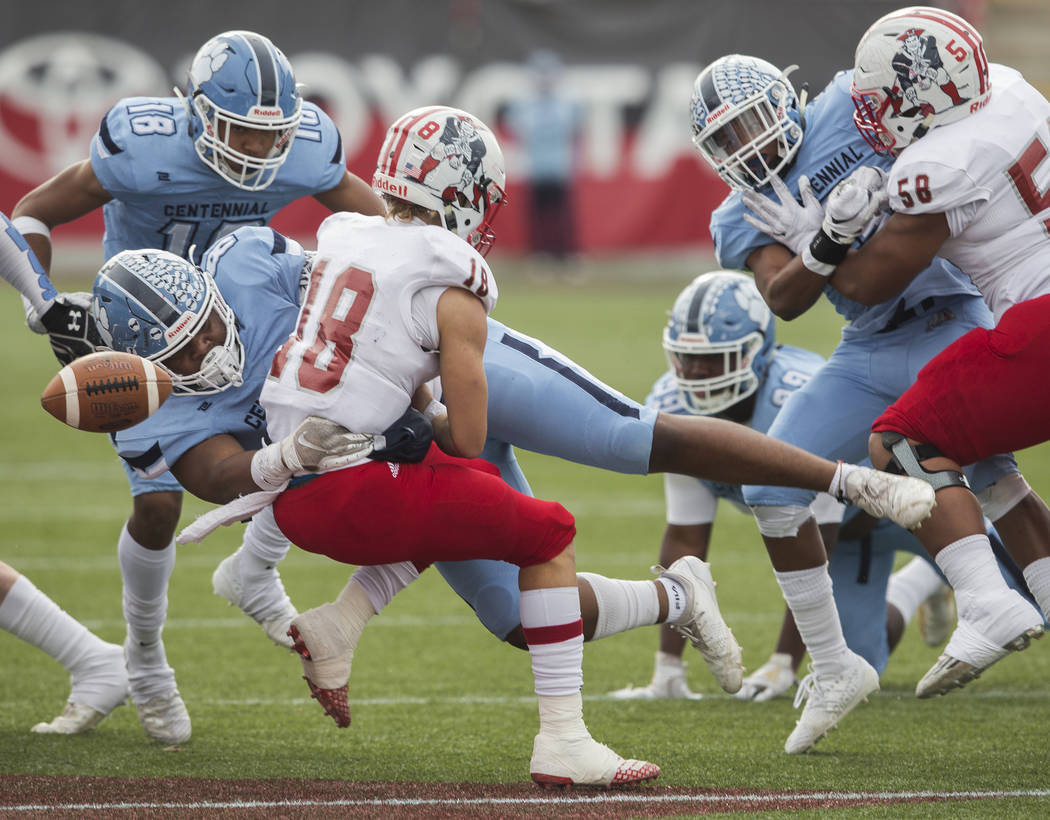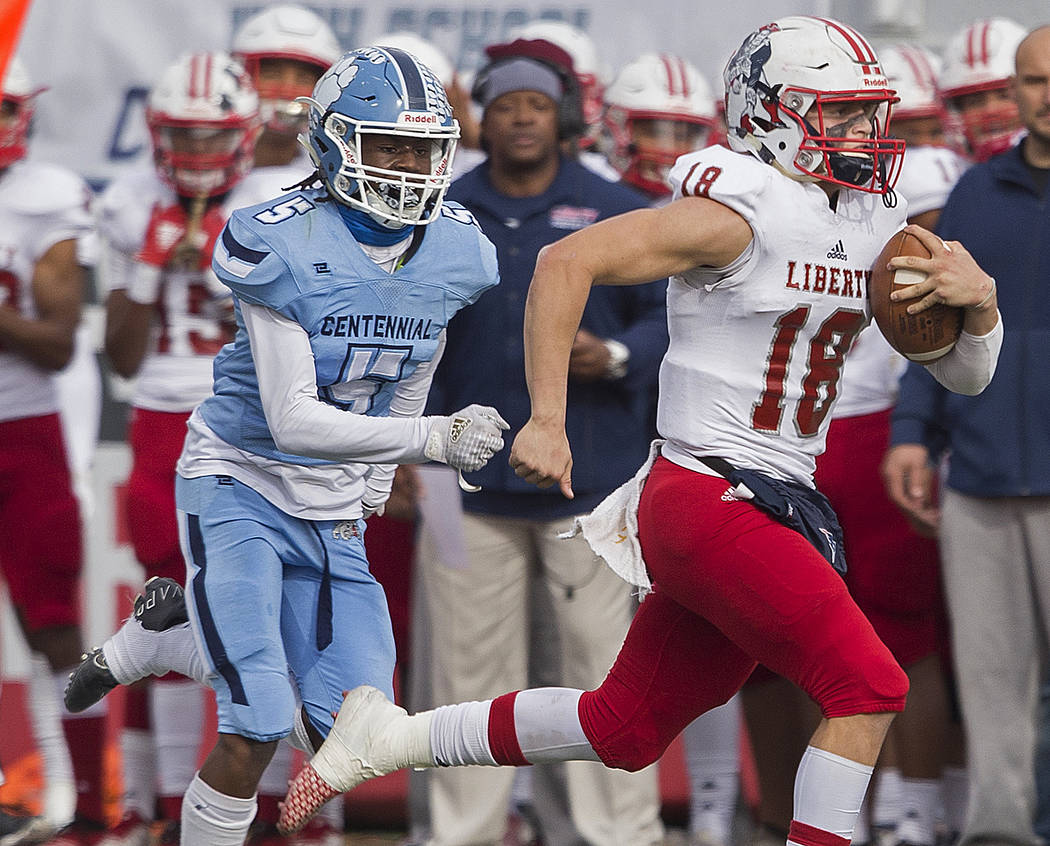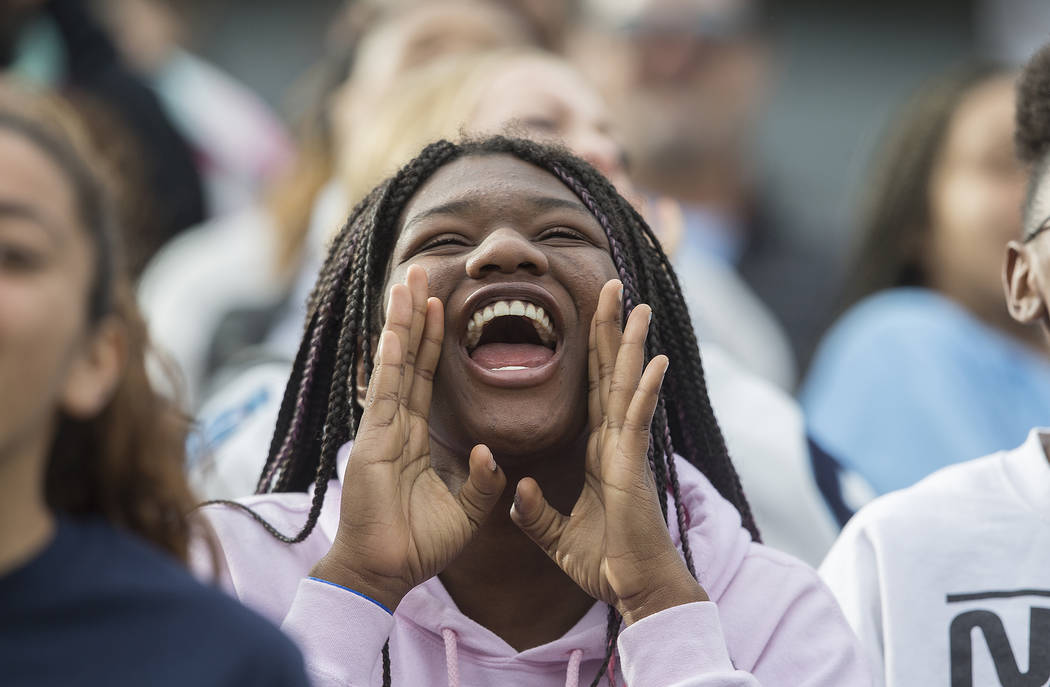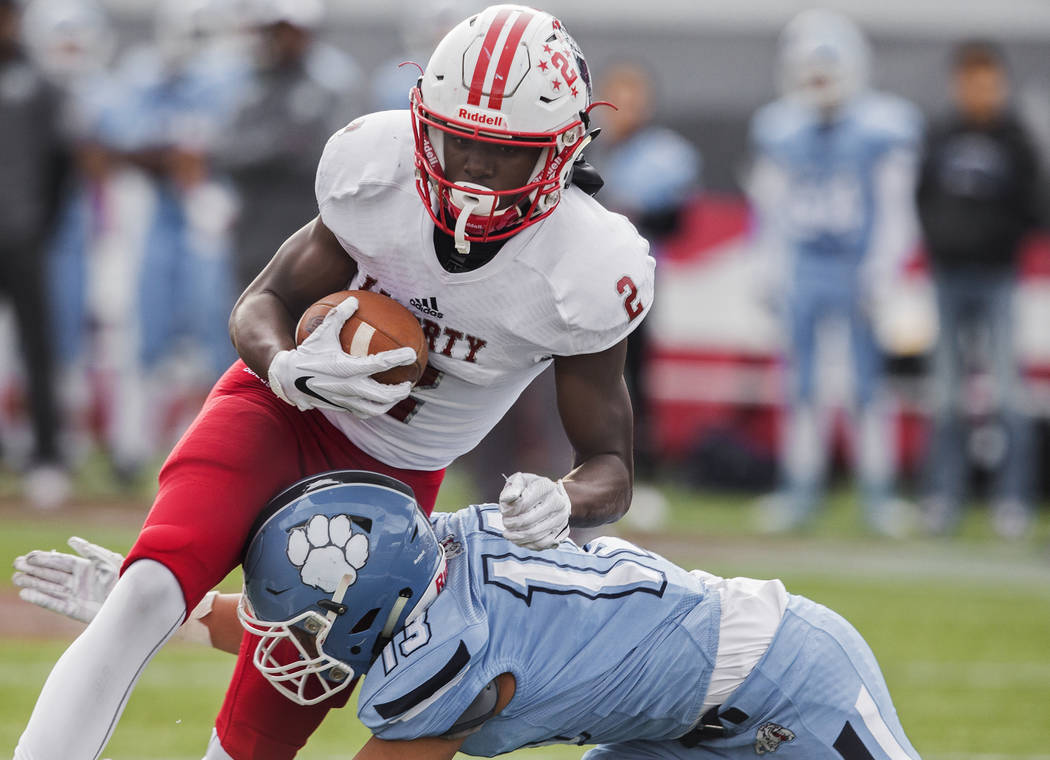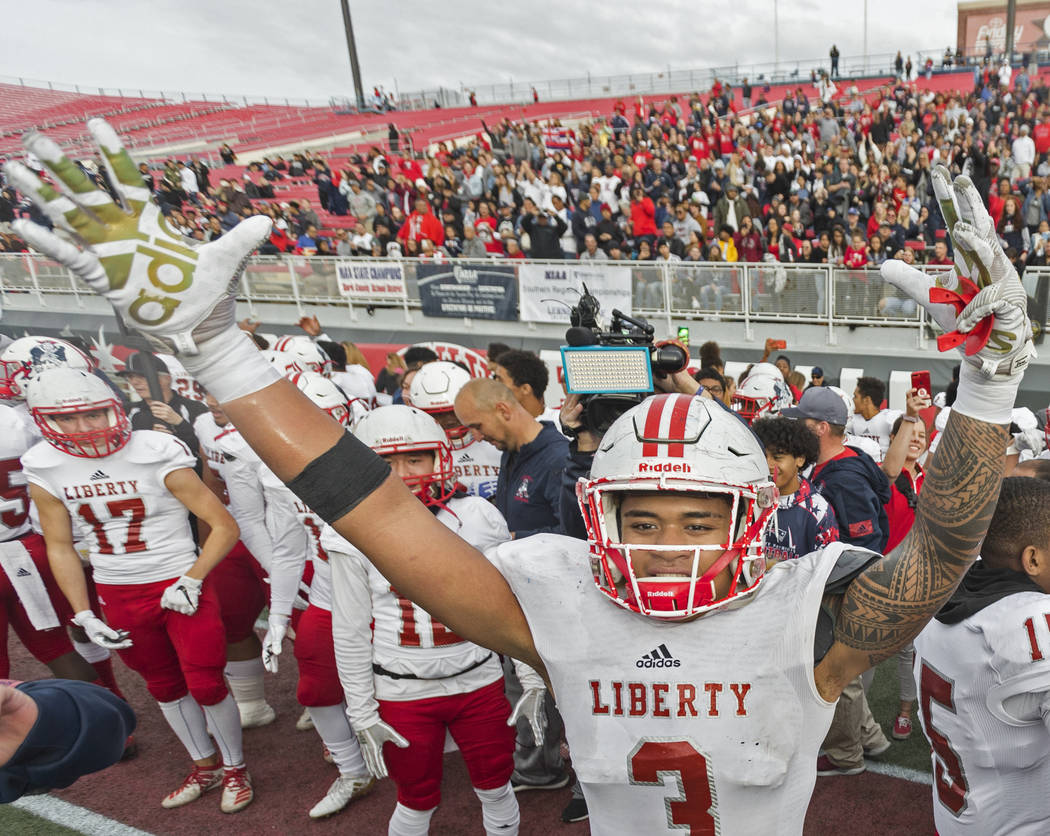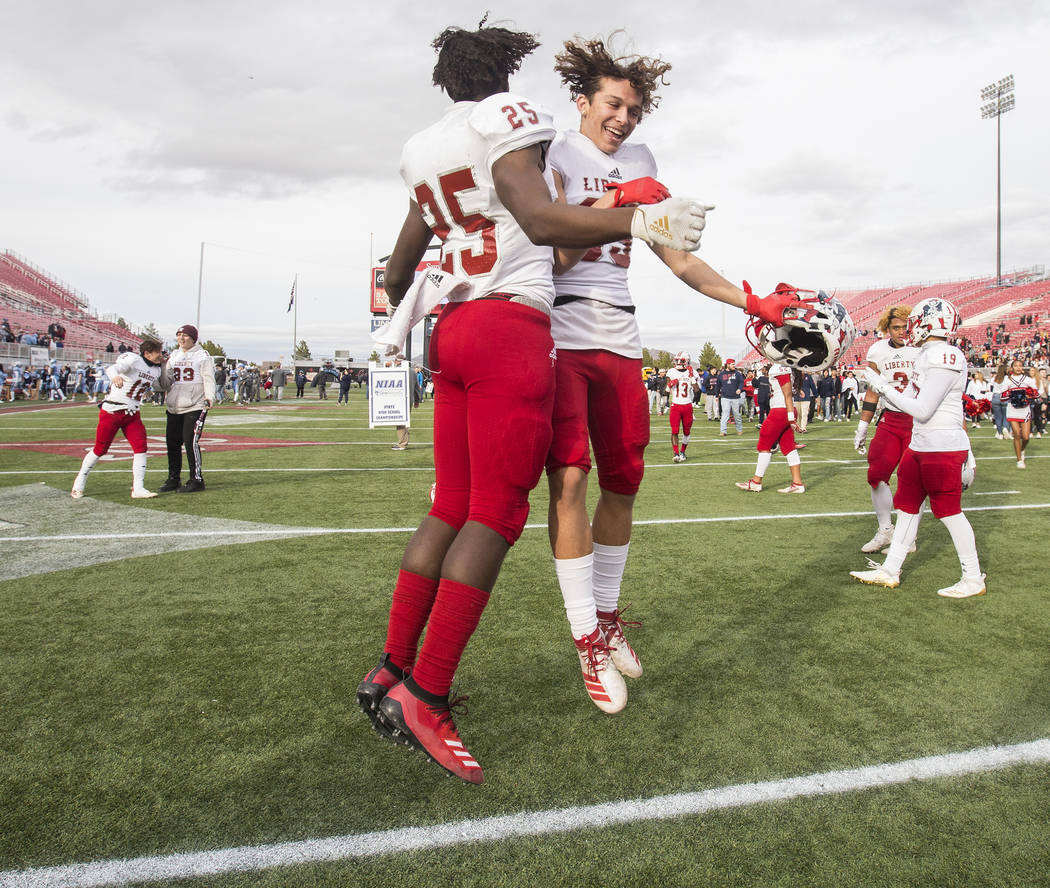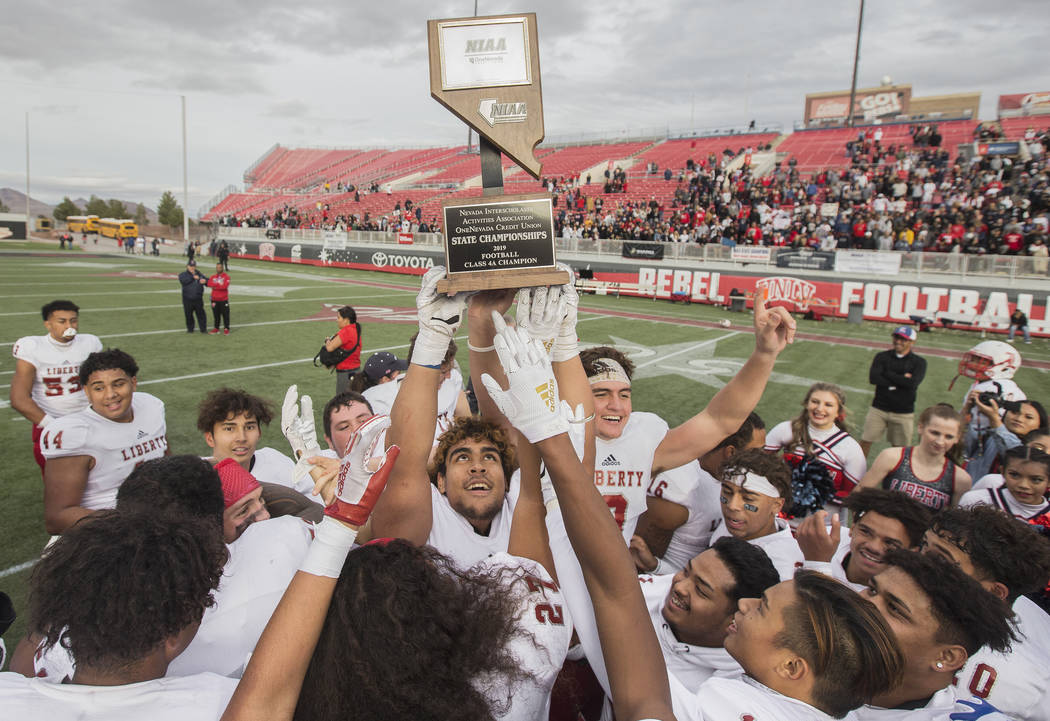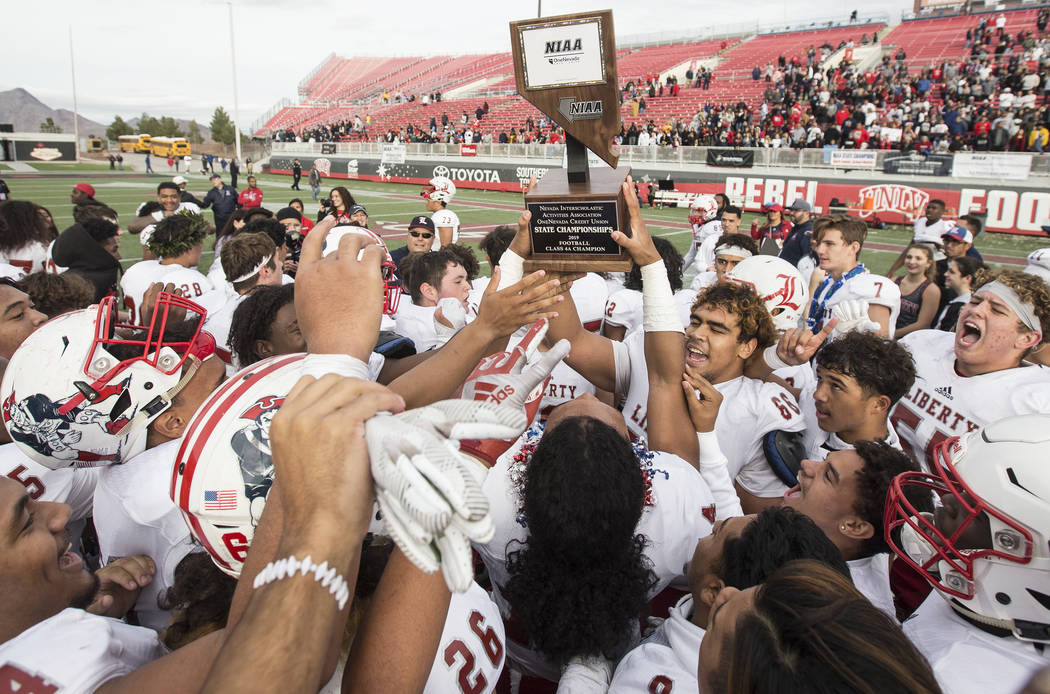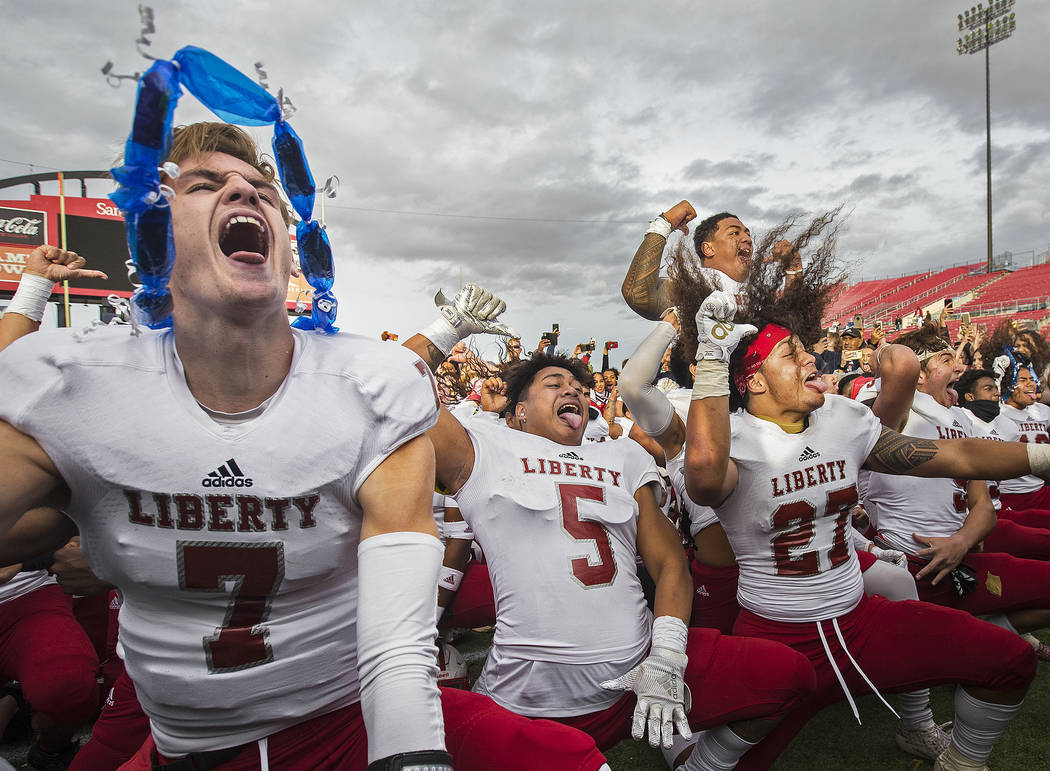 As Liberty coach Rich Muraco held the state championship trophy Saturday, he couldn't help but reflect on what it means.
"It represents a lot of hard work, sacrifice, time away from family for the coaches," Muraco said. "My own daughter, seeing her here and all the time I spent away from home was tough, but this makes it worth it that we were able to accomplish something very few people can say."
In fact, nobody other than Bishop Gorman could say it accomplished a Class 4A state football title since 2008 until the Patriots won their first Saturday. Liberty ended Gorman's 10-year reign atop the state two weeks ago and left no doubt that it was the best this season with a 50-7 win over Centennial at Sam Boyd Stadium.
Daniel Britt fired a 46-yard touchdown pass to Corey Hebert on the game's third play to set the tone.
"Our mantra all week was that they haven't played anybody on our level, and we wanted to come out and make a statement right away and put some doubt into their mind," Muraco said. "Getting that touchdown was big."
This was the Patriots' fourth state championship game appearance in the past decade. Centennial was playing in its first state final.
The Bulldogs (12-2) got there by limiting mistakes, but Liberty (10-5) forced four turnovers, all interceptions.
Colton Tenney had been intercepted only three times all season, but Dante Bowers picked him off on Centennial's first play from scrimmage. Bowers had another interception in the third quarter, one possession after Lehi Ausage jumped a Tenney pass and returned it 24 yards for a touchdown to give Liberty two scores in 10 seconds.
"Our quarterback played a little uncharacteristically," Centennial coach Dustin Forshee said. "You get like that sometimes in big games, and this was a first for us. This was completely out of the norm, and I think a lot of the kids got a little overwhelmed."
Britt was 14-for-22 passing for 187 yards and the early score, and he also rushed for 114 yards on seven carries. Moliki Matavao caught five passes for 123 yards for the Patriots, who had 533 yards total offense.
Zyrus Fiaseu ran 65 yards untouched to give the Patriots a 14-0 lead, then showed his shiftiness and physicality on a 33-yard score in the second quarter, as he made a defender miss and carried two defenders the final 5 yards into the end zone.
Fiaseu finished with 134 yards rushing on nine carries.
"My line opened up the hole, and I was one-on-one with the safety," Fiaseu said. "I juked him out, and then I was determined to score and cross that line."
That run stretched the Patriots' lead to 28-7. The Bulldogs had a final drive before halftime with a chance to score, but Tenney was flushed out of the pocket and flung a backhanded pass that fell just short of his receiver as time ran out.
The Bulldogs got the ball to start the second half and went to an end-around pass on the first play. Gerick Robinson took the handoff and fired late over the middle, where Liberty's Trey Cain was waiting for the interception.
Jordan Smith popped an 80-yard touchdown run that drew Centennial within 14-7 early in the second quarter, and he finished with 121 yards on 22 carries. But Edward Gastelum answered with the first of his two rushing TDs 33 seconds later.
Lonenoa Faoa finished Liberty's offensive onslaught with a 14-yard touchdown pass to Germie Bernard in the fourth quarter.
"It feels amazing," Fiaseu said. "All the alumni and all my family are here from California. All around the city, everybody came. It's a great feeling looking in the stands and everybody's there."
More preps: Follow at reviewjournal.com/nevadapreps and @NevadaPreps on Twitter.
Contact Jason Orts at jorts@reviewjournal.com or 702-387-2936. Follow @SportsWithOrts on Twitter.