Liberty's Cervontes White finds home at Southern Utah
February 5, 2019 - 9:24 pm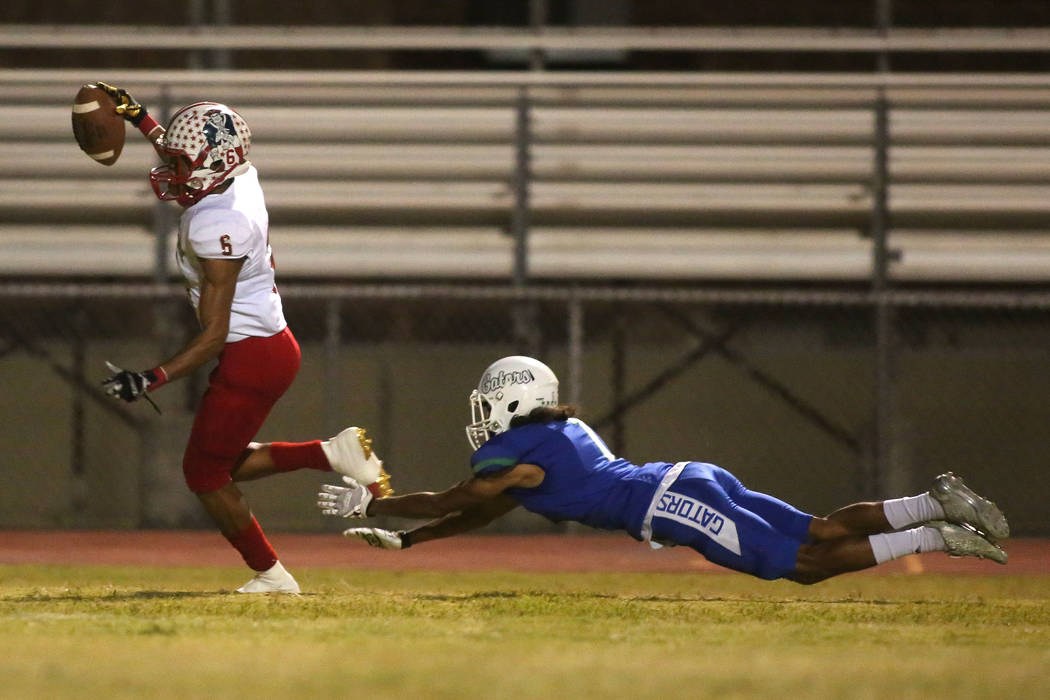 Liberty's Cervontes White had more scholarship offers to consider on the day before National Signing Day than he did during any point during his senior football season.
Better late than never.
White, a 5-foot-10-inch, 175-pound wide receiver and defensive back, has accepted a scholarship offer from Southern Utah on the eve of National Signing Day and will sign a national letter of intent Wednesday.
"It's a blessing," White said. "The recruiting process has been stressful for me. I've had to overcome a lot of things. This is a start of a new beginning. I'm happy for it, and I'm ready to go play ball at the next level."
White, then at Foothill, attended a camp at Southern Utah during his freshman season and admired the program throughout his high school career. But the Thunderbirds didn't actively recruit him because they didn't think they would have a realistic chance of signing him, White said.
He transferred to Liberty for his sophomore season and emerged for the Patriots as a dynamic player on both sides of the ball. He received scholarship offers from Brigham Young, Utah State and recruiting interest from Boise State the following summer.
But those programs slowed their recruitment of White, leaving him devoid of option during his senior season.
"With social media nowadays, kids see other kids posting that they get offers. … Every kid wants to be that kid," Liberty coach Rich Muraco said. "I just try to tell the kids to be positive. Your time will come. He stayed positive through it all, and he knew he had to just keep playing well."
White said he tried not to think too much about recruiting during the fall and focused instead on the Patriots. He rekindled his relationship with Southern Utah's coaches during the offseason and visited the campus last weekend — scoring that elusive offer in the process.
"It's a dream come true," said White, who also had a late offer from Northern Arizona and will sign with Southern Utah as a defensive back. "There's been some ups, and there's been some downs. It's just really taught me the basics, of how I started with nothing. Because that's how I feel now. I'll be starting at the bottom. I've got to earn my spot. Basically, I'm keeping my head down. Staying focused and grinding."
As a junior, White was named second team all-state at wide receiver by the Review-Journal.
Contact reporter Sam Gordon at sgordon@reviewjournal.com. Follow @BySamGordon on Twitter.