Loss doesn't define Pahranagat Valley football
November 19, 2016 - 7:26 pm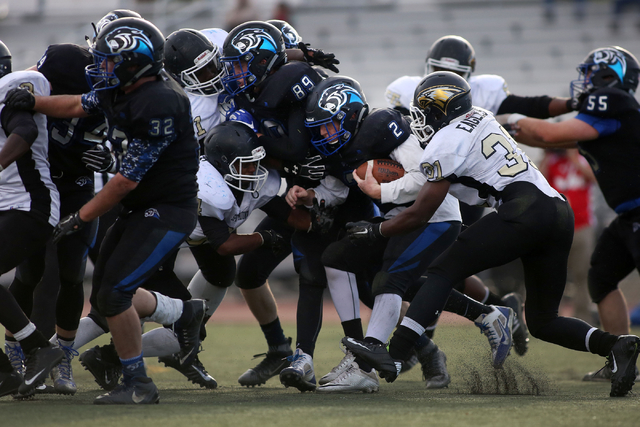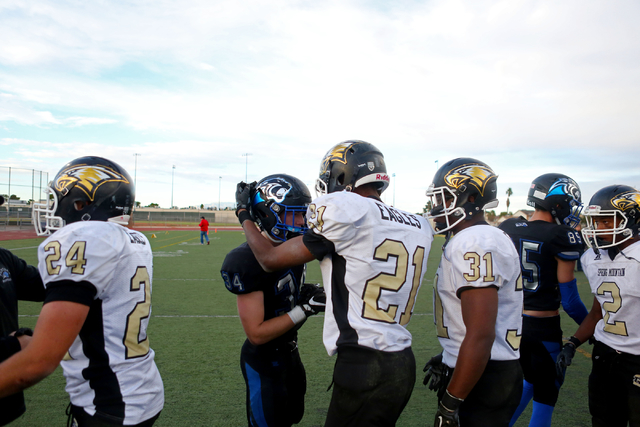 Pahranagat Valley football players sobbed in the locker room at Clark High School on Saturday afternoon as new state champion Spring Mountain blared rapper Drake's "Trophies" in the opposing locker room.
For the first time in 104 games — and for the first time for anyone on the current roster — the Panthers experienced the agony of defeat.
Pahranagat Valley fell to Spring Mountain, 68-46, in the Class 1A state championship game on Saturday afternoon, ending their eight-man record 104-game winning streak.
"A loss should hurt. If it doesn't, then you're not doing something right," Pahranagat Valley associate head coach Brett Hansen said. "
But Hansen wants to focus on the positives. About how the streak rallied a team, a school and a community. And he delivered that message to his players after the game.
"The sun is going to come up tomorrow," he said. "You take a learning experience from it. These kids, they'll bounce back and move on to the next one."
The Panthers' streak spanned more than nine seasons and netted eight state football championships.
Spring Mountain coach Aaron Masden said the winning streak helped the Golden Eagles improve and brought positive attention to the sport of football in Nevada.
"Much like what Bishop Gorman has done to the 4A schools, bringing attention to Nevada football, Pahranagat Valley did the same, too," Masden said. "If it wasn't for (head coach Ken Higbee) pushing us to get better and compete … we wouldn't be here. No way."
The Panthers' accomplishments are truly remarkable.
They outscored their opponents by an average margin of 44 points per game during the winning streak and averaged almost 57 points per game.
Only four of their wins were decided by 10 points or fewer, and their closest margin of victory was four points.
Hansen said the winning streak helped bring the Alamo community together.
"The community for sure rallies around these kids," he said. "These kids talk about playing football together in the second grade. Over the years, you build that family.
Four-year starting quarterback Tabor Maxwell was a key member of that family, leading the team to three state championships.
He said he'll remember his tenure as a Pahranagat Valley football player as one of the best times of his life.
"It was amazing. (The biggest thing) I'm going to take away over the past four years is how hard each and every one of these guys worked," Maxwell said. "We really wanted it to go our way today, unfortunately Spring Mountain made a few better plays than we did."