McQueen solves Palo Verde in 4A final
December 6, 2008 - 2:26 pm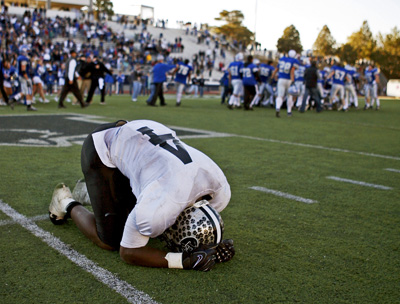 RENO — The middle of the Class 4A state championship football game belonged to Palo Verde.
The final three minutes belonged to Anthony Martinez and the McQueen Lancers.
Martinez's 59-yard touchdown run with 2:47 left put the Lancers ahead, and his two interceptions sealed McQueen's 13-12 win Saturday at UNR's Mackay Stadium.
The victory gave McQueen (14-0) its sixth state football championship since 1990.
This is the second straight year the Panthers (14-1) suffered their only loss in their last game of the season.
"We've got a great senior bunch," Palo Verde coach Darwin Rost said. "They played their hearts out. They had a great two years. We lost two games in two years in the last seconds of the games.
"It's Panther football," he added. "We're going to be back."
Palo Verde had taken a 12-7 lead on a 54-yard burst up the middle by Tyrone Blake with 1:55 to go in the third quarter.
But after a Palo Verde punt gave the Lancers the ball at their own 41 with 2:58 to play, Martinez took over.
The senior got the ball on the first play, cut back against the grain and took advantage of a huge block by receiver Kyle Van Noy to go 59 yards for the go-ahead score.
"All I saw was David Ahmadi leading up through that hole and I was behind him the whole time," said Martinez, who scored all of McQueen's points. "I cut off him and I saw Kyle block down and I knew we were going."
Like McQueen, Martinez was quiet in the middle of the game. His 1-yard touchdown run on the Lancers' first drive gave McQueen the lead. But he gained only 10 yards on his next six carries before breaking the long one.
"(Palo Verde) did a great job at the point of attack, and Anthony breaks it back so well," McQueen coach Ken Dalton said. "Kyle Van Noy got a great block on the edge, and we were fortunate enough to make a big play."
Martinez's kickoff following his touchdown went for a touchback, leaving Palo Verde at its own 20. On third-and-10, Palo Verde quarterback Kelly Zurowski was hit as he threw, and the ball hung in the air. Martinez ran under it for an interception.
"We knew we had to come back and play more defense," Martinez said. "We came back and we did."
Palo Verde had a final chance to win after getting the ball back at its own 12 with 19 seconds to go. The Panthers moved the ball to the 38, but Martinez intercepted Zurowski as time expired.
"We knew that they were going deep," Martinez said. "I was just going to bat them down, but (an interception) kind of looks better."
Martinez also starred on McQueen's first drive. His 43-yard run on third-and-3 moved the ball to Palo Verde's 5, and he scored from 1 yard two plays later. He also kicked the extra point for a 7-0 lead midway through the first quarter.
"Martinez has been key to what we've done all year on all three sides of the ball," Dalton said. "He can do it all."
On the ensuing possession, Palo Verde drove 80 yards, capped by a 24-yard touchdown run by Torin Harris with 3:55 left in the quarter. Garrett Dunlap's extra point went off the left upright, and McQueen held onto a 7-6 lead.
Martinez finished with 113 yards on nine carries. Tyler York added 112 on 28 carries for the Lancers, who finished with 233 yards rushing.
Palo Verde outgained the Lancers, finishing with 322 yards of offense, including 284 on the ground. Harris led the attack with 97 yards on nine carries. Chaz Thomas added 77 yards and Blake 73.
"These are the greatest bunch (of players) I've ever coached," Rost said. "And I've coached some great kids. This is a great bunch of kids as a team. And they're so close. And that's the pill that's hard to swallow."