'Night and day': UNLV's recruiting efforts impress prep coaches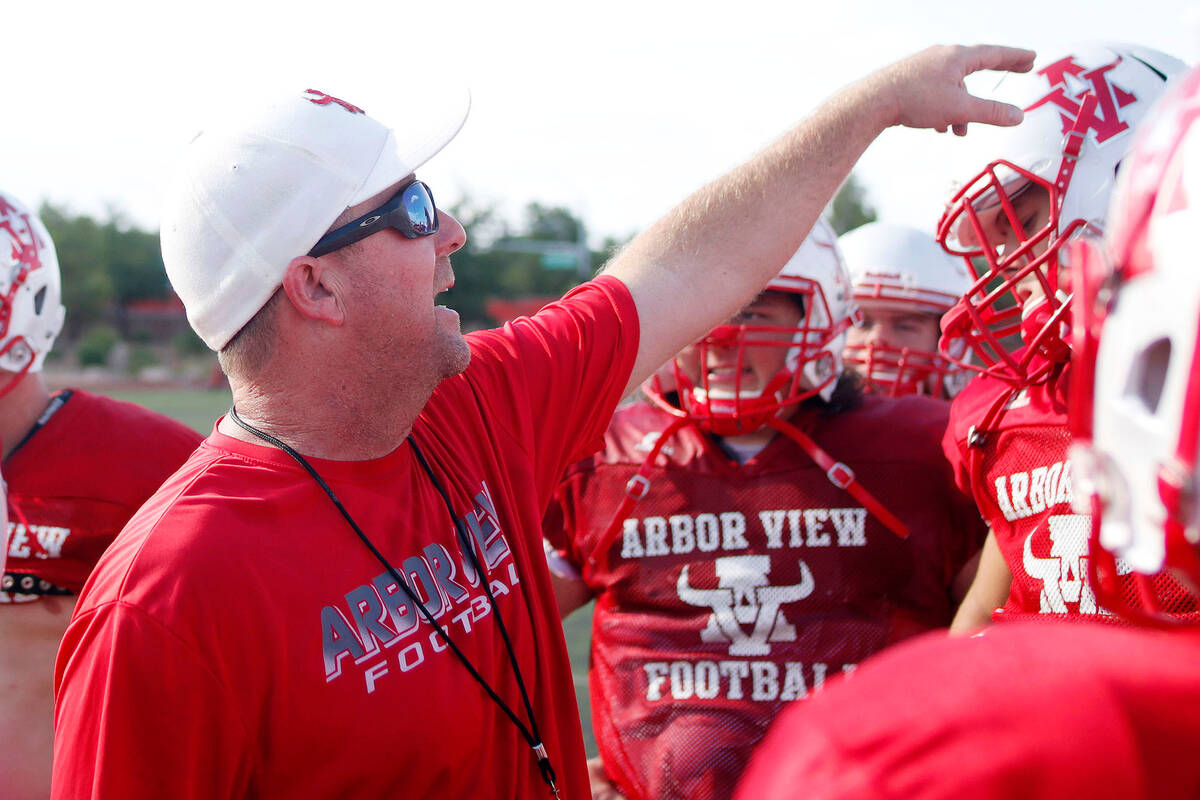 Arbor View football coach Matt Gerber said he has seen members of the UNLV coaching staff on campus at least five times since Barry Odom took over.
It's a vast difference from the previous three years. Gerber said no one from previous coach Marcus Arroyo's staff visited Arbor View once during his tenure.
Odom's efforts to recruit and build relationships with local high schools have impressed coaches.
"They are doing an absolutely amazing job. It's night and day," Gerber said.
"It had always been there in the past with previous coaches," Gerber said of the high school's' relationship with UNLV. "It kind of went away with the previous regime where we didn't see them on campus for three years. It's nice to see UNLV making the high school kids in Las Vegas a priority."
Odom proclaimed at his introductory press conference that he and his staff will emphasize recruiting local talent. During UNLV's spring football practices, local recruits and coaches made stops at the Fertitta Football Complex.
While early in his tenure, Odom understands that getting the relationships with high schools to where he wants them to be will take time.
"Like any relationship, it takes daily work," Odom said in March during spring practice. "You can't just say, 'We went by the school the first week here, and they haven't heard from us again.' That's not the way it works."
Odom made the rounds to schools during his first week on the job. One of his stops was at Desert Pines. Coach Tico Rodriguez said Odom told him that they are going to "recruit Vegas very hard."
Rodriguez said his players have been excited to see UNLV coaches on campus and get an inside look at the program.
"They're really impressed with UNLV," Rodriguez said. "With the new facilities and Allegiant Stadium, (UNLV) has a lot of positive things in its favor. They've done a good job of showcasing that kind of stuff and making it easy for kids to get on campus and check things out."
Rodriguez said that the previous UNLV staff coming in during the pandemic — when there wasn't a high school football season and schools were closed — didn't help in establishing relationships.
Gerber said the lack of a relationship told him that they didn't think the local talent was good enough to make a connection.
"That was their decision," Gerber said. "Whether you take local kids or not, you still have to make those connections because you're going to miss out on some talented kids."
Rodriguez said a way UNLV can strengthen its ties with high schools is to identify talent early and offer recruits as freshmen and sophomores. He said a few of his freshmen have received offers from UNLV this spring.
"They're listening to the local high school coaches who might have a kid who has the potential to be a big-time guy and they're in the mix early and building relationships early," Rodriguez said. "By the time a kid has 30 offers and you throw your offer, you're late to the game, but they're doing a great job of identifying young talent and building relationships."
UNLV landed a commitment from three-star Liberty linebacker Kahekili Paaoao on April 14. Paaoao picked UNLV over schools such as Arizona, Brigham Young and Washington State.
Rodriguez called UNLV a "sleeping giant."
Gerber feels the same way. He said UNLV can be a viable option for the city's top recruits, especially if the Rebels have on-field success.
"You got to win and then you need to have those relationships with kids," Gerber said. "They're building those relationships now, and if they can string together some consecutive years of successful football, I think you'll see a lot more of the top talent in the valley stay home for sure."
Contact Alex Wright at awright@reviewjournal.com. Follow @AlexWright1028 on Twitter.