Notes: Bishop Gorman 5-star kicker Derek Ng weighs college options
December 5, 2017 - 5:20 pm
Updated December 5, 2017 - 5:49 pm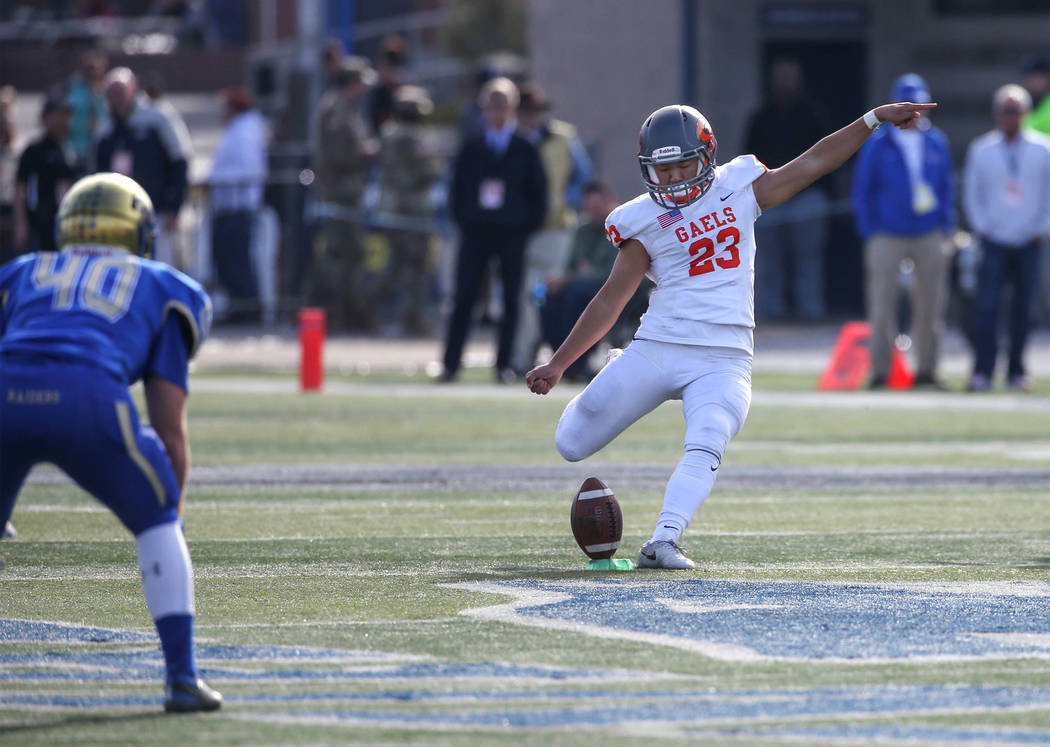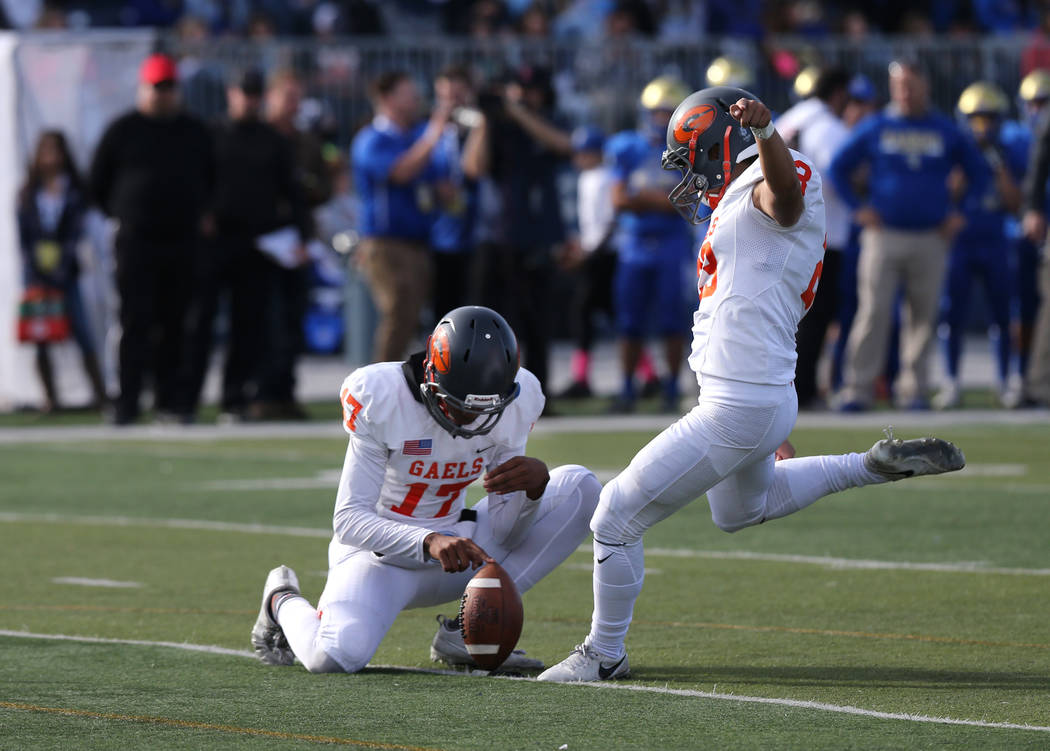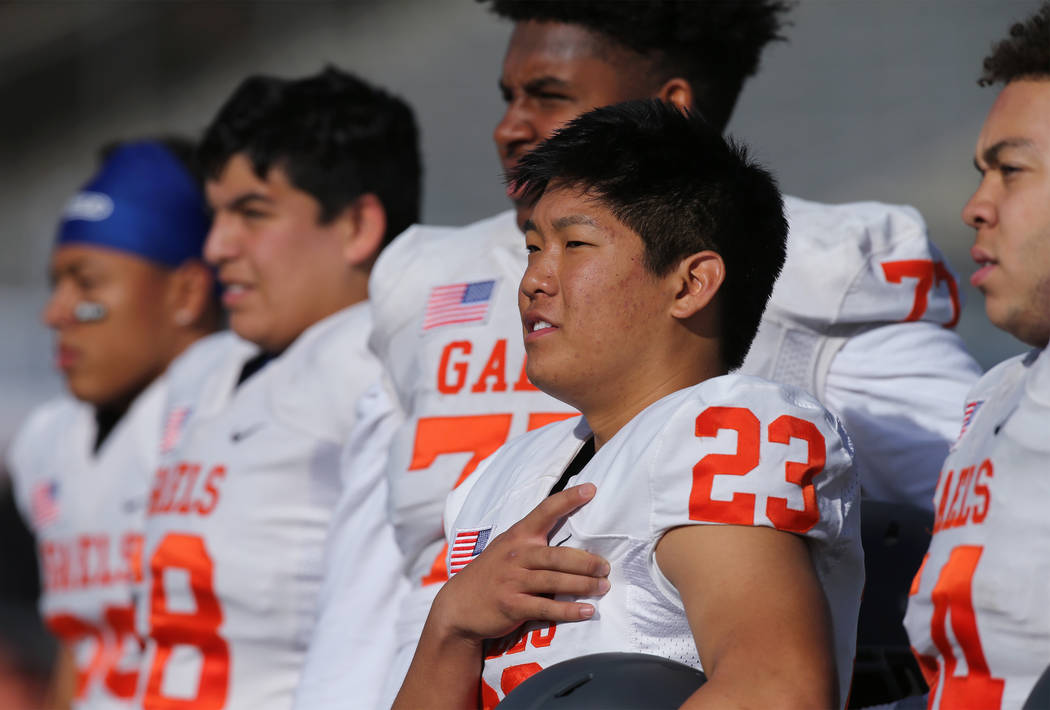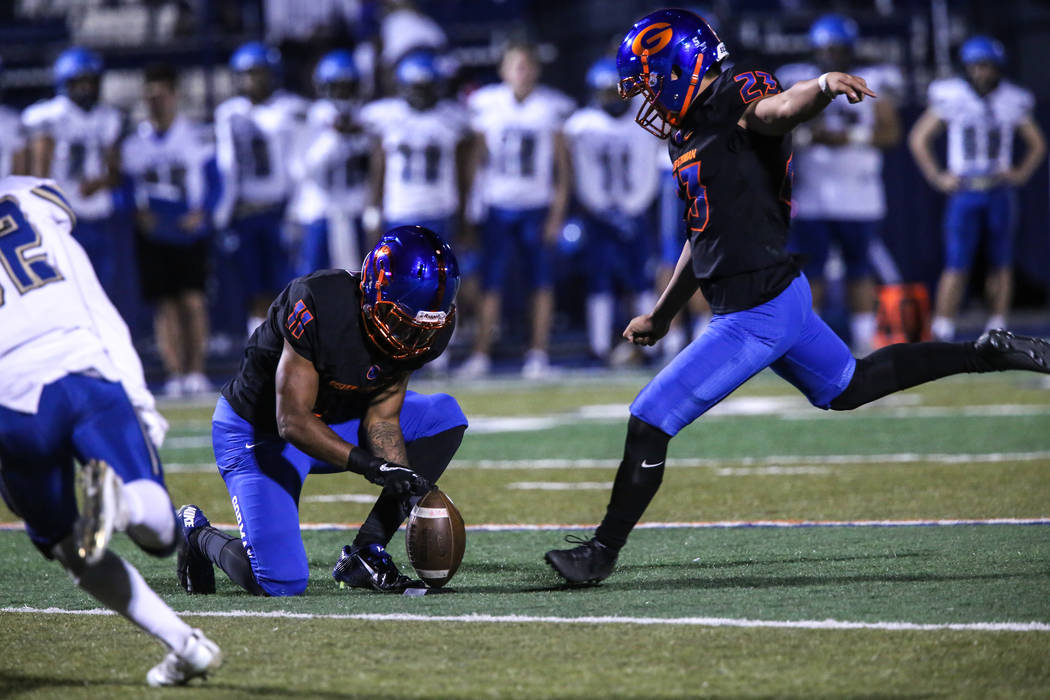 The nation's top 2018 uncommitted kicker needs a home, and probably should have one by now. But the recruiting process for kickers, punters and long snappers is anything but ordinary.
Even when you're a five-star kicker at one of the nation's top high school football programs.
"It's all a timing issue," Bishop Gorman senior Derek Ng said.
The 5-foot-9-inch Ng, who is the No. 7 overall kicker in the country on chrissailerkicking.com, got what many consider a late start to the kicking game after playing soccer for 10-plus years.
After his freshman season, Ng felt "burnt out," so he took a stab at football the next fall. And it's certainly paid off.
Working with the Gorman staff and former UNLV kicker Daren Libonati, Ng steadily improved each season and broke onto the national scene after winning the Chris Sailer kicking camp this past summer over an estimated 250 kids. The renowned camp's alumni include NFL players Justin Tucker (Ravens), Blair Walsh (Seahawks), Dustin Hopkins (Redskins), Nick Folk (Buccaneers) and Randy Bullock (Bengals).
"Derek is a big time kicking prospect," wrote Sailer, a two-time all-American kicker and punter at UCLA, on his website. "He has an elite leg and makes kicks with great consistency. Field goals are smooth and consistent off the ground. He gets great height on his ball and has (Division)-I range. Kickoffs are outstanding — D-I ready."
Ng currently has one scholarship offer from Army, and interest from Houston, Southern California, TCU, Virginia Tech and Washington.
All while kicking for a high school team that, frankly, doesn't attempt a lot of field goals. Gorman outscored in-state opponents 574-33 this season, and frequently went for it on fourth down.
"The recruiting process is long and hard," said Ng, who connected on 7 of 9 field goals this season, including two in the Gaels' 48-7 victory over Reed in the state final last Saturday. "It's crazy to think (Gorman quarterback) Dorian (Thompson-Robinson) was getting offers his freshman year from Mississippi State, Missouri, UNLV — whatever. I have to fight my senior year. It's just different."
Currently, the six kickers ahead of Ng in Sailer's 2018 rankings are committed to schools such as Clemson, Georgia and Mississippi State. Ng and Gorman coach Kenny Sanchez both said it's a matter of colleges being frugal with their scholarship allotment.
Division I schools have 85 scholarships to give per season and tend to secure their linemen, skill positions and athletes before offering specialists. And when they do offer, it's because their school is preparing for a graduation.
So Ng continues to wait despite his prodigious leg, unlike Gorman teammates Thompson-Robinson (UCLA), tight end Brevin Jordan (Miami), linebacker Palaie Gaoteote (Southern California) and offensive guard Jacob Isaia (Michigan State).
"Special teams gets overlooked a lot, especially at the high school level," Sanchez said. "And for the most part, we felt we always won on special teams because of Derek."
Ng accounted for 12 points in the state championship game and finished his three-year varsity career with 16 field goals (long of 48), 139 touchbacks and a 95-percent PAT mark.
Ng said he's able to kick 50-yarders, and that his longest was a 63-yarder this past summer.
Sierra Vista star Maka Ellis returns
The all-caps tweet from his father, Ed, on Monday morning was simple yet enthusiastic: "MAKABALL TIME!"
Sierra Vista senior guard Maka Ellis is back, and Southern Nevada has officially been warned.
After being hit by a drunk driver on Nov. 18, the 6-foot-6-inch Ellis made his debut Monday night after missing the Mountain Lions' first two games. Ellis, who is committed to Columbia, scored 12 points in limited action in an 81-70 loss to No. 6-ranked Canyon Springs.
He had just practiced Saturday for the first time since the accident after suffering injuries from the passenger seat.
Ellis was first-team all-state last season, and was the co-Most Valuable Player in the Southwest League after posting averages of 25.0 points, 8.7 rebounds, 3.3 assists and 2.1 steals. He is widely regarded as one of the top shooters in the state.
A consensus three-star prospect, Ellis chose Columbia in September over several scholarship offers, including New Mexico State, Santa Clara, Utah State and UNR.
Sierra Vista (1-2) plays six-time defending state champion Bishop Gorman (3-1) on Wednesday.
Commitments
Sierra Vista senior Brendan Bentley to Air Force for football. The 6-foot-2-inch, 235-pound Bentley, a two-way player for the Mountain Lions, will play center for the Falcons. … Arbor View senior Poppy Cartledge to Humboldt State (California) for women's soccer. Cartledge, a midfielder, sat out this past high school season but plays club soccer for Albion SC.
Contact reporter Ashton Ferguson at aferguson@reviewjournal.com or 702-383-0430. Follow @af_ferguson on Twitter.